WPS Office
Free All-in-One Office Suite with PDF Editor
Edit Word, Excel, and PPT for FREE.
Read, edit, and convert PDFs with the powerful PDF toolkit.
Microsoft-like interface, easy to use.
Windows • MacOS • Linux • iOS • Android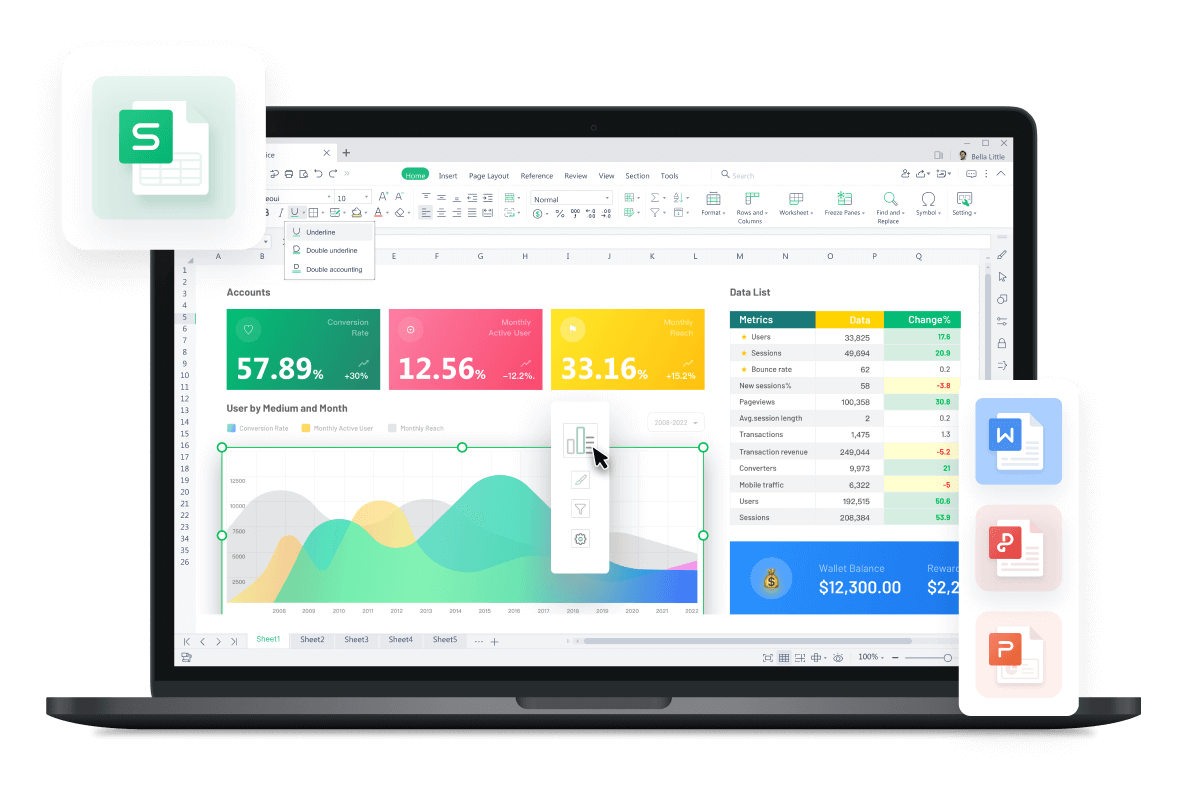 How to add a calendar template in Excel with drop-down list (2022 Free Templates)
WPS spreadsheet offers various graphic components that are beneficial for business, education, or personal projects in addition to being a great tool for storing data. People may use calendar templates to insert a certain month into their spreadsheets and change the information to meet their individual needs. Learning how to make a calendar in Excel may help you with a variety of activities, including scheduling. In this post, we'll explain what an Excel calendar is, when you would want to use one, how to insert a calendar template in Excel on Mac 2022 using two distinct techniques, and some helpful hints.
What is a calendar in excel?
A calendar in Excel is a graphic feature that users may use to represent a certain month in their spreadsheets. Individuals can build a basic calendar layout for their unique purposes using this internal capability. Users may pick from a range of calendars in Excel, ranging from an academic calendar to a social networking calendar. When trying to plan ahead for your planned events, adding a calendar to your Excel spreadsheet may be helpful. Excel calendars may be used by businesses to track staff work days or to describe who is available for specific activities. These tools can also be used to record the date on which a team member completed a job, such as meeting with a customer.
How to add a calendar in excel online, 2016 and 2019
1.Go to the File menu in Excel.
2. Click on New.
3. Type Calendar into the search area and press Enter.
4. You'll be presented with a range of calendar templates to pick from; locate one that best suits your needs and select it.
5. After you've chosen a template, you'll see a preview on the left side and the name and description of the template on the right.
6. Under the template description, click Create.
You may make a new calendar from an existing template by following these instructions. Certain customization options will be accessible depending on the sort of calendar you've chosen and its unique characteristics.
How to use the date picker tool in Excel to enter a calendar
Another way to insert calendars in Excel is to use the date picker control option, which provides a date drop-down menu in a spreadsheet column for people using Microsoft products that are 32-bit. For those utilising the date picker control option, the procedures to create a calendar in Excel are as follows:
1.To enter a calendar using the date picker control technique, first open your Excel software on your computer or another device. Then, at the upper left corner of your page, hit the File menu. This allows you to go to the bottom of the menu and pick Options.
2. The Customize Ribbon button may be found in the Options menu. Then, to highlight this option, scroll down and pick Developer (Custom). The next step is to scroll down to the bottom of your menu and choose OK.
3. After you've completed the preceding steps, go to the upper right corner of your spreadsheet and pick the Developer menu. Select Insert from the toolbox icon in the menu below. Then, in the bottom right corner, select More Control.
4. Then, under the More Control box, choose Microsoft Date and Time Picker Control. Press the OK button when a shaded backdrop appears below this selection. This creates a drop-down calendar in the cell you've chosen.
Note: This was an attempt to show you how to add excel calendar template on Mac 2022. This tutorial will help you understand other functions as well.
You just need to have a little understanding of how and which way things work. With having this basic knowledge or information of how to use it, you can also access and use different other options on excel or spreadsheet. Also, it is very similar to Word or Document. So, in a way, if you learn one thing, like Excel, you can automatically learn how to use Word as well because both of them are very similar in so many ways. If you want to know more about WPS Office, you can download WPS Office to access, Word, Excel, PowerPoint for free.