WPS Office
Free All-in-One Office Suite with PDF Editor
Edit Word, Excel, and PPT for FREE.
Read, edit, and convert PDFs with the powerful PDF toolkit.
Microsoft-like interface, easy to use.
Windows • MacOS • Linux • iOS • Android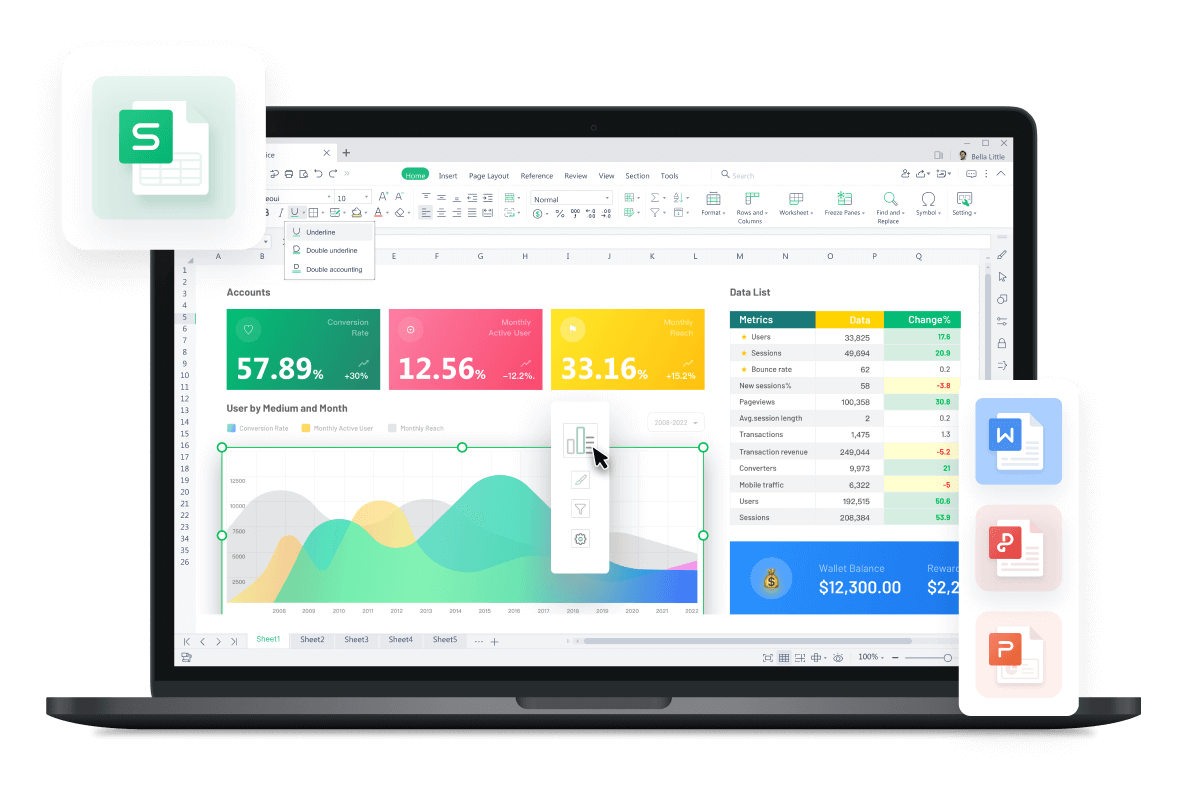 How to Add Drop Down in Excel Online
For effective data entry and organisation, Excel's drop-down lists feature provides an effective option. The addition and customization of drop-down lists in Excel will be covered in detail in this step-by-step tutorial.
Whether you're a new user or seasoned user, this article strives to simplify how to create drop down lists in excel , address common problems, and offer useful troubleshooting techniques.
How to Add a Drop-Down List in Microsoft Excel
Adding drop-down menus is an important feature in Excel because it allows users to limit the entries people can make in a cell, making data entry quicker and more accurate.
A few simple steps can answer how to make a drop down list in excel:
Step 1: Open Excel file which needs to be edited
Step 2: Go to "data" on toolbar then click on "data validation"
Excel Data tool
Step 3: On the dialog, click on "settings"
Step 4: Click on the drop down list and select "List"
Data Validation Dialog box
Step 5: Select the range where you want to add the drop down list and click "Ok"
Excel selecting cell range
Pros
More data validation options, including the ability to create dependent drop-down lists.

Drop-down lists in Excel can be coupled to other features such as conditional formatting and formulae, making data processing jobs easier to automate.

Excel allows users to sort and filter data within the drop-down list itself, which is beneficial for larger datasets.
Cons
Compatibility concerns with other software or Excel versions.

Excel's learning curve is steeper than that of WPS Office, and the drop-down list functionality is no exception.

Microsoft Excel is a premium program that may be out of reach for some users.
How to Add a Drop-Down List in WPS Office
A complete office productivity package called WPS Office comes with tools including Writer, Presentation, and Spreadsheet. Similar to Microsoft Excel, the WPS Office Spreadsheet function enables users to create, edit, and analyse data using spreadsheets.
WPS Spreadsheet is a flexible tool for a variety of jobs, from straightforward calculations to intricate data modelling, thanks to features like formulas, charts, data sorting, and filtering.
WPS Spreadsheet also allows users to add drop down lists and ease their data entry tasks. By following a few steps, users can easily add drop down list:
Step 1: Launch WPS Spreadsheet, and open the spreadsheet where you want to add a drop down list.
Step 2: Select "data" on the toolbar
Step 3: Click on "Validation"
WPS Data Tab
Step 4: On the Validation dialog box, select "settings" tab and click on the drop down menu to select "Lists"
WPS Spreadsheet Validation Dialog box
Step 5: Select the range where the drop down menu is needed and click "Ok":

WPS Spreadsheet Range select
Pros
WPS features a particular drop-down list function that is quite basic and allows for quick batch processing.

Drop-down lists can prevent input errors that might lead to problems later on by limiting the alternatives available to the user.

Since WPS Office is a free program, more users can avail this feature.
Cons
Drop-down lists are not the best choice for touchscreens because it can be challenging to select the right option with your finger from a small list.
How to Add a Drop-Down List in Google Docs
A free online word processor provided by Google is called Google Docs. Users may simply create, modify, and collaborate on documents with this tool. It provides simplicity and accessibility from any device with an internet connection thanks to real-time collaboration and cloud storage.
Adding drop down list on Google Spreadsheets can be simplified into a steps:
Step 1: Open Google Spreadsheet and select the file to edit.
Step 2: Click on the "Data" tab on the toolbar and select "Data Validation".
Google Spreadsheet Data tab
Step 3: Click on Add rule. Pro tip: make sure all the previous rules have been deleted to avoid any errors
Google Spreadsheet data validation
Step 4: Select the range.
Step 5: Click on the drop down menu and select "Dropdown"
Google Spreadsheet specify range
Step 6: Enter the values for the Drop down menu and click "Done"
Google Spreadsheet specify values
Pros
Drop-down lists can serve to standardise data entering by limiting the user's possibilities. This helps to ensure that data is entered in the same format every time.

Drop-down lists in Google Docs can be customised with unique values and colours. This might improve the aesthetic attractiveness and readability of your documents.
Cons
The amount of options available to the user is limited by drop-down menus. If the user needs to choose an option that is not in the list, they must do so manually.

Some mobile devices may not properly display drop-down lists, making it difficult for users to pick alternatives.
How to Customise the Drop-Down List
You may alter a drop-down list's design to give it a different look and feel by changing the font, colour, and style. This personalization improves the aesthetic appeal and guarantees continuity with the layout of your work.
Wondering how users can customise their drop down list? Here a some steps:
Step 1: Click on the "validation" tab and select Ïnput Message"on the validation dialog box.
Step 2: Users can input a "Title" to guide others what entry can be entered in the cell
Input Message
Step 3: Users can also add an error alert message incase a wrong entry is input.
Troubleshooting and Tips
What is Excel Data Validation and the setting tab?
Excel Data Validation is a feature that restricts user input in a worksheet and is used to control what users can enter into a cell. It allows users to dictate specific rules and display a custom message if users try to enter invalid data. The Settings tab is where users enter the validation criteria, and there are eight options available to validate for user input.
Common Errors with Drop-Down Lists
Drop-down lists in Excel can sometimes encounter errors that can be problematic working with them. Here are some common issues with drop-down lists:
Defective settings in Excel: This is the most common reason why drop-down lists may not work in Excel. To fix this issue, users close and then reopen Excel or repair the Excel installation.

Hidden objects: Sometimes, objects are hidden from the advanced settings, due to which the values are not shown in the drop-down list. To fix this, users can visit the display settings.

Invalid entries allowed: Unlike valid entries, sometimes invalid entries are allowed in the drop-down list. To fix this, users can change the validation criteria to allow only valid entries.

Corrupted workbook: Another reason why the drop-down list may not appear is if the workbook is corrupted. To rectify the problem, users can select the file that is causing the issue and repair it.

Missing arrows: Occasionally, drop-down arrows are not visible on the worksheet, even if data validation lists have been created. To fix this, users can color the cells or add a comment to mark cells that contain data validation lists.

In-cell dropdown not selected: If the in-cell dropdown checkbox is not selected, the drop-down list will not appear. Users can make sure that the checkbox is selected to fix this issue.
By knowing these common errors and their solutions, users can work more efficiently with drop-down lists in Excel.
Tips and Tricks for Mastering Drop-Down Lists in Excel
Here are some tips and tricks for mastering drop-down lists in Excel:
Use data validation: Data validation is a powerful tool that allows users to control what data is entered into a cell. By using data validation, users can ensure that only valid data is entered into the drop-down list.

Create a named range: Creating a named range for the list of items in the drop-down list can make it easier to manage and update the list.

Use conditional formatting: Conditional formatting can be used to highlight cells that contain invalid data or to make the drop-down list more visually appealing.

Use VLOOKUP: VLOOKUP is a powerful function that can be used to populate cells based on the selection made in the drop-down list.

Use dynamic ranges: Dynamic ranges can be used to automatically update the list of items in the drop-down list based on changes to the data.

Test the drop-down list: Before sharing the spreadsheet with others, it's important to test the drop-down list to ensure that it works as intended.
These tips and tricks can be very effective and efficient while working with drop-down lists in Excel and can help to streamline data entry and reduce errors.
FAQS
How Can I Create a Drop-Down List with Values that are Separated by Commas?
Creating a drop down list with values that are separated by commas on WPS Spreadsheet is very simple. Here is how to do it:
Step 1: Visit WPS spreadsheet and select the cell where you wish to have a Drop-Down list
Step 2: On the toolbar, find Data tab and select "Validation"
Step 3: A Data Validation Dialog box will appear, click on the settings tab and select list from the drop down menu.
Step 4: On the "source" box, add your drop down entries manually with commas. For eg, if the drop down menu was for Gender, we can simply add "Male, Female, Prefer not to say"
Drop-down list with commas
Can I Change My Drop-Down List?
Drop down list can easily be edited, here are 2 different ways to edit an existing drop down list:
Method 1: Click on the cell with the drop down list and revisit the Data Validation settings, users can easily edit the range of the drop down menus.
Method 2: Click on the cells containing your range values and manually edit their values.
Summary
Managing drop-down lists can be a daunting task, but thanks to user-friendly data management tools like WPS Spreadsheet and others, the process has become much more convenient.
With interactive interfaces and easy-to-use commands, adding and customising drop-down lists in Excel, WPS Office, and Google Docs has never been easier. Whether you're a beginner or an experienced user, these tools provide the flexibility and functionality you need to streamline your data entry and organisation.
Download WPS Office today and discover the power of efficient drop-down list management.