WPS Office
Free All-in-One Office Suite with PDF Editor
Edit Word, Excel, and PPT for FREE.
Read, edit, and convert PDFs with the powerful PDF toolkit.
Microsoft-like interface, easy to use.
Windows • MacOS • Linux • iOS • Android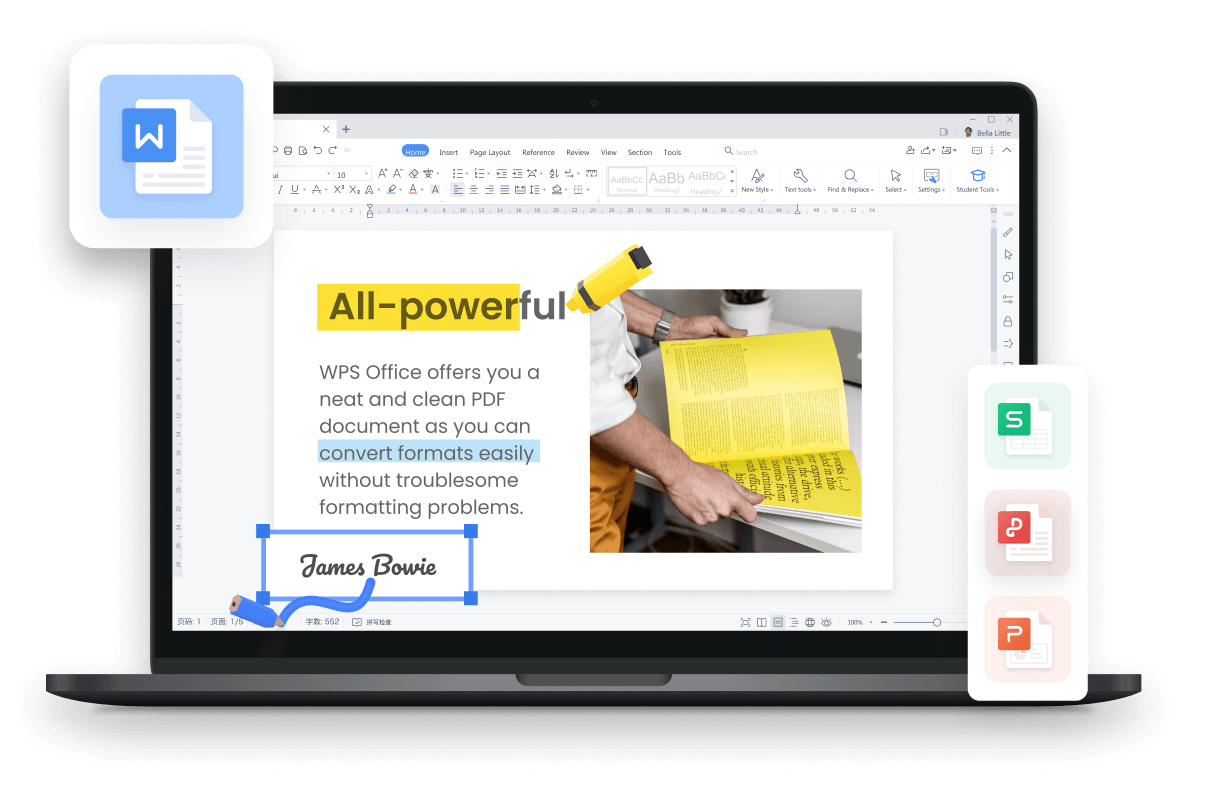 How to Draw in WPS Word: Unlock Your Creative Skills
In the realm of document processing and creating captivating content, WPS Word has captured the hearts of many users. However, the art of drawing within WPS Word remains a mystery to some. If you've ever wondered about WPS Word's capabilities and how to unleash your creativity, you're in the right place. In this article, we'll provide you with an insightful review of WPS Writer and guide you through the exciting world of drawing in it.

Part 1. What is WPS Word (Writer)?
Overview:
WPS Writer, a component of WPS Office, is a versatile and user-friendly word processing software that caters to a wide range of document creation needs. As part of the comprehensive WPS Office suite, Writer offers seamless integration with other office applications, making it a powerful tool for individuals and businesses alike.
Features:
User-Friendly Interface: Writer provides an intuitive interface that ensures ease of use for both beginners and experienced users.

Document Compatibility: It supports various file formats, including .doc, .docx, .rtf, .txt, and more, ensuring compatibility with other word processing software.

Rich Formatting Tools: Customize your documents with a comprehensive set of formatting options, including font styles, paragraph formatting, and page layout settings.

Templates: Access a library of templates for different document types, from resumes and business letters to reports and flyers.

Collaboration: Collaborate in real-time by sharing and editing documents with others, enhancing teamwork and productivity.

Cross-Platform Compatibility: Writer is available on Windows, Mac, Linux, Android, and iOS devices, allowing you to work from virtually anywhere.

Cost-Efficient: Enjoy a free version of WPS Writer with essential features, making it budget-friendly for personal and professional use.
Price:
WPS Writer offers a free version with essential features. Additionally, WPS Office provides pricing plans for individuals and businesses with more advanced capabilities. Pricing details can be found on the official WPS Office website.
Support Devices:
WPS Writer is available on a wide range of devices and platforms, including Windows, Mac, Linux, Android, and iOS, ensuring seamless accessibility across your devices.
Pros and Cons:
Pros:
User-friendly interface for efficient document creation.

Cross-platform compatibility for flexibility and convenience.

Collaboration features for real-time editing and sharing.

A wide range of templates to kickstart your projects.

Cost-effective with a free version available.
Cons:
Some advanced features may require a paid subscription.

Limited cloud storage in the free version.
Part 2. How to Draw in WPS Word?
Drawing in WPS Word allows you to enhance your documents with illustrations, diagrams, or creative sketches. Here's a step-by-step guide on how to draw in WPS Word:
Step 1: Open the Word document in WPS Writer. It can be an empty document or an article -- you can draw on the text if you want.
Step 2: Get into the Insert tab → click Shapes.
Step 3: In the Lines option section in the drop-down menu, select Scribble.
Step 4: Move the mouse to start drawing on the Word page document.
Step 5: Release the mouse to finish drawing.
A simple drawing operation is done!
Part 3. How to Edit & Customize Your Drawing?
Editing and customizing your drawings in WPS Word allows you to fine-tune their appearance and make them more visually appealing. Here's how to edit and customize your drawings:
Step 1: Double-click the shape you just finished creating to bring up the creating Tools menu.
Step 2: If you want to change the graphics style, in the Edit Shape, you can Change shape.
Select Edit Point, then drag the point to modify the drawing line if you wish to gently alter the graphic lines.
Step 3: How to add colors when drawing. Use Shape Fill to fill the shape with appropriate color.
Note: If you don't like this drawing, Right-click on it > Delete Object. Alternatively, you can simply press Delete on the keyboard.
Part 4. How to Download WPS Office?
WPS Office is a versatile and powerful office suite that includes Writer (word processing), Spreadsheets (data analysis), and Presentation (slideshows). Here's a brief tutorial on how to download and install WPS Office:
Step 1: Go to WPS and click "Free Download".
Step 2: Click "Keep" if the following dialogue box pops up. Please be assured that it's safe to download our products.
Step 3: The installation will begin after you agree to the agreement and click "Install Now". WPS Office will open automatically when it's done.
Step 4: Open WPS Office: Launch WPS Office by clicking on its icon on your desktop or selecting it from the Start menu.
Step 5: Choose Your Component: Upon opening WPS Office, you'll be greeted with four main components:
Step 6: Create a New Document: Click on "WPS Writer" to open a new blank document.
And then add Content: Start typing or paste your content into the document.
FAQs
1. Are the drawings created in WPS Word compatible with other software?
Drawings created in WPS Word are generally compatible with other software that supports common graphic formats. When you create drawings in WPS Word, you have the option to save them in standard image formats like JPEG, PNG, or BMP, which are widely supported by various applications.
2. How can I ensure my drawings are aligned and well-organized?
Ensuring your drawings are aligned and well-organized in WPS Word can help you create visually appealing and professional documents. Here are some tips to achieve alignment and organization:
Utilize the alignment tools in the "Format" or "Drawing Tools" tab. You can align objects vertically, horizontally, or to the center of the page.
WPS Word offers gridlines and guides that can help you align objects precisely. Go to the "View" tab, and check the options for gridlines and guides. You can then snap objects to these lines for accuracy.
Summary
Unlocking your creative skills in WPS Word is a breeze with its intuitive drawing tools. Whether you want to add illustrations, diagrams, or artistic touches to your documents, this step-by-step guide empowers you to do so with ease. From creating eye-catching charts to adding freehand sketches, you'll discover how to infuse your documents with visual appeal. With WPS Word's versatile drawing features, your creative potential knows no bounds.