How to insert Check Box
Uploaded time: March 18, 2022 Difficulty Beginner
A free Office suite fully compatible with Microsoft Office
Free download

When creating tables, we often need to insert checkboxes to check the information quickly and check multiple options at once.Today we'll learn how to insert check boxes.
Take this Registration of Selected Courses table as an example.
1. Go to the Insert tab, click the Forms drop-down button, and select the Check box.
2. The cursor becomes the shape of a cross, and you can insert a check box by dragging the mouse.
3. Input text in the check box, such as French.
Then the check box is done, and you can check the course you want to attend.
You cannot move the inserted check box by dragging it directly. You can right-click it to show eight dots around it and then move it or resize it as needed.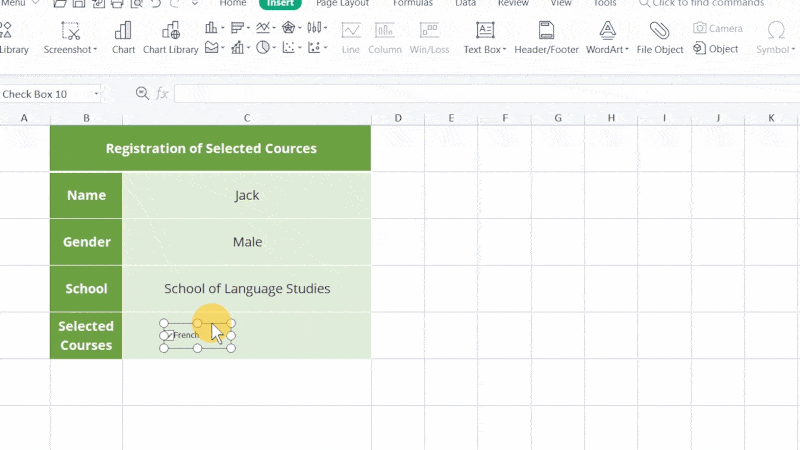 Certainly, we can also customize the formats of the check box.
Select Format Object to pop up a dialog, where we can set colors and lines,size, propertiesand control.
Then how can we quickly insert check boxes in batches with large data?
Step 1
1. Press the shortcut key Ctrl+Shift, and drag the check box to copy it vertically or horizontally.
2. Select the three check boxes in cell E3, and click Group to group them as a whole.
3. Then press Ctrl+Shiftagain to copy them and move them to cell E8. Note that the check boxes in cell E3 and E8 should be located in the center of the cells.
Step 2
The table with six rows needs six groups of check boxes.We select the check boxes in cell E3 again and press Ctrl+C and Ctrl+V to get four copies.
Step 3
1. Now press Ctrl+A to select all the check boxes.A floating toolbar will appear on the top, and we choose Distribute Vertically and Align Center.
2. Then we can find that the check boxes are copied many times and arranged neatly in the cells.
Lastly, we learn a little trick. If the check boxes and cells are not aligned after we adjusted the row height, we can group all the check boxes to adjust their spacing uniformly.