WPS Office
Free All-in-One Office Suite with PDF Editor
Edit Word, Excel, and PPT for FREE.
Read, edit, and convert PDFs with the powerful PDF toolkit.
Microsoft-like interface, easy to use.
Windows • MacOS • Linux • iOS • Android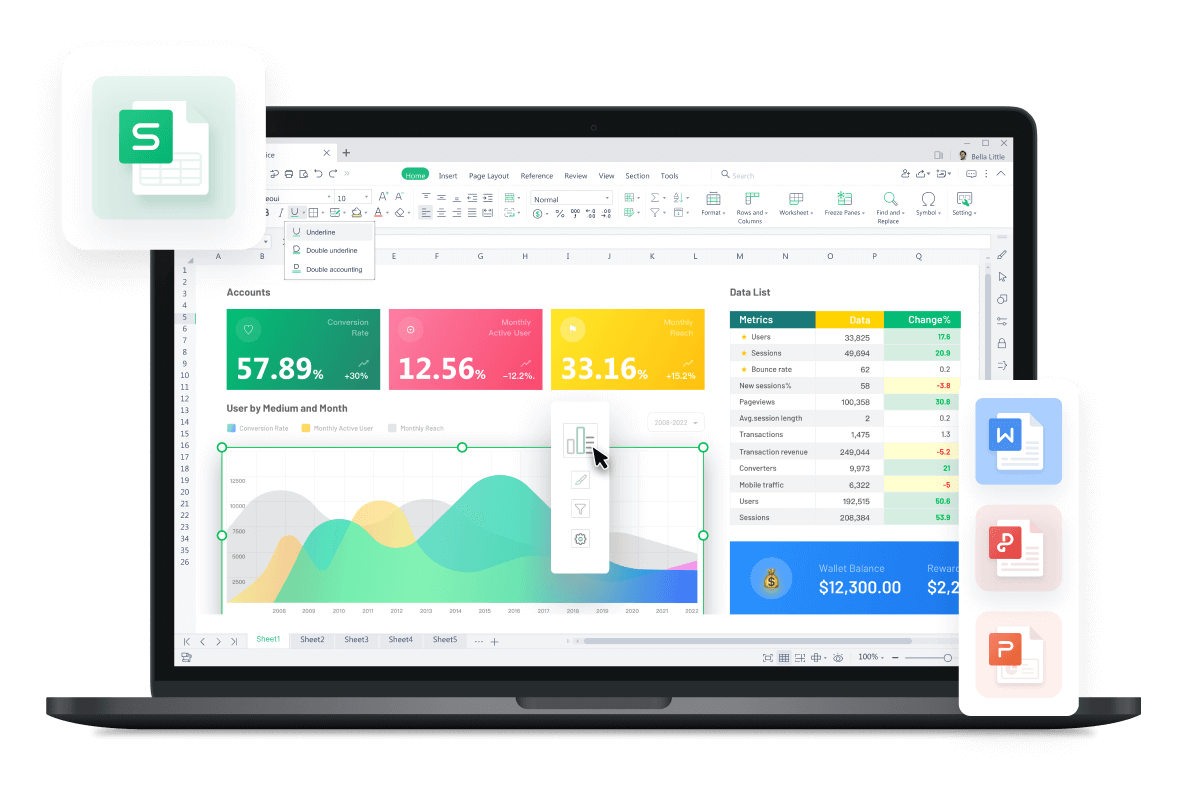 How to use excel spreadsheet (The Beginner's Guide)
Sometimes it is often necessary to know how to use excel spreadsheet. Many job opportunities request it as basic knowledge to be able to hire any employee. While some request ease of use, many others specify that what they want are knowledge applications to create inventories or budgets of various kinds.
In any of the cases, it never hurts to know, especially since knowing how to use excel spreadsheet, these are the elements that are most used to demand. With the correct steps, it can be done specifically for each case in WPS Office or other programs where Excel is available.
How to use excel spreadsheet for beginners?
There are not too many complications in how to use excel spreadsheet 2016 in its most basic elements, especially since it is a process in which the familiarization with the tools begins. In basic usage, I highlight the following steps:
Download and enter Excel on your computer.
Open an existing Excel document by clicking on it. If you want a new document, skip this step and go directly to the program.
If you want, you can use an Excel template, scroll down until you find the one you want and then click on it once to open it. If you want just a document with no template, click the Blank option.
Wait for the Excel workbook to open, and once you have the template or blank document, you can enter the data you want in the sheet. This way, you can fulfill the basic choice of how to use excel spreadsheet online or from the program installed on your computer.
How to use excel spreadsheet to create a housing inventory from scratch?
This same system of how to use excel spreadsheet 2019 is also functional for another type of inventory, being as follows:
Open the Excel program from an existing workbook or a blank document.
Name each of the columns you are going to use. It is also recommended that you list the item in inventory, checking the row so that the data is correctly labeled.
When you're done labeling the columns, enter the data into the rows, with each element having its row and each bit of information having its cell.
Go to the Data tab and press Filter, thus appearing some dates in each column header. Click Location to open the filter menu, check only the header you want to have as a dropdown menu, then click OK.
Tap Page Layout to customize the spreadsheet after you've entered all your data. This feature is also possible in how to use excel spreadsheet mac.
Save the document in File and then in Save As, naming it whatever suits you for the housing inventory.
How to use excel spreadsheet to make a monthly budget template?
Finally, the use of templates is presented, which is usually very functional to know how to carry budgets of any type, being as follows:
Open Excel in a new workbook.
Look for the Simple Monthly Budget template, the official and free program for this type of budget. You can find it by typing Simple Monthly Budget in the top search bar.
By selecting the Simple monthly spreadsheet and pressing Create, you will be able to have a new spreadsheet from that format.
Enter the Monthly Income tab to locate them at the bottom, next to Summary and Monthly Expenses.
Go to Monthly expenses to enter the expenses and their amounts. You can double-click on any cell to change values.
Go to Summary to view the budget. When you enter all the data, the graph will immediately update to reflect income versus expenses.
Save the document when you're done or have a good stopping point. You have to click on File and Save As, thus naming the document as you prefer.
So, finally, you will know how to use excel spreadsheet in the most general ways to create inventories. Ensure that all your data is completely organized and with the corresponding details to avoid possible future mismatches.
You can also download WPS Office to edit Word, Excel, and PowerPoint documents for free. Download now! And get an easy and enjoyable working experience.