WPS Office
Free All-in-One Office Suite with PDF Editor
Edit Word, Excel, and PPT for FREE.
Read, edit, and convert PDFs with the powerful PDF toolkit.
Microsoft-like interface, easy to use.
Windows • MacOS • Linux • iOS • Android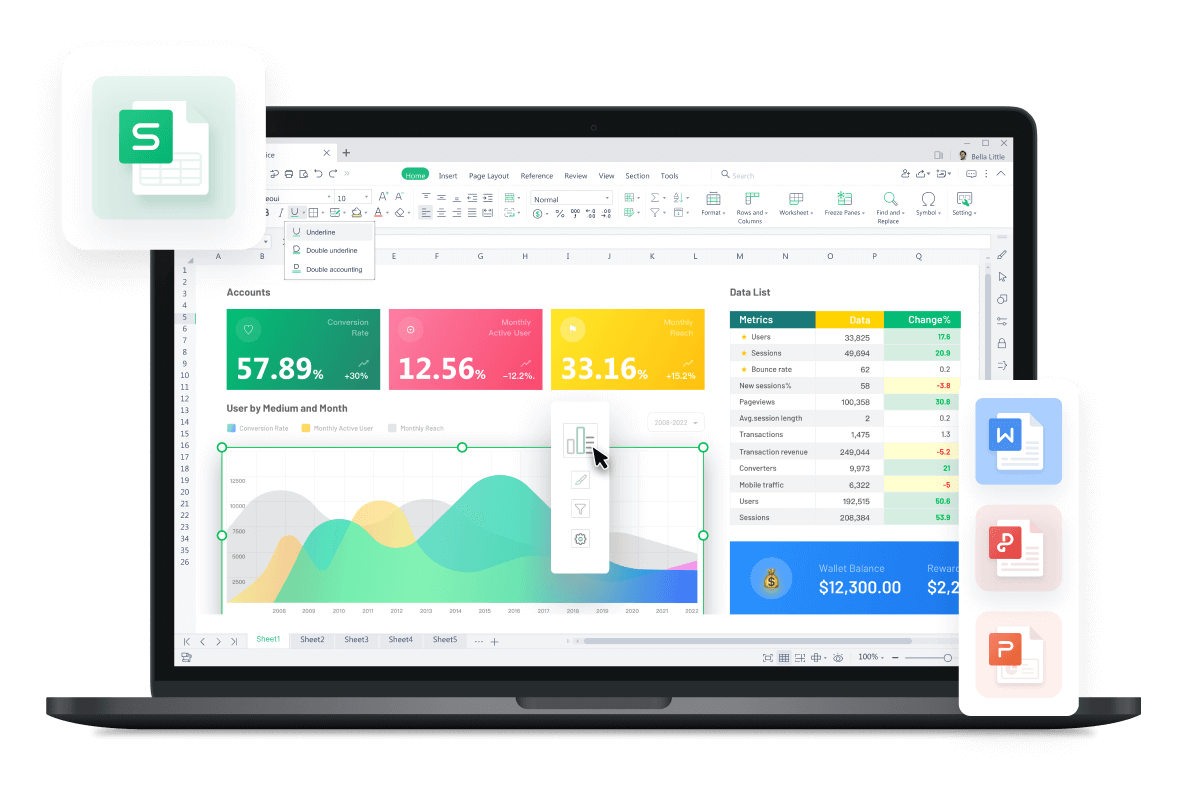 How to Make All Excel Cells Equal Size in WPS Office: Guide for Beginners
Make your Excel sheet visually captivating by ensuring a consistent grid level. While creative freedom often dictates the process, there are instances where achieving uniformity at specific levels is paramount. The good news is that you won't have to resort to manual adjustments. In this comprehensive guide, we will share professional insights and practical techniques on how to make all Excel cells the same size using WPS Office.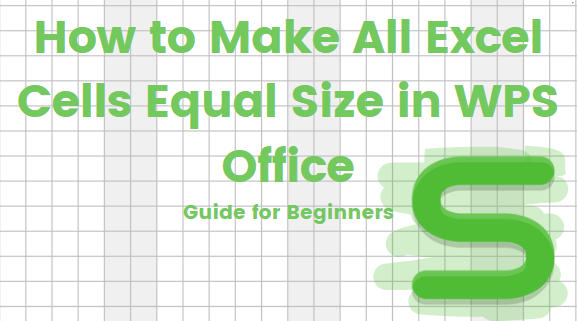 How to Make All Excel Cells Equal Size in WPS Office
How to Make All Excel Cells the Same Size in WPS Spreadsheet
Let's start with this tutorial on how to make Excel cells equal size in WPS Office using the AutoFit function:
Step 1: Open WPS Spreadsheet and the spreadsheet where you want to make cells equal size.
WPS Spreadsheet sample data
Step 2: Select the columns you want to adjust. For example, if you want to make cells in columns A, B, C, and D the same size, move the cursor toward the column head, the cursor will change into a downward arrow cursor. Then simply click and drag to select these columns.
WPS Spreadsheet select and drag to select
Step 3: Once the columns are selected, move the cursor to any column head border. The cursor will change to a 4-arrow cursor.
WPS Spreadsheet drag cursor to the border of column
Step 4: Double-click on the column head border, and the cells' size will adjust to fit the content.
WPS Spreadsheet Autofit feature
This method is straightforward and similar to other office suites. WPS Spreadsheet's value lies in its free accessibility and the array of features it offers to users with diverse needs.
How to Customize Excel Row Height and Column Width in WPS Spreadsheet
Next, let's explore how to resize table in WPS Office Spreadsheet:
Step 1: Open the Excel spreadsheet in WPS Spreadsheet and select the cells you wish to resize.
WPS Spreadsheet select cells
Step 2: Go to the Home tab and click on "Rows and Columns" in the Ribbon menu.
WPS Spreadsheet Rows and Columns
Step 3: To change column width, click on "Column Width".
WPS Spreadsheet Column width option
Step 4: In the Column Width window, manually insert the desired width and press "Enter".
WPS Spreadsheet Column width window
Step 5: The column width of all the selected cells will be updated on WPS Spreadsheet.
WPS Spreadsheet resize cells using Rows and Columns
This method is useful for precise resizing of cells to specific dimensions. WPS Spreadsheet makes these features easily accessible, enhancing user convenience.
How to Adjust Excel Row Height and Column Width in WPS Spreadsheet on Mobile
This next option is particularly beneficial for individuals who frequently find themselves editing Excel files on the go using their mobile devices. In this method, we will learn how to make all Excel cells the same size using WPS Office in mobile:
Step 1: Start by tapping on the cell you wish to adjust, initiating the selection process.
WPS Spreadsheet mobile select cells
Step 2: Extend your selection by smoothly dragging your finger across additional cells you want to include. The chosen columns will be highlighted.
Step 3: A hover menu will appear; locate and tap on the "Column Operation" option.
WPS Spreadsheet Column Operations
Step 4: Row and Column window will pop-up, enter your desired values for row height and column width to adjust height and width of your cells
WPS Spreadsheet adjust row height and column width option
Simple, isn't it? This is why WPS Office mobile is essential for your mobile devices—edit on the go and never miss out on work. Download WPS Office now!

How to Improve Work Performance with Excel Templates in WPS Office
WPS Office logo
WPS Office goes above and beyond with its wide array of templates, showcasing the incredible flexibility of this office suite. The diverse template collection not only makes the interface user-friendly but also highlights how WPS Office significantly contributes to simplifying tasks and encouraging creativity. Whether you're working on professional documents or dynamic presentations, the variety of templates reflects the suite's dedication to meeting your needs effortlessly.
WPS Office Spreadsheet
The abundance of pre-designed documents makes the creation process simpler, allowing you to focus on your content without compromising on style. WPS Office's commitment to providing a comprehensive template collection ensures that you have a plethora of options catering to different industries and purposes. This support not only adds convenience but also solidifies WPS Office as a robust and adaptable solution for various professional and personal projects.
Let's explore how to use free Excel templates available on WPS Office:
Step 1: Open WPS Office on your system to download and edit an Excel template.
Step 2: Click on the "New" tab in the sidebar.
WPS Office dashboard
Step 3: Select "Sheets" from the sidebar options.

WPS Office new spreadsheet
Step 4: Browse through the various available templates. Click on a template to preview.
Step 5: If you find a template that suits your needs, click on the "Download" button at the top right corner.
WPS Office download template
Step 6: The template will open in the WPS Spreadsheet interface.
Step 7: You can now edit and personalize the template according to your requirements.
WPS Spreadsheet edit template
FAQs
Q1. How do I resize the width of columns and rows in a table in WPS Writer?
Here are two straightforward methods on how to resize the width of columns and rows in a table in WPS Writer:
Manual Adjustment: To adjust the width of a column or the height of a row, click and drag the lines surrounding the cells. Your cursor will switch to a double-sided arrow, indicating the resizing function. Use this to expand either the column or row as required.

Precise Adjustment: You can utilize this option for more accurate adjustments. Choose the range of cells you want to work with. Then, locate the 'Width' or 'Height' input box and input the specific width or height value you need. This option guarantees precise measurements for your columns and rows.
Q2. How to collapse or expand rows or columns in WPS Spreadsheet?
You have the option to group the rows or columns to collapse or expand specific sections of the information. To collapse or expand rows or columns in a WPS Spreadsheet, follow these effortless steps:
Step 1: Choose the rows or columns you want to group.
Step 2: Click on "Group" under the "Data" tab to group your selected rows or columns.
WPS Spreadsheet Group data
Repeat the previous step to further group the data.
Q3. What happens if I collapse rows or columns in WPS Spreadsheet?
Collapsing rows or columns in a WPS Spreadsheet improves visual organization and productivity by concealing content within them. This feature helps users emphasize crucial information and declutter the view, promoting a more structured and focused document presentation.
Unleash Excel Excellence with WPS Office!
For beginners discovering the world of Excel, the journey involves uncovering various tips and tricks to elevate the presentation of your data. One crucial skill to acquire is how to make all Excel cells the same size using WPS Office, elevating the overall visual appeal of your spreadsheets.
The beauty lies in the simplicity and functionality of this feature. If you're ready to explore and enhance your Excel experience, consider delving into the capabilities of WPS Office. Download WPS Office today and unlock a world of possibilities for effective data representation.