More features in Signature
Uploaded time: December 23, 2021 Difficulty Beginner
A free Office suite fully compatible with Microsoft Office
Free download

More features in Signature
More features in Signature
When we fill out the document, sometimes we need to insert a handwritten signature.
So what's the difference in the operation of inserting a signature in different office software?
Currently, Microsoft Word only supports inserting a signature in the form of an image, which means we often need to save our handwritten signatures as pictures in advance.
It's more convenient for us to insert a signature into WPS. First, go to the Insert tab, and click the Sign button to choose Create signature. Then a dialogue will pop up. Its shortcut key is Alt+U.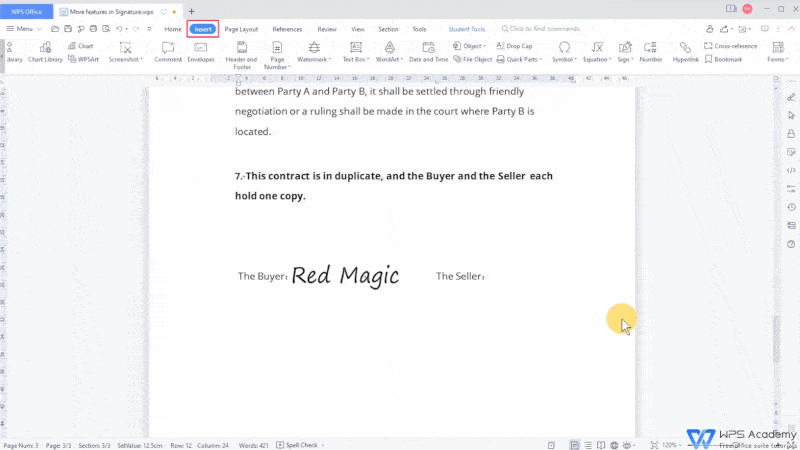 There are three ways to insert a signature.
· 1. Input
If we do not have the signature picture to insert, we can choose Input. Then, we can enter a signature in the input box, , and select a font style in the upper right corner.
Finally, click OK. This signature can be inserted into the document as a picture.
We can drag the signature to adjust its position. Also, we can change the size of the signature according to our needs.
Press Delete, and then we can remove the signature.
· 2. Image
If we have already prepared the signature image, we can enter the WPS Signature dialogue again, click Image, and click Insert an image as your signature to insert the signature image in the local file.
If the font in the image is not black, we can click to open Set as Black and White. Changing the font to black will make the signature more formal.
Finally, click OK. Then we can insert the signature into the document.
· 3. Handwrite
If the current file requires a handwritten signature, but we did not prepare the image in advance, we can create a handwritten signature in the Handwrite area and insert it into the document.
The signatures we have inserted will be stored in the Sign drop-down list as personal resources. If we want to insert a signature, we can click it directly in the Sign drop-down list.
Here are the tips for using the Signature function. Did you get it?