WPS Office
Free All-in-One Office Suite with PDF Editor
Edit Word, Excel, and PPT for FREE.
Read, edit, and convert PDFs with the powerful PDF toolkit.
Microsoft-like interface, easy to use.
Windows • MacOS • Linux • iOS • Android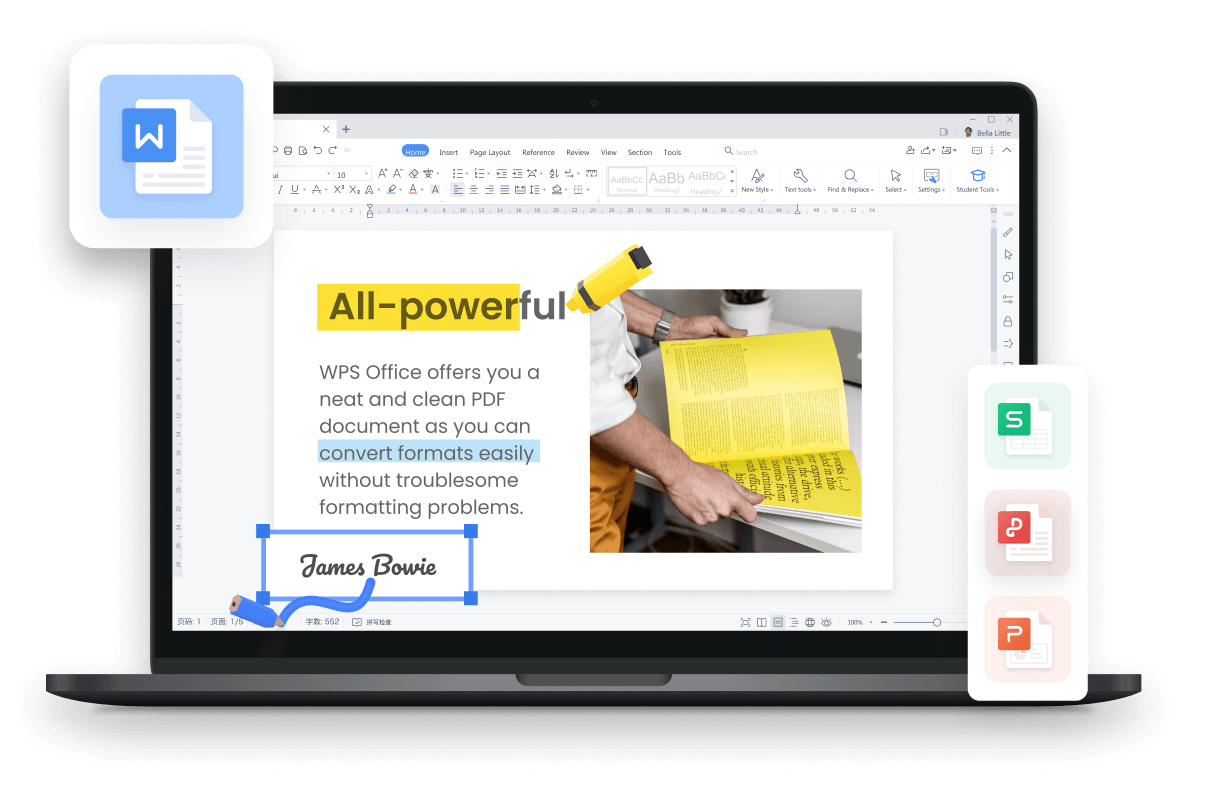 Top 10 business plan template free word download 2022
The purpose of a business plan template free word is to describe a new or existing business opportunity. It should explain business strategies, marketing plans, financial forecasts, potential suppliers and other information about the company.

WPS Office provides users with a large number of business plan template free word. If you want to present a business plan instead of a Word document, you can download half a dozen WPS Office PowerPoint templates and use them for this very purpose.
Top 10 business plan template free word download 2022
The business plan should present the company's goals, mission, and vision in an appealing way. To accomplish this task, an attractive design is essential. This Word template will help you create such a business plan document.
This Word business plan template has a very simple layout. It does not use many design elements, images or colors. Instead, the design focuses on the content of the document. Thanks to this approach, the template is ideal for designing very effective business plans for many different types of businesses.
If you want to create an impressive and attractive business plan brochure for a large company or a corporate brand, this Word template will be very useful for you.
4.Simple IOS Product Business Plan
This free business plan template for Word is provided directly from the official WPS Office template directory. It can be downloaded for free and features a modern page layout. It is ideal for creating business plans for companies.
5.Orange flat business general Plan
Another free Word business plan template from the WPS Office directory. This template is designed for freelancers and agencies specializing in home-based professional services. It also includes a fully editable layout.
With this template, you can do all that and more. The layout is fully editable so you can customize it to your liking.
This Word template was created for you. Its very light and simple design allows you to present all the elements of your business plan in a professional way.
8.Business Marketing Plan Timeline
With this Word template, you can create a powerful four-page business plan. It has an effective page layout that is ideal for creating a business plan summary. The template is fully customizable.
This simple business plan template is ideal for creating a one-page brochure or a two-page document. The template comes with two page layouts that can be used to create a simple two-page business plan that includes only one page. They can also be printed separately. It is very simple, but at the same time very effective.
10.Atmospheric Star Business Plan
This Word business plan template is specially designed for startups and agencies. It offers a set of modern page layouts,
Top 5 Free Websites Where You Can Get Good Business Plan Templates
You don't have to spend a lot of time doing research to find the right template for creating your business plan. We have mentioned the five best business plan template word websites so you can find the right template quickly.
wps office directory
You can rely on the WPS Office library to find the right business plan template word that is suited for your needs. It's easy to access the WPS Template website on all devices and browsers.
Pros:
You can use the WPS Template library to find and download the right business plan template easily.

The templates provided on this website can be downloaded in DOCX, XLSX, PPT, or PDF format.
Cons:
There is a limited number of word templates available on this website.
free css template
Free CSS is one of the best places for finding CSS business templates. Using this website can help you create a business plan that is compatible with different formats and contains all your important business-related information.
Pros:
This is a free website that provides tons of useful templates for businesses.

You can see the picture of the business plan template before downloading it.

Using this website for downloading templates can help businesses save a lot of time.
Cons:
Finding the right template for your business is not easy if you use this website.
smartsheet template
If you are looking to create a business plan template in PDF format, then you should consider using the Smartsheet website. The good thing about this website is that it provides templates in good order and helps you simplify the research process.

Pros:
It is a free website that provides plenty of business plan templates.

The business plan templates provided on this website contain tables to present data in the best way.

This business template can be used to cover all business details.
Cons:
Some of the templates provided on this website lack fields for adding text.
nicepage business template
If you want to publish your business plan on a website, then you should consider using this template. This template will help you customize your business plan the way you want in simple steps.

Pros:
Adjusting the font size, color, and style is easy when using this business template.

Users can tweak this business plan template to adjust content and design elements.

This website provides an easy-to-use process for creating business plans.
Cons:
You cannot edit this business plan template online, and it needs to be downloaded.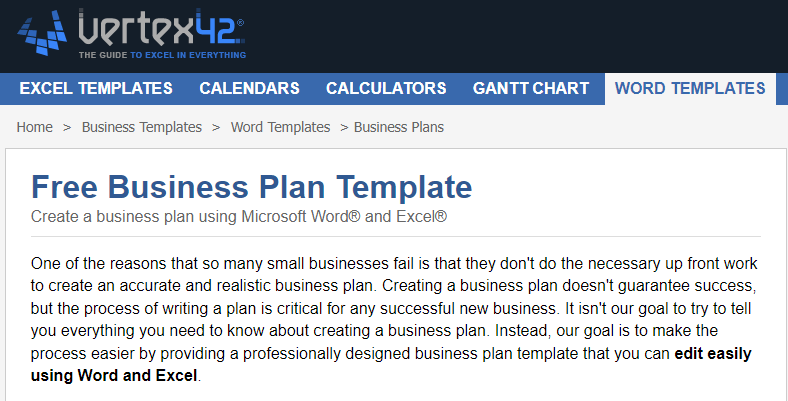 vertex template directory
Vertex42 is a great website that can help you find a business plan template in both xlsx and docx formats. You can download the template in the file format that suits you most and save time and effort.

Pros:
You can easily add text to this business plan template.

It is easy to be expressive about the details of your business.

People can use this template to create plans for all businesses.
Cons:
Using this business plan template is a bit difficult for some users.
What Should the Business Plan Include?
Developing a business plan can get easier if you include all the information that is mentioned here:
Add an executive summary that outlines the information about leaders, workers, location, and the process of a company.

Outline every important detail about the product or service you are going to offer as a business.

Perform a market analysis to find what are the demands and challenges of a market.

Develop a marketing strategy that is better suited for your specific challenges and goals.

Lay out the foundation of how you will handle the company's finances in the long run.

Write down the budget of your company that outlines all your expenses.
FAQs
Q. What is the best format for a business plan?
A. These are the two ways you can follow to create a business plan:
Traditional business plan

Lean startup plan
The format you choose is based on your specific business needs. Make sure you analyze your needs beforehand so you don't waste your time working on the wrong business template.
Q. How to draw a business plan?
A. Here is what you should include in your business plan:
Executive summary

Company description

Market research

Competitive analysis

Product/service details

Marketing/sales plan

Business financials

Organization structure

Funding request

Document appendix
Q. How do you end a business plan?
A. Here is how to write the conclusion of your business plan:
Add the conclusion either below the executive summary or at the end of the plan.

Make sure you add all the information about the business plan at the end.

You can consider adding facts or statistics to the business plan conclusion.

Avoid using a passive tone and maintain a positive tone throughout.

Include a CTA so the reader can take proper action.
Create a Business Plan using WPS Office
There are several software tools you can use to create and publish a business plan. However, if you are looking for the best tool for developing your business plan, you should consider using WPS Office.
The good thing about WPS Office is that it is a complete solution for creating documents, spreadsheets, slideshows, and PDFs in one place. It can be installed on all leading operating systems and help you meet all your business documentation needs.