WPS Office
Free All-in-One Office Suite with PDF Editor
Edit Word, Excel, and PPT for FREE.
Read, edit, and convert PDFs with the powerful PDF toolkit.
Microsoft-like interface, easy to use.
Windows • MacOS • Linux • iOS • Android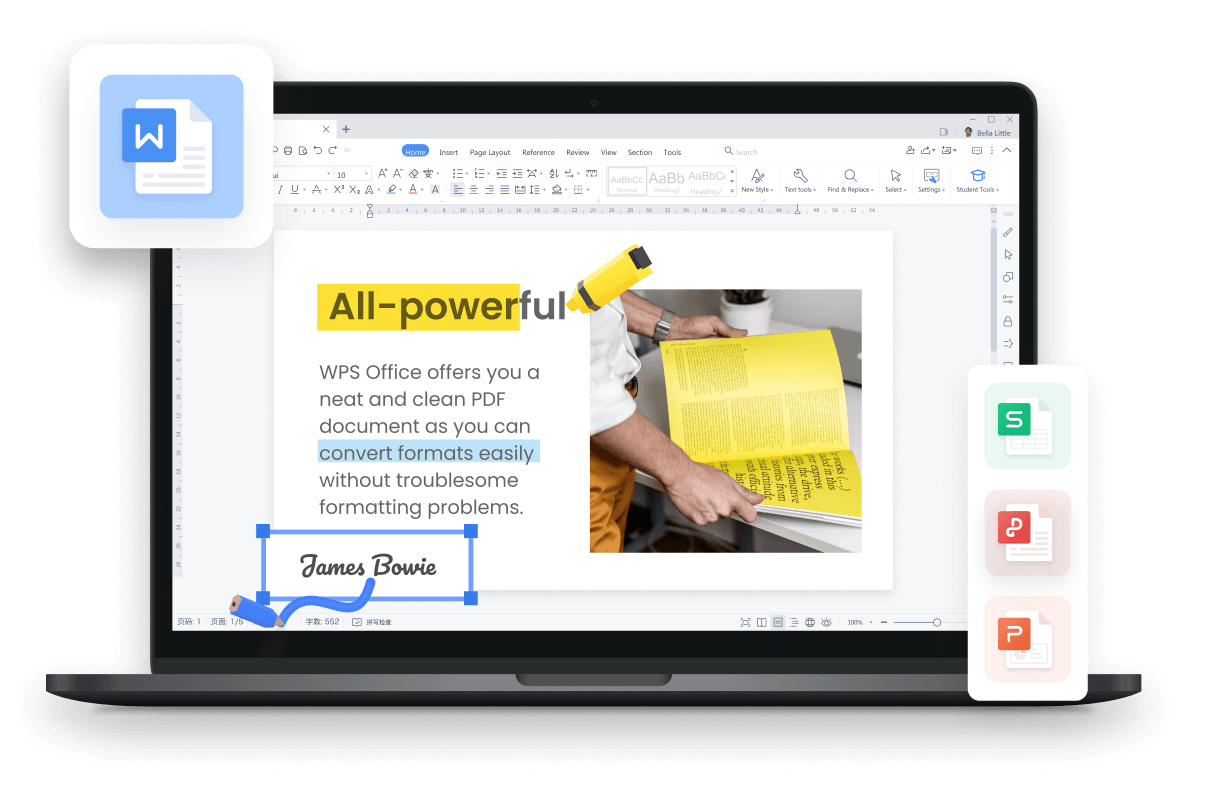 3 Easy Steps to Convert JPEG to Word OCR
With OCR, a picture is converted into a text format like Microsoft Word, DOC, and DOCX with the possibility of further editing and the ability to search. For example, a photograph of printed text, a PDF file, as well as a scanned document can be converted into JPG / JPEG to word OCR.
It is no longer necessary to retype the existing text, wasting valuable time. Multifunctional devices facilitate the completion of this work, which is accomplished in several stages, freeing a person from this tedious task. You can convert graphic data into digital format quickly using software that recognizes scanned text and images. It is possible to edit the resulting files. Have a look at the process of JPEG to Word OCR!
How to Convert JPEG to Word OCR?
WPS Office uses AI algorithms to recognize characters using the OCR feature in the following scenarios.
Step 1
In Kingsoft WPS, the OCR model uses TensorFlow Lite to automatically recognize image types and provide the corresponding filter and output format for OCR.
Step 2
TensorFlow can be used to perform rotation correction, text line detection, and other operations, which saves a lot of time when editing documents.
Step 3
Utilizing TensorFlow Lite to run natural scene OCR on mobile phones, enabling it to accurately locate text from complex scenes in a short amount of time.
As part of WPS, a number of machine learning algorithms have also been processed and integrated, functions such as document-to-picture and content detection have been optimized and enhanced at various levels, and the historical problem of the picture being garbled when converted to a document has been resolved.
How do I OCR an image?
WPS Office's OCR feature is so powerful that you should know how to use it after learning so much about it.
The WPS OCR allows us to drag a picture directly into this box, or we can select the Add Pictures button to start recognizing, or we can choose Screen Capture to capture the image.
Once you have selected the conversion mode, you can then select Extract text only, Convert to Word, or Convert to Excel, based on your requirements.
Do you think it is practical to use the OCR function in WPS Office to extract text from pictures? There is no doubt that the answer is yes. More information about OCR can be found at WPS Academy if you're interested!
How do I Convert an Image to OCR?
Must try the following steps:
You can upload an image or scan it. PNGs, JPGs, and other image files as well as PDFs are acceptable.From the dropdown menu, select the version of Microsoft Word you wish to use (DOC or DOCX).Make sure your file is in the right language to improve OCR.Click on Start.
Sum Up
So, this is the whole process to convert JPEG to Word OCR. There are four components in WPS Office: WPS Writer, WPS Spreadsheet, WPS Presentation, and PDF Editor. There are no barriers and the software works with Microsoft Office documents: Not only can the software open and save Microsoft Office documents, but it can also edit the documents saved by the software. In addition to WPS's compatibility with Microsoft Office document formats, WPS's usage habits and interface functions are compatible as well, reducing the learning curve for PC users and making it easy for them to use daily Office duties. Now you can free download the WPS Office in windows and use its best features.