WPS Office
Free All-in-One Office Suite with PDF Editor
Edit Word, Excel, and PPT for FREE.
Read, edit, and convert PDFs with the powerful PDF toolkit.
Microsoft-like interface, easy to use.
Windows • MacOS • Linux • iOS • Android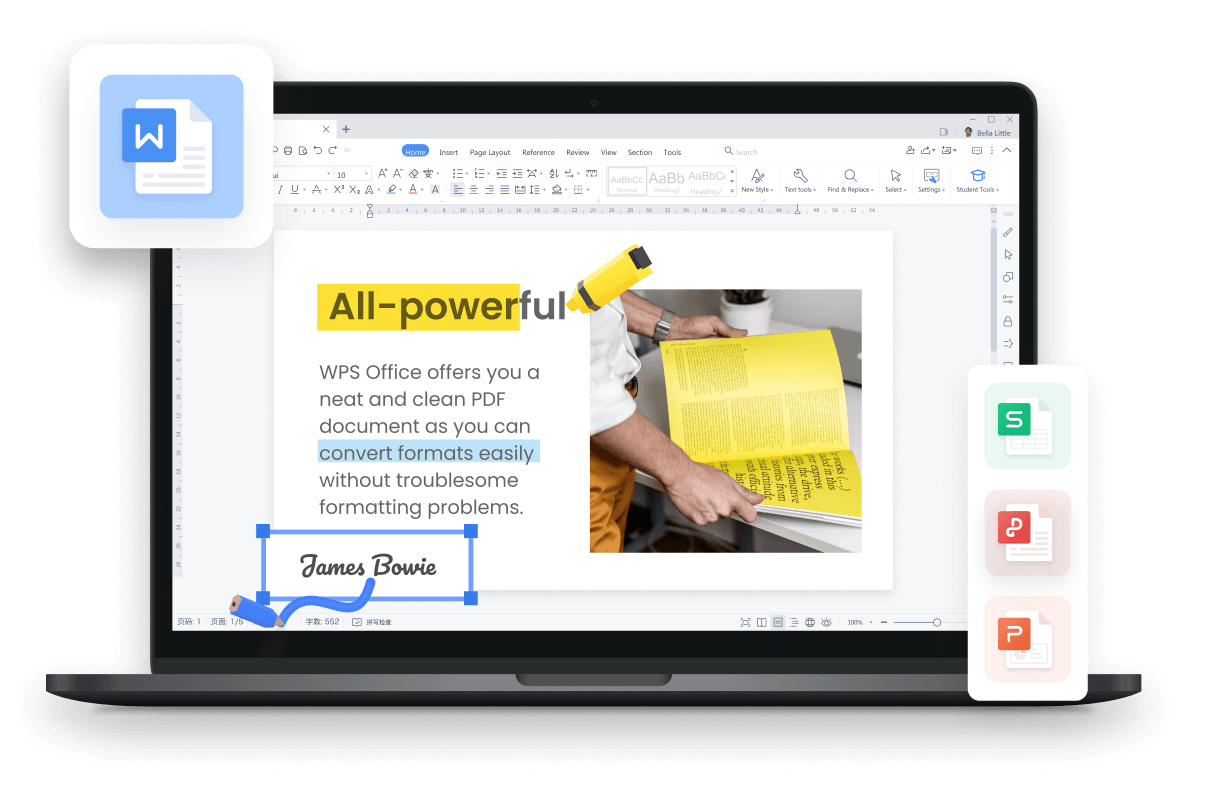 Key Features of JPEG to Word Converter OCR in WPS Office
In this highly-reliable and high-performance office suite, users can protect their information and data for PCs and mobile devices. With WPS Presentation, you can also convert pictures into text. With Microsoft Office, you can do the same with pictures. We will analyze their differences today.
Are you looking for a way to convert JPEG to Word Converter OCR into editable Word files? Using this online Jpg to Word converter, you can convert image text into editable Word (Docx) documents. With this image-to-word converter, you can create a Word document from JPG/JPEG files, JPE files, JFIF files, JIF files, JFI files, BMP files, and TIFF files.
By using this photo-to-word converter, you can make your text editable without having to spend too much time writing it manually. Have a look at JPEG to Word converter OCR!
How to Convert JPEG to Word Converter OCR?
The following steps will guide you through the process of converting jpg to editable Docx.
You can upload or drop an image into the input field.Using a URL is also an option for uploading images.Verify the reCAPTCHA.The Submit button will appear.
How to Convert JPEG to Word Converter OCR? Step-by-Step Guidelines
1.Download the WPS office
Downloading WPS office is the first and most important step.
2.Conversion of the JPG to word feature.
We'll begin by choosing the left-hand menu, where we can see the photographs under the text option. Just click it. You can convert JPG to Word using this feature.
3.Choosing the option for conversion.
You can copy the text from the picture using the context menu in OneNote after you have copied the image.
4.Then Paste the text.
Once you have pasted the text into Word or PowerPoint, you can edit it. It is more practical to perform the conversion in WPS Writer than to do it outside of it.
5.Select the JPG image and upload it
By clicking the image, you can open the Tools tab and select Picture to Text. With OCR technology, images and their text can be intelligently recognized. In the pop-up dialogue box, WPS Office offers three conversion options: Extract text only, Convert to Word, and Convert to Excel.
6.Converting JPG to Word by selecting the option.
The JPG image's text can only be extracted by clicking Extract.
With the addition of an image, the document has now been updated.
How to convert jpg to word on windows 10 & images to documents on the phone?
Click the submit button after uploading or dragging and dropping your images in our jpeg to Docx converter in Microsoft Edge or any other browser. That's all there is to it.
To convert a jpg to a word document, follow the steps below.
Use your phone's browser to open the JPG to Word OCR converterFrom the gallery on your mobile device, select the imagePlease hit the submit button.
Final Thoughts
For your ease, we've come up with this article on JPEG to word converter OCR. Now, it's easy to use WPS Office and free download it. So, what you're looking for? Go and download the WPS Office and use its best feature and convert JPEG to word files. Share your views in the comment section below!