WPS Office
Free All-in-One Office Suite with PDF Editor
Edit Word, Excel, and PPT for FREE.
Read, edit, and convert PDFs with the powerful PDF toolkit.
Microsoft-like interface, easy to use.
Windows • MacOS • Linux • iOS • Android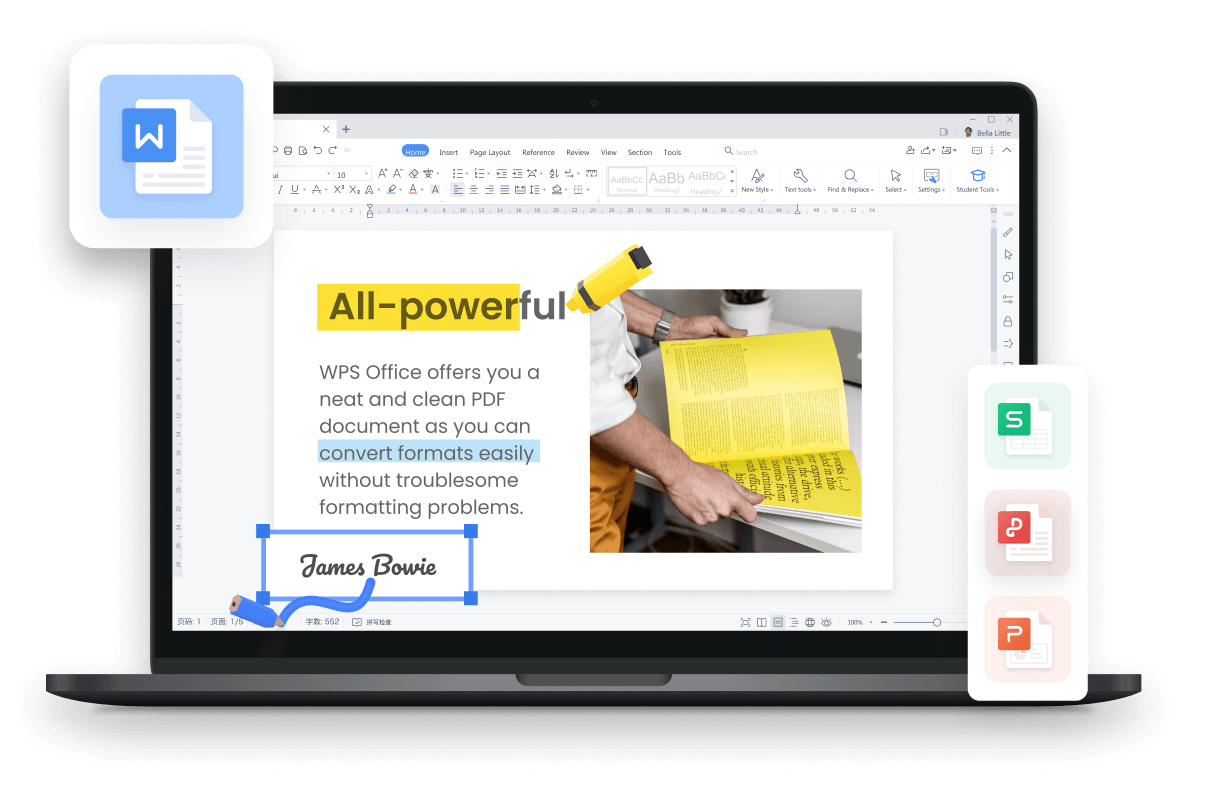 Free OCR to Word converter software
What can be done to make OCR files into Word docs simpler and faster? This differs from a standard Word-to-OCR converter, which reduces the file size. You may convert OCR files to Word without losing quality using the program shown below.
Additionally, the converting procedure works well and takes up little room on your device. A fantastic tool for converting OCR to Word on iPad, iPhone, Windows, and Ios is the WPS OCR to word converter software. The most recent OCR to Word converter is available for Windows, iOS, and iPad. Both the App Store and Google Play Store include this app, which is entirely free.
Why Convert OCR to Word with WPS Office?
WPS Office is the first and sole OCR -to-Word converter that supports Microsoft Office, Documents, and Word and runs on Mac and PC. Your preferred modifying tools may now be used within the same app while you upload, edit, highlight, and export your PDFs to Word. Simple Firing!
By selecting any of the three files, Word to PDF Converter may be launched in a matter of seconds. As a result, choosing a PDF file to edit will cause an automated conversion to Word. Simple One-Stop Fix All converting processes may be performed simultaneously by Word to PDF Converter.
A brief exchange using OCR software:
You can rapidly convert PDF to Word with only a few clicks and drags. OCR requires a scanner to analyze a file's physical structure, recover the words, and produce a PDF version of those words.
Quick and effective conversion:
The typefaces, designs, bullets, and tables from the source file are all preserved during accurate, high-quality conversion with the Pdfs to DOCX converter.
Converting in WPS Cloud:
You may quickly and efficiently convert PDF files into editable Word documents using many web servers. Over 1.1 million people utilize the strong WPS Cloud platform.
Even if you possess many documents and wish to keep their structure, OCR to Word converter software is an excellent option for precisely and rapidly converting from pdf to Word in 2022. It runs on Linux, Macintosh, and Windows. There is a free online converter as well as Mobile apps.
Step1:
Open WPS Writer and choose Cloud > PDF to Word.
Step 2:
WPS PDF to Word Converter appears. To add a Pdf version to the conversion area, drag or open it from your local file.
Step 3:
Based on your requirements, select the saved type and saved location. By choosing Start, you may begin converting the PDF document. After conversion, the editable file will immediately open.
Benefits of utilizing WPS Office's OCR to word conversion software include:
If you use WPS Office to create documents, you might be curious about the benefits of converting your OCR files to Word on Windows. Yes, it is the solution. There are several advantages to saving your text as an OCR.
Compared to OCR, Word documents are much less protected. With password-protected OCR, this is feasible such that only individuals with the login may open and read the document. This is great if you need to share confidential material with others. Another benefit is that PDFs are simple to print. This is because OCR maintains its formatting irrespective of the printers being used.
Your content will print exactly how you planned so you can be assured of that. OCR is also more accessible than Word docs. Furthermore, they occupy less space on your computer's hard drive due to their reduced file sizes. PDF files may be viewed on any system, regardless of whether it has word processor software.
Since PDFs generally have the same look, you can be sure that converting a document to PDF format will appear clean and expert.
Conclusion:
In addition to OCR to the word converter software utilizing WPS office, you must install the WPS office program. Having read this tutorial, you ought to know how to change them to Windows. By downloading this app, you may learn more about its unique features on WPS academy. Use Windows 7 and Windows 10 to get the WPS office downloadable version.