5 special skills you must know when using WPS Office
A free Office suite fully compatible with Microsoft Office
A free Office suite fully compatible with Microsoft Office
You probably know the general skills of WPS Office, but how many special skills of WPS Officedo you know? Today, we will introduce you to 5 special skills you must know when using WPS Office.

l Shortcuts integrated into one
After installing WPS Office you will find that there is only one shortcut on the desktop. The previous WPS Writer, WPS Spreadsheet and WPS Presentation are all removed, and all are unified as WPS OFFICE.
Open WPS OFFICE, you can create text, tables, presentations, and of course PDF. It is really very convenient. WPS Office faithfully practices the principle of simplifying complexity.
l Unified window, just switch tabs
After opening WPS Office, you can directly create a spreadsheet, writer, presentation, or PDF document, and switch between the tags at will.
l New home page module
WPS Office has a special home page that brings together many common WPS functions and daily operations.
Whether you want to use basic features, need temporary features, or want to find history files, it's easier and more comfortable.
l Eye Protection Mode
Eye Protection mode in WPS Office, you can set the background of the document to protect the eyes in green mode. For the friends who often need to use spreadsheet for data and information processing, this is a very intimate function.
Head to the Views tab, click the Eye Protection Mode drop-down button to select the Eye Protection Mode.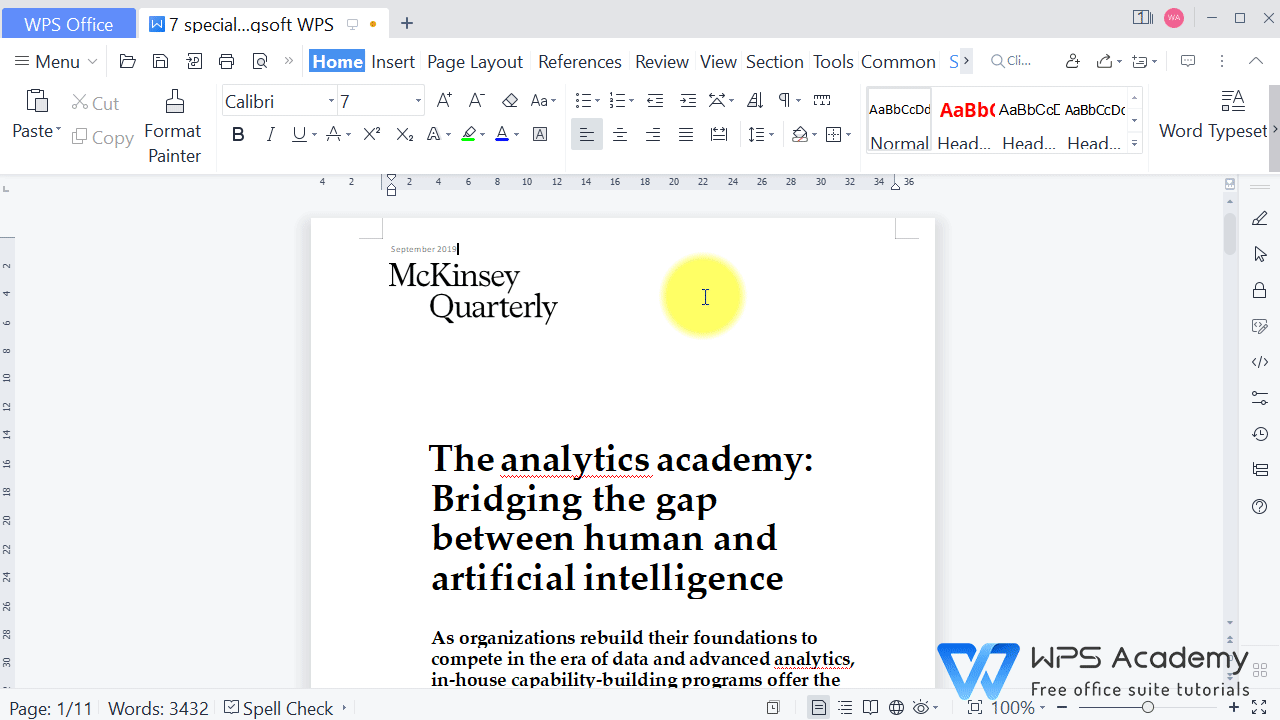 l Distinctive applications
In addition to meeting your daily basic office needs, WPS Office also develops distinctive applications for some difficult work needs to solve some complex high-level problems encountered in your work.
For example, we often need to convert files from different formats, especially from PDF format conversion.
Click the Menu button and choose Export to the PDF to convert the format.
In addition, editing PDF, converting it into pictures, making data charts and so on are also the difficult problems we often meet but have no alternative to, but they can be easily solved in WPS Office.
WPS Office is much more than the features described above, and there're a lot more to discover. If you're interested in more detailed operations about WPS Office, feel free to refer to WPS Academy!
Click to visit WPS Official Academy for more free tutorials:
Top 5 useful functions of WPS Excel
Advantages of WPS PDF: vector graphics, keep print format, high compatibility, small volume