WPS Office
Free All-in-One Office Suite with PDF Editor
Edit Word, Excel, and PPT for FREE.
Read, edit, and convert PDFs with the powerful PDF toolkit.
Microsoft-like interface, easy to use.
Windows • MacOS • Linux • iOS • Android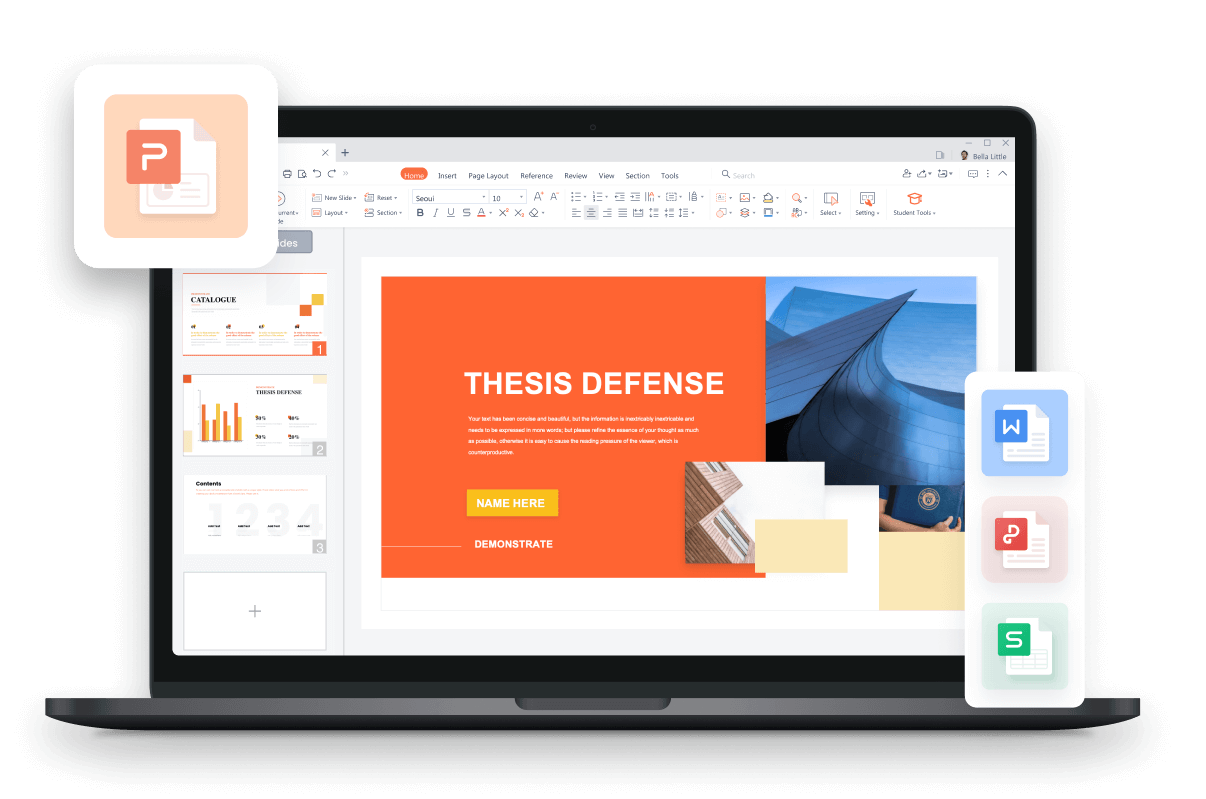 9+ Professional Ppt Template for Google Slides Free Download
Now you don't need to design your presentation slides from scratch. If you are looking for ppt templates for google slides then you are in right place. In this article, you will find a template about what you want like education, business, finance, nature, and medical in our wide range of collections. Download all of these templates for free and can be customizable with your text.
Some templates are multipurpose while some are designed for special purposes for targeting a specific audience. For example, cartoonish templates are designed for children. The beauty of the templates in this article is that they are designed by professional designers. You can easily download the template of your choice by following simple steps. Here I have compiled some best free ppt templates for google slides.
1.Black And Blue Lines Business Presentation Google Slide:
Presenting data in a visually appealing way with these great graphics, the perfect professional ppt template for google slides. Download this simple fresh presentation template for a business report.
2.Summary of Hand Painted Lines Google Slides:
The infographic cheerful template is the best ppt template for google slides. You can download and customize this beautiful eye pleasing template for children's slides.
3.Simple Black Board Lines Presentation for Teaching Google Slides:
Blackboard-themed ppt slides for the teacher to grab students' attention. Customized this simple classy template for any lesson presentation.
4.Rectangular Side By Side Diagram Google Slide:
Make your next presentation with this light and dark blue vibrant template. This simple ppt template for google slides can be customized for any type of presentation.
5.MBE Style Presentation Google Slides:
Look at this stylish cartoonish template. Use this impactful template for grabbing your audience's eye. This creative ppt template for google slides is available for free.
6.Simple Beige Wood Grain Style Presentation Google Slides Template:
If you are looking for a textured simple ppt template for google slides. Must go with these amazing and captivating ppt slides. The wood-styled template can be customized for any business presentation.
7.Animal Themed Cute Cat Work Summary Google Slides:
This free ppt template for google slides professionally designed with great graphics is best. If you are presenting a summary of the animal.
8.Ocean Fresh Art Work Summary Google Slides Ppt :
Charm your audience with this fresh looked professional ppt template for google slides. These ppt slides have a lot of space so you can easily customize them for summary reports.
9.Colorful Business Album Template Google Slides:
Cheerful vibrant colors add charm to your simple ppt template for google slides. Why not download this gorgeous template for your business album?
10.Green Christmas Report Google Slides Ppt:
Download Ppt templates for google slides for free. Customize this vibrant template for Christmas this is super easy to edit.
Are you bored of using the default template for every presentation? Download professionally designed template themes from WPS office software. You will like them. WPS is the name for providing high-quality templates for free.