WPS Office
Free All-in-One Office Suite with PDF Editor
Edit Word, Excel, and PPT for FREE.
Read, edit, and convert PDFs with the powerful PDF toolkit.
Microsoft-like interface, easy to use.
Windows • MacOS • Linux • iOS • Android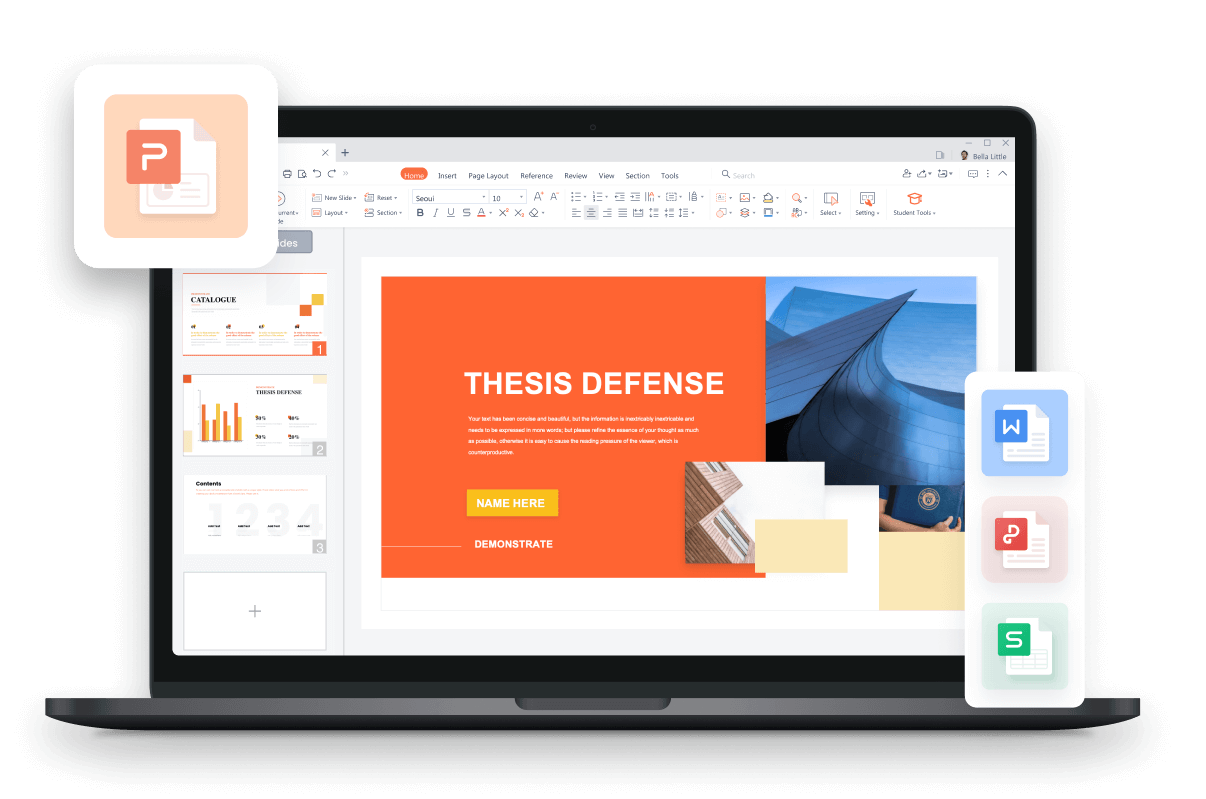 Add animated characters in WPS Office PowerPoint
In this article, you will know
h
ow to a
dd animated characters in WPS Office PowerPoint
with simple steps as following:
A dynamic presentation helps to keep the audience interested. So how can weadd animated characters to a slide to make it more elegant?
Let's have a try step by step.
Here we take a WPS Office introduction presentation as an example.
1. Add the text you need to the slide.
2. Select the text, head to the Animation tab and choose an animation from the box.
3. Then you can click Custom Animation in the ribbon to pop up a Custom Animation pane. Select the targeted item.
4. In the Custom Animation area, you can click the Change drop-down button to change the animation, or click Remove to remove the animation.
5. In the Modify Effect area, you can set the Start time, Direction and Speed for the animation.
6. Click the drop-down button on the right of the item, you can set the start time or remove it with one click, or set the Effects and Timing by clicking to pop up a dialog.
In the Effects tab, you can set Direction, Sound, After animation effects and Animate Text.
In the Timing tab, you can set Start time, Delay, Speed and Repeat.
7. If there are multiple animations, you can click the arrows on the bottom to reorder them.
8. You can click the Play button to only view the effect of the animation, and click the Slide Show button to play the slide show. Here we take Play for demonstration.
With these steps, you are able to add animated characters quickly and freely. Did you get it?
·
Terms Explanation
1. What is animation?
Animation is a method in which figures are manipulated to appear as moving images. WPS Office provides diverse animation effect for common users to meet all needs in daily work. You can also custom the animation effects in numerous aspects like start time, speed, sound and so on.
2.

What is WPS Presentation?
WPS Presentation is a module of WPS Office(an acronym for Writer, Presentation and Spreadsheet). WPS Presentation is consistent with PowerPoint document, which helps users to work with high efficiency. Its personal basic version is free to use and it also provides abundant functions and unique features for you to explore.
Learn more advanced skills about
animation
in WPS
Presentation
:
How to customize animation | WPS Academy Free Office Courses
How to copy animation effects with the animation painter | WPS Academy Free Office Courses
WPS Office provides simple and professional tips to walk you through user-friendly presentation tools featured with clean and nice templates. Presentation is connected with other WPS Office functions. Inserts tables from or images in shortcuts.