The year 2022 is now in its third month. Students all across the world, thoughin different regions, may be concerned about the same thing, that is, the inevitable dread that comes with graduation season: the graduation thesis.Fortunately, you are not fighting alone. WPS ACADEMY is there for you from the beginning to the end.
1. Literature review before writing
Doing literature reviews requires students to take notes and make citations persistently. WPS PDF is a fantastic tool to read papers with a simple interface and a wealth of features waiting to be discovered. You have many reasons to choose this free tool!
lAdd comments and annotations to PDF
WPS PDF fulfills our needs to mark on a PDF. It provides various kinds of comment or marking functions. Students can add comments on scholars' research papers to mark the content that they have difficulty understanding and that they can utilize for further citation.
If you find the Comment function useful, you will love another similar feature—Annotation, which is another choice for you to give opinions.
Similar to the Comment function, this function allows you to highlight text and get into the Annotation mode, where you can freely reply, delete the notes, unfold and fold all notes.
lUse Read Mode to immerse in knowledge
Considering PDF files are frequently, if not always, be used for reading purposes, WPS PDF allows users to enjoy the read mode.
2. Headache encountered during writing
After gathering sources and brainstorming your ideas, it is better to start from here. We all know that beginnings are never easy and you may be easily getting puzzle in some inevitable problems. Don't worry, WPS Academycan come to the rescue.
lDocuments are expired:
What if the documents you've worked so hard suddenly expire or disappear? Why not tryWPS Cloud?
WPS Cloud brings your files together and syncs them across all of your devices, so you can access them anytime andanywhere.
lDocuments are not updated:
The Auto Backup feature can relieve you the headache of having to deal with the blue screen and accidentally clicking "Don't save the changes"after exiting edit. The good news is you can try to find the previous version in the backup file if the file is edited by WPS Office.
lDocuments are garbled:
The saddest moment in life is not when facing your incomplete paper, but when you are unable to open it after you completed it.
Why not try Fires Repair in WPS Writer?
(The path of this function is the same as Auto Backup at Backup and Recovery)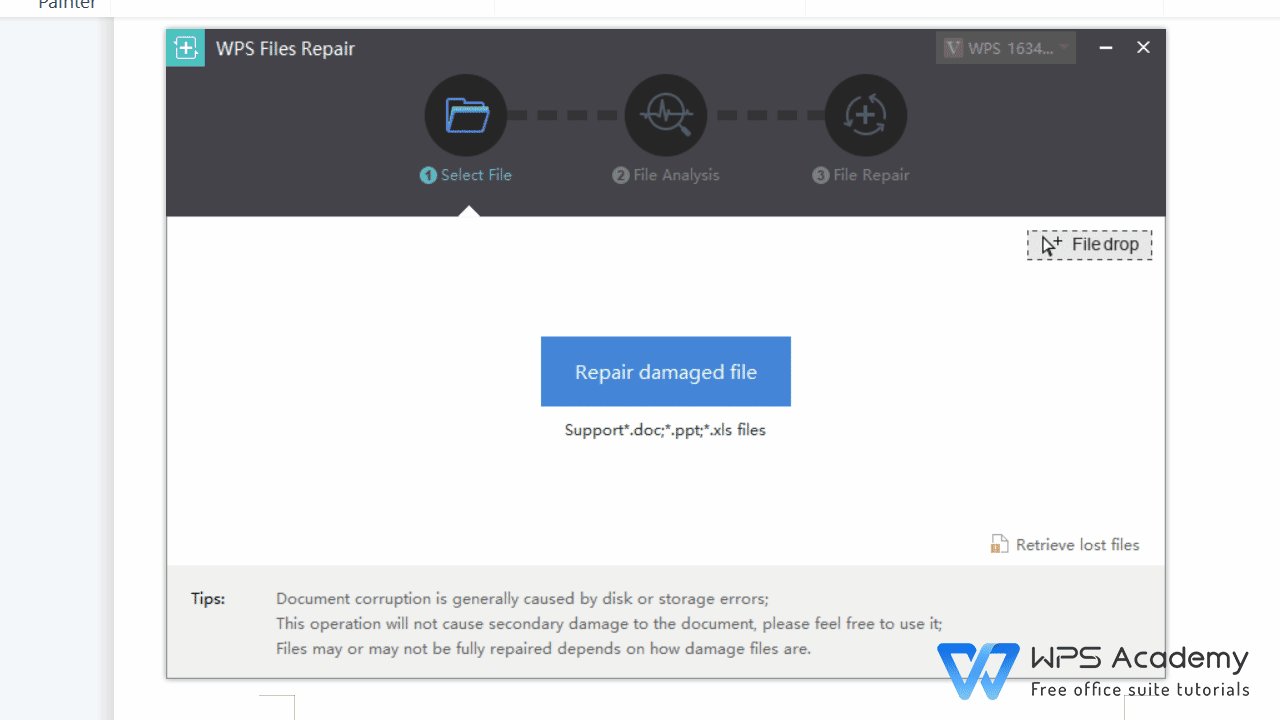 Here are some other tips to ensure a smooth writing process. Feel free to click the links to explore!
How to add a cover page in WPS Writer
Basic settings on footer and header
How to insert a table of contents
How to use the spell-check function
3. Redrafting and revising effectively after writing
Congratulations if you've made it this far! Finally, the paper must be submitted to the tutors.
In Track Changes mode, WPS Writer may record and show all modifications to boost efficiency.
It is also possible to add comments to the document. The powerful Comment function allows you and your tutors to have back-and-forth discussions.
I wish you the best of luck with your graduation thesis!
By the way, WPS OFFICE has also prepared the intimate service of Resume Master for you, where you may create the most professional working image, completing the transfer from a student to an employee.