WPS Office
Free All-in-One Office Suite with PDF Editor
Edit Word, Excel, and PPT for FREE.
Read, edit, and convert PDFs with the powerful PDF toolkit.
Microsoft-like interface, easy to use.
Windows • MacOS • Linux • iOS • Android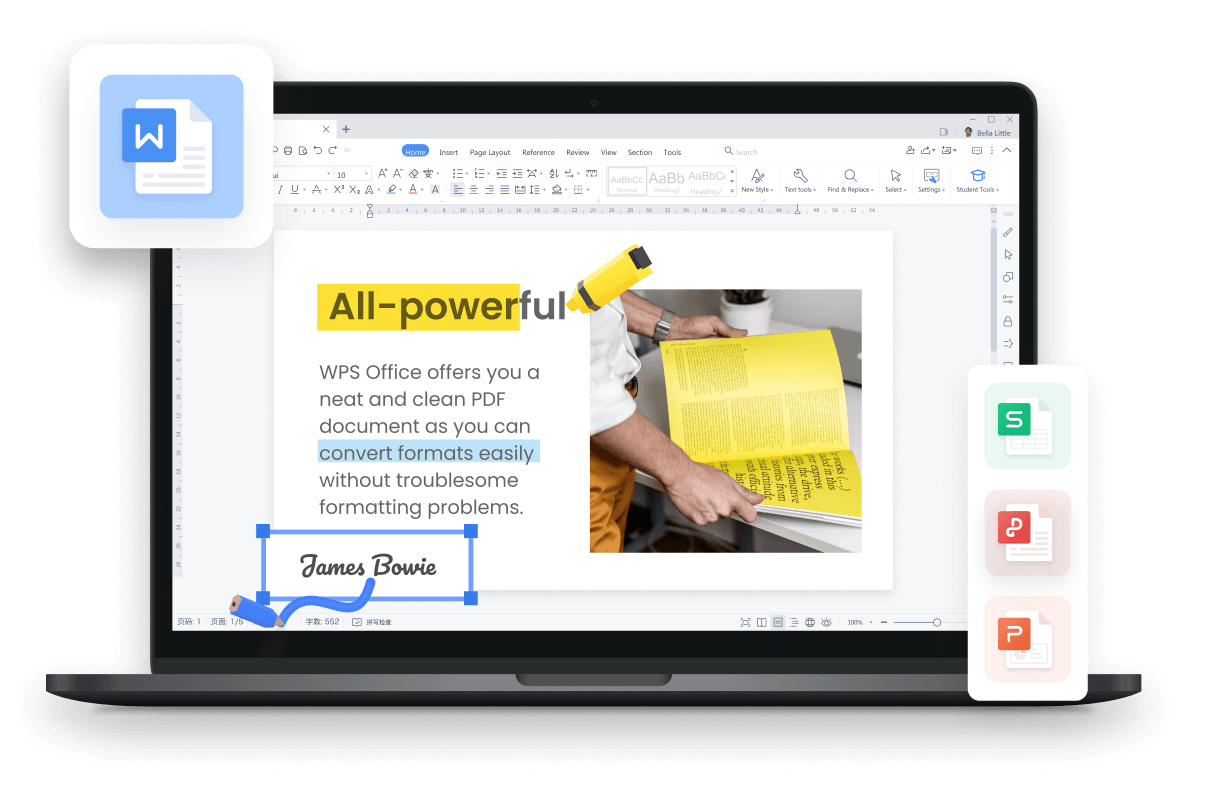 Downloadable Best Free Concept Map Template for Word
A concept map is an approach to sorting out and introducing various thoughts and information regarding a matter. The chart starts with an idea which is the fundamental thought in the center, which is then spread out to show explicit points connecting with that idea. Each free concept map templates are significant, on the grounds that it helps you in being applied while introducing your data, assuming that is the correct method for putting it.
We have compiled all the ways you can create a free editable concept map from templates. You will learn how and where to use a concept map.
Professional Free Templates on WPS Office
WPS Offers one of the best solutions for finding editable, blank, and professional concept map templates for work. There is a wide selection of themes and color schemes to choose from depending on the concept you want to display. From professional to more colorful, from elegant to funky, they have it all. Edit the template online and then download or simply download it for free and begin working.
Here are some of the most popular Free Concept Map templates available at WPS Office.
This is a business flow chart showing each component being linked to the next. You can easily set up a pathway for your business plan, from start to end goal.
The funnel concept map shows the components of a project in an orderly display. These all combine to form the desired goal of the project.
This is the more beginner-friendly template when it comes to displaying ideas on a concept map. This is a less organized yet effective way to get the desired result. The bottom of the iceberg consists of all the components you can input into the project and the final project will be presented for viewing.
You can use this template to separate the basic ideas and link each of them to their complementary data. This way it becomes easier to compose a unique idea as a mixture of all these distinct thoughts.
This diagram represents all the components required to establish a successful business model. This represents each department and the influencing factors from each contributor towards the business.
You can compile the components of your project in any order you want. This concept map displays all the factors that are linked to the final result. You can prioritize the position of each situation in the final draft.
The concept map template should be flexible in case there is a change of components that make up the final result. This map serves to provide alternate additions and replacements of subtitles while remaining true to the end goal.
This template gives you the freedom to deduce what steps you need to include to make your concept map.
How to Use a The Business Model Concept Map Template
There are two ways you can make use of this template. You can download it and edit it on WPS Office or you can perform the edits online and then download the final version.
Method 1. Edit the Template Online
You can customize the details in the template by clicking "Edit in browser"
A new window will open where you can edit the template by changing the text, colors, and sizes of each text box.
When you complete all the edits, simply download the file and save it to your PC or Mac.
Method 2. Download and Edit the Template
You can download the same template and save the file onto your computer before you start editing it. Simply click "download"
You can open your downloaded template with WPS Office software and edit the information similarly to how we did before.
Go to the main menu and save the finalized template for your business model.
2. Online Design Tool-Canva
https://www.canva.com/graphs/concept-maps/
Canva is a free web graphic tool you can use to compose documents such as resumes, cards, concept maps, and other diagrams. The free version of Canva is widely used to create conceptual designs. There is a variety of templates you can choose from by simply clicking on "templates".
Step 1. Go to the Website and search "Concept Map"
Step 2. Choose a suitable template
You can pick the template you find most suited to your project and start editing the text boxes.
Step 3. Click "Share" to download the finalized template.
You can click the "share" button which gives you the option of directly sharing the link with people. You can also download the file on your PC.
Step 4. Choose the File downloading format and size.
The suggested and most commonly used format is to download the template as a picture in PNG.
3. Concise Diagram Templates in Creately
https://creately.com/diagram-community/popular/t/concept-map
This website allows for innovation and customization of its templates. This is an open canvas to create detailed concept maps for your work. You can incorporate diagrams, notes, and sketches all in one template. Get started by visiting the website and choosing your template for a free concept map.
Step1. Choose the template that fits your project from the variety of options
Step 2. Click "Edit Template" after choosing your template and start by filling out all the text boxes.
One of the biggest cons of this website is that most of the high-quality templates are not free. You may only get low-definition templates for free.
4. Good Online Collaboration Tool-Miro
This website provides concept map templates where you can link the smallest of factors together to present the final result. You can structure your thoughts and plans into visual diagrams using these templates
Step 1. Visit the website and click "Create a concept map"
Step 2. Sign up using your email to start picking out templates.
Choose the templates you find most suited to your work and get to customize the information.
The downside to using this website is the unavailability of high-quality templates for free. You would have to get the premium version for high-quality templates.
Why Do We Need to Use a Concept Map?
Your ideas are all inside your head and the best way to convey these is by using visual aids. Concept maps are a way of using diagrams to represent your ideas, planning, and goals. These maps are representing a hierarchy of functions and components that will influence the success of your idea. You need to have a clear idea, its linking components, and a final goal in mind as to what you hope to accomplish.
How can you Choose the Right Template for your Concept Map?
This has everything to do with the theme and type of project. Select the theme you want to base your project on. This can be color schemes, aesthetics of your work, and even the project type. This template may differ for different industries such as food and beverage, healthcare, construction, cosmetics retail, etc.
You should be able to create rough drafts and envision the details you will have to include in your concept map. List down the important components, and the factors you can link to each of them. Then devise links between the components and the link they have to the final goal. Then you can decide on a template to choose.
How to Create a Concept Map?
You need to have a clear idea of the links and hierarchy of your ideas so you can create a concept map.
1. Pick a Template
We have listed a few free websites such as WPS Office from where you can choose your ideal template. This should line with the needs of your project.
2. Pick an End Goal
You must have a clear idea of what the topic of this concept map is. This is considered a starting point when brainstorming.
3. Enlist Related Factors
Once you have a clear idea of the final goal, you can work backward and list all the components that will help you achieve it. This will also give you an idea of how well you can perform or understand each factor.
4. Link Each Component
Link the components with one another wherever possible and also with the main idea. Explain the links between each of these components in a few words.
5. Hierarchy
You need to establish the importance of each component concerning reaching your final goal. You should clearly state which of the factors is most crucial to the project. The smaller goals should be organized in a specific order. Some functions may need completion before others for the project to reach completion.
6. Complete Research
Conduct thorough research on the topic you have chosen and any underlying information you may have missed or ignored.
7. Building a Team
This may not be a one-person job and you would have to bring in a team of people. They can help with the components you are less familiar with.
Frequently Asked Questions
Q: What other concept mapping templates can I use?
A: 1. You can visit www.lucidchart.com and access blank mapping templates if they suit the types of concepts you wish to represent. These are customizable and simple to use for beginners.
2. You can visit https://www.edrawsoft.com/share-conceptmap.html to get started with free concept map templates. They have more colorful and graphic options.
3. You can create mind maps and organize your thoughts with https://www.visme.co/templates/infographics/mind-maps/
4. If you're looking to organize your complex ideas then use these simple templates from https://venngage.com/blog/concept-map-templates/
Q: How many types of Concept maps are there?
A: 5 main types of concept maps are most commonly used:
Flow charts

Graphic diagrams

Venn diagrams

Timelines

Tabular organizers
How to Download and Edit Concept Maps from Free Online Templates
This article has emphasized the importance of organizing your thoughts when trying to present your work. You can use concept maps to represent your ideas and the results you want to achieve. Manually composing these charts can be a huge waste of valuable time. Why do that when you have all these free templates available on WPS Office? You can access high-quality, free, editable, creative, and detailed concept map templates from WPS Office. You can download them and customize them to your projects and take advantage of the software. Visit WPS Office today and get started.