free excel calendar template 2022
A free Office suite fully compatible with Microsoft Office
A free Office suite fully compatible with Microsoft Office
It is time for you to see the most functional excel calendar templates that you will find on the internet and thus put them to use. When you run a business or are in study plans, you may need to prioritize the organization in your life. However, without good excel calendar templates 2022, your goals may be affected, so you should try to download them.
Excel calendar templates are usually distinguished by their design, space between days notes option, and even by bringing you a unique organization plan. You have the right to observe the best excel calendar templates, compare them with each other and choose the one that works best for you according to the organization facilities they give you. After you take a moment to look at the excel calendar templates, you will be free to download them at no cost.
1.2022 Simple Calendar with Timetable Template
The simple design is the first option to consider when choosing an excel calendar templates free download. This template will stand out for its orange and green colors and have a section where you organize your pending tasks.
2.2022 Yellow and Blue Simple Calendar Template
Among the excel calendar templates, you should also consider looking at the ones that offer you a more relevant design in shades of blue and yellow. The template will share a simple organization where you can put your to-dos in the box for each day.
3.2022 Red Dynamic Calendar Template
In the list of excel calendar templates, there would also be those dedicated to women entrepreneurs who love the organization. The dynamic template in red tones will allow you to organize your weekly or monthly meetings if that is your case.
4.2022 Simple General Blue Calendar Template
Excel calendar templates 2021 are also dedicated to men who find it difficult to organize their life but do their best to stick to that plan. You can look at the blue template, which will give you a sheet with all the months and a section on the right-hand side for notes.
5.2022 Colorful Cartoon Calendar Template
If you are in charge of a daycare or just a person who loves cartoons, check out these excel calendar templates. Cartoon calendars are a novelty you should observe and use in 2022.
6.2022 Warm Color Calendar with To Do List Template
The excel calendar templates 2020 will not go out of style and more so when you focus on downloading the calendar adorned with orange colors. This template has two organizers on the right and left sides, so you feel in control of your daily tasks.
7.2022 Orange Calendar with Plan Template
The minimalist will never go out of style, and that is where they excel calendar templates with brown tones. This specific template will have a plan sheet to put the time and place where you will have the work meeting.
8.2022 Monthly Calendar with To Do LIst Template
If you hope to have an excellent experience trying to organize your life, you should download Excel calendar template with notes. It is a very large calendar that will give you both spaces on its sides to place the most important notes.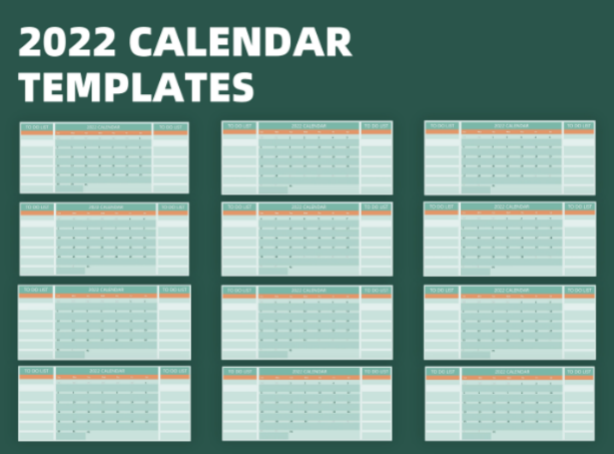 9.Learning Schedule & Useful Calendar Template
In the list of excel calendar templates, you will also come across gems such as the extended plan sheet calendar. The tasks you will have pending for hours are prioritized, while a mini-calendar is shown on the left side.
10.2022 Cartoon Tiger Calendar Template
To close with the collection in excel calendar templates, you should reconsider downloading the cartoon documents. But this time, you could have your favorite calendar for 2022 with the drawing of a beautiful tiger. Excel calendar templates with cartoons promise to be a trend for 2022, so you shouldn't run out of yours.
The excel calendar templates are useful for organizing your university tasks and work. However, you should choose a quality calendar template with enough space to put your daily notes.
If you do not find the one you like in the list of excel calendar templates, you should know that within WPS Office, you will have other options. You need to go to the website and search for the calendar templates that you might like.