WPS Office
Free All-in-One Office Suite with PDF Editor
Edit Word, Excel, and PPT for FREE.
Read, edit, and convert PDFs with the powerful PDF toolkit.
Microsoft-like interface, easy to use.
Windows • MacOS • Linux • iOS • Android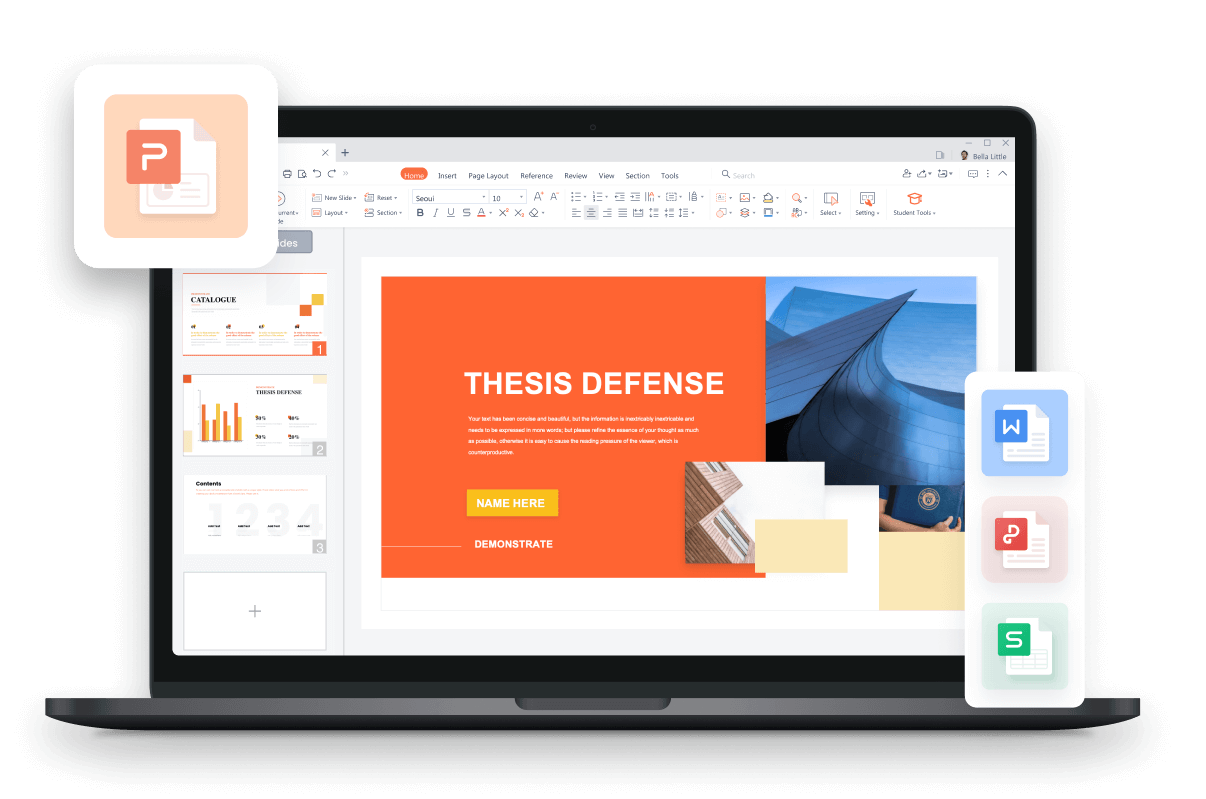 Freely change theme colors in your design in WPS Office PowerPoint
Welcome to WPS Official Academy
to check the contents of h
ow to change the theme colors in your design
.
You are sure to master the skills in changing theme colors according to your design ideas
after reading this tutorial!
Different slide backgrounds and elements require different text colors, but you may find the preset theme colors unsatisfying. And it would be a waste of time to customize colors. Don't worry! You can change the theme colors according to your design ideas with one click within simple steps as follows.
An example for theme colors
1. Head to the Design tab, and click the Color Schemes drop-down button to view the list.
2. Diverse color schemes are provided by WPS Presentation and each scheme has its own themes.
3. Choose the desired one and apply it with one click.
Now you have changed the theme colors and what you need to do is check whether the selected ones are suitable to your design ideas. Try to use these colors!
4. Select the text, head to the Home tab, and click the color button to choose from the selected theme colors.
You will find that the slides looks much better with the new color scheme and you are free to change it again as needed!
With these steps, you are able to change theme colors following your design ideas quickly and freely to beautify your slides. Did you get it?
·
Terms Explanation about WPS Office
What is WPS Presentation?
WPS Presentation is a module of WPS Office(an acronym for Writer, Presentation and Spreadsheet). WPS Presentation is consistent with PowerPoint document, which helps users to work with high efficiency. Its personal basic version is free to use and it also provides abundant functions and unique features for you to explore.
Learn more advanced skills about changing colors in WPS Presentation:
Color schemes: change the theme color with just one click | WPS Academy Free Office Courses
How to change the background color of slides | WPS Academy Free Office Courses
Using WPS Office to create, edit and share Word, PPT, Excel and PDF. WPS Office Academy covers each step by giving free tutorials with details. Step by step, an office beginner becomes a pro. Versions are available for PCs including Mac, Windows, Linux, etc. Mobile versions include iOS and Android.