WPS Office
Free All-in-One Office Suite with PDF Editor
Edit Word, Excel, and PPT for FREE.
Read, edit, and convert PDFs with the powerful PDF toolkit.
Microsoft-like interface, easy to use.
Windows • MacOS • Linux • iOS • Android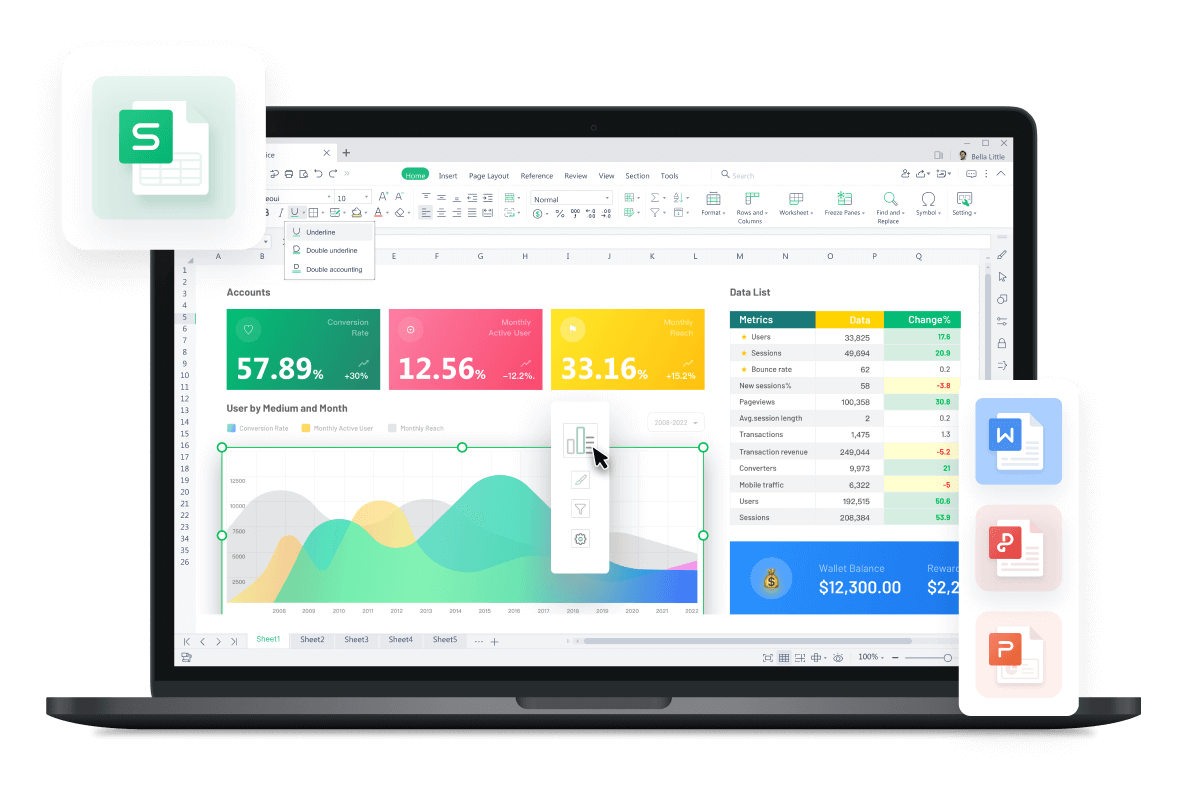 How to convert a text file to excel
Data can be generated in a variety of ways depending on the application. A PDF report may be generated by a word application, while data may be generated in the form of a TXT or CSV file by another programme. Accumulating as much information as possible into a single software that can be used to get the desired outcomes is a difficult task.
Because of its ability to import data from files with a wide variety of extensions, WPS Excel is a popular choice for this task. However, to get the benefit of it you must know that how to convert a text file to excel. This article is going to explain that how to convert a text file to excel.
How to Convert a Text File to Excel?
Suppose I want to convert the following text file to excel how will I do that.
1. Open the Excel spreadsheet where you want to save the data and click the Data tab. And go to the import data option which is circled in following picture.
2. Once you open the import data option you will find the options choose import data again.
3. Click ok in the pop-up window.
4. Now select data source it means the from which text file you want to get the data which you want to convert to excel which is show by number 1 in following picture. And then click the next option and choose the file from your computer you want to convert.
5. Once you click the next the file conversion window will be open stay with other encodings and click next.
6. Now you have text import wizard-step 1 of 3 window stay with "delimited" and click the next.
7. Now you have text import wizard-step 2 of 3 window stay with tab and then click next.
8. Now stay with the General option and click finish.
9. Once you will click the finish your data will be converted to the excel.
How to convert a text file to excel which have list of Name differ with commas into different cells?
If a text has a name list which have different name and the name differ with commos follow the step 7 and select the option commas the names will be differ as with commas.
How to convert a text file to excel in shape of column?
1. Copy the text you want to convert to columns.
2. Paste the text to your worksheet, and select the cells you want to convert.
3. once you select the cell you want to convert Click Data tab choose Text to Columns. It will pop up a Convert Text to Columns Wizard Dialog Box.
4. Choose the file type that best describes your data and click Next.
• The Delimited option means that characters in your text, such as commas or tabs, divide each field.
• The Fixed Width option aligns fields in columns with space between each field.
5. Define the data delimiters, such as tab, semicolon, comma, space, and others.
6. Select the Date Format in Column data format, and a data preview will appear in the dialogue box.
7. Finally, your material will appear in numerous columns. Tab and space are used as delimiters in this example. Other delimiters are possible. By checking several check boxes, you can see how your data will be divided.
This article explains how to convert a text file to Excel spreadsheet. Please visit the WPS Academy website for further information on the WPS office. You may also get a free download of WPS Office from this site, which allows you to edit documents in Word, Excel, PowerPoint, and PDF.