WPS Office
Free All-in-One Office Suite with PDF Editor
Edit Word, Excel, and PPT for FREE.
Read, edit, and convert PDFs with the powerful PDF toolkit.
Microsoft-like interface, easy to use.
Windows • MacOS • Linux • iOS • Android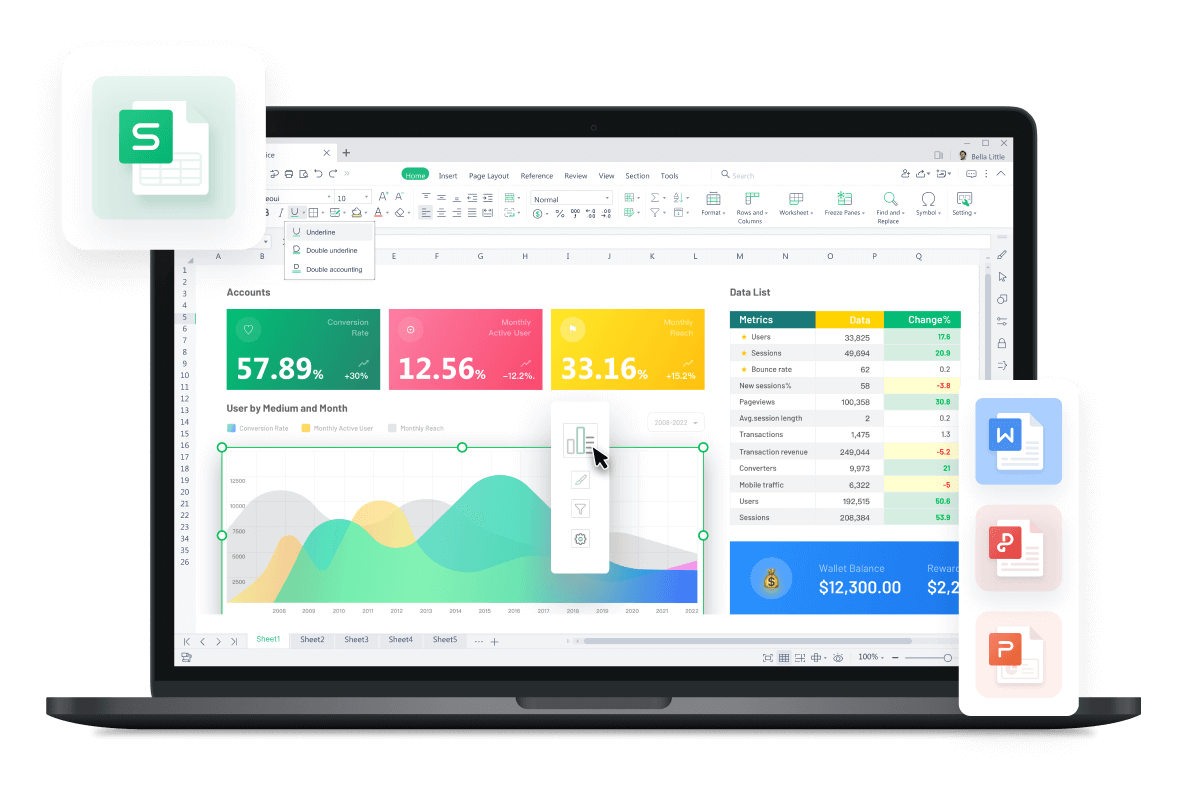 How to Create A Histogram in WPS Spreadsheet? (Step-By-Step Guide)
Histograms visualize data distribution, but some WPS Spreadsheet users need help to build them. This step-by-step guide teaches you how to make histograms in WPS Spreadsheet. You'll learn what histograms are, why they're helpful for data analysis, and how to create them using WPS Spreadsheet tools easily. Follow along to start making sense of your data distributions through useful histograms.
What Is A Histogram In a WPS Spreadsheet?
A histogram turns raw data into an insightful picture. It groups numbers into ranges called bins, displayed as bars of varying height or length. The higher the bar, the more frequent the values in that bin.
For example, a histogram could show the distribution of test scores in a class. You might see many low bins on the left, fewer middle bins, and high bins on the right.
It reveals how scores cluster and where improvements may be needed. Histograms make large datasets digestible through simple visual blocks. With just a few clicks on WPS Spreadsheet, you can create histograms to analyze trends and distributions in your data.
Easy Way To Create A Histogram In WPS Spreadsheet
Creating a histogram in a WPS Spreadsheet is a straightforward process. Follow these steps to generate a histogram quickly:
1. Prepare Your Data
Make sure your data is organized in a column. We'll use a Delivery data column (e.g., Column B) for this example.
2. Create a Pivot Table
Navigate to the "Insert" tab and select "PivotTable" in the Tables group. In the PivotTable Field List, place the Delivery field in the ROWS area and another relevant field (e.g., Order no.) in the VALUES area.
3. Summarize Values by Count
By default, Excel may sum numeric fields. Right-click on any cell containing the numeric field you want to count (e.g., Order numbers) and choose "Summarize Values By" > "Count."
4. Define Intervals (Bins)
To create intervals or bins, right-click any cell under "Row Labels" in the PivotTable and select "Group."
In the Grouping dialog box, set your desired starting and ending values for the intervals (Excel can automatically suggest these), and specify the interval length (increment).
For example, if your data ranges from 1 to 40 with an increment of 5, your intervals might be 1-5, 6-10, 11-15, etc.
5. Generate the Histogram
To create the histogram chart, click on the "PivotChart" button located in the "Analyze" tab of the "PivotTable Tools" group.
A default column, PivotChart, will appear in your spreadsheet, representing your histogram.
Why Choose WPS Office For Your Work?
Looking for a free, fully-featured office suite that can open, edit, and create Word, Excel, and PowerPoint files? WPS Office is an excellent alternative to Microsoft Office, offering powerful features, compatibility, and much more. Here are the main reasons why WPS Office is a perfect choice for your work and productivity needs:
Free and Powerful Office Suite
WPS Office is a free office suite that allows you to open, edit, and create Word, Excel, and PowerPoint documents. It has a clean and intuitive interface while packing enterprise-grade features.
Full Microsoft Office Compatibility
It has complete support and high compatibility with Microsoft Office file formats like .doc, .docx, .xls, .xlsx, and .ppt. You can seamlessly switch between WPS Office and Microsoft Office.
Abundant Templates and Resources
With WPS Office, you can access a diverse template library for documents, spreadsheets, and presentations. It also offers clipart, fonts, images, and other resources.
Lightweight and Fast
I like that it has a small install size and is optimized for speed. It consumes less memory and loads faster than heavyweight alternatives.
Secure and Reliable
WPS Office has reliable security practices like intrusion detection and data encryption. Your documents and data remain protected.
Cross-Platform Availability
It is available on Windows, macOS, Linux, iOS, and Android. Work seamlessly across devices by syncing documents to the cloud.
Online Collaboration
WPS Office enables real-time co-editing of documents stored in the cloud. Multiple people can collaborate efficiently.
PDF Converter and Editor
The built-in PDF converter lets you easily convert Office documents to PDFs. You can also edit, annotate, and e-sign PDFs.
Affordable Pricing
It has a free version with essential features. The paid Premium version is affordably priced for individuals and businesses.
Regular Updates
WPS Office sees frequent improvements and new feature additions. It is updated regularly to fix bugs and improve stability.
Multi-language Support
This Office suite supports English and multiple world languages like French, German, Spanish, Portuguese, Russian, and about 40 more languages.
Accessibility
It also offers accessibility features like screen readers, high contrast mode, keyboard shortcuts, and more.
How To Free Download The WPS Office?
Here are the steps to download WPS Office:
Step 1 - Go to the Official Website
Go to the WPS Office website and click on the big "Free Download" button, and the .exe file will be immediately started to download.
Step 2 - Run the Installer
When the download completes, open your Downloads folder, locate the WPS Office installer file, and double-click to run it. Follow the setup wizard prompts to install WPS Office.
Step 3 - Launch WPS Office
Once installation is completed, you'll find WPS Office apps like Writer, Presentation, and Spreadsheet in the Start Menu. Pin them to the taskbar for quick access.
Step 4 - Register an Account (Optional)
You can register for a free WPS account on the first launch to enable cloud storage and other services. But WPS Office works great offline without an account.
In my experience using both WPS Office and Microsoft Office regularly, I found WPS provides a fast, lightweight, fully-featured office suite for free. It loads quicker, uses less system memory, and has an intuitive ribbon interface like Office.
Steps To Edit Your Spreadsheet In WPS Office
Here is the essential information to edit your spreadsheet in WPS Office:
Step 1 - Open WPS Spreadsheets
Launch WPS Office and click on the WPS Spreadsheets icon, and after that, click on the blank page or open the existing file. You also have an option to open a spreadsheet file on the home page.
Step 2 - Edit the Content
Once your spreadsheet is open, you can start editing the cells. Double-click any cell to edit the contents, or select a range of cells to edit simultaneously.
Step 3 - Edit Formatting
To change font, alignments, number formats, borders, fill colors, and other formatting, use the Home and Format tabs just like Excel.
Step 4 - Insert/Delete Rows or Columns
Right-click on a row/column header and choose Insert or Delete to add or remove rows/columns as needed.
Step 5 - Add Formulas
Type formulas into cells just like Excel, starting with =. Use built-in functions like SUM, AVERAGE, VLOOKUP, etc.
Step 6 - Create Charts
Select data > Insert Tab > Choose a chart type to create charts/graphs visualizing your data.
Step 7 - Save Changes
Click the Save icon or hit Ctrl+S regularly to save your edits. When done, File > Save to save and close the spreadsheet.
So overall, WPS Spreadsheets has all the core features I need for everyday Excel-like spreadsheet tasks - calculating, formatting, analyzing data, and more - at no cost. The interface is clean and intuitive, too.
FAQs
1. How Is A Histogram Different From A Column Chart?
A histogram displays the frequency distribution of continuous data by grouping it into bins, while a column chart shows discrete data values.
2. In Which Fields Are Histograms Particularly Useful?
Histograms are useful in fields like finance for visualizing distributions, medicine for analyzing results, and market research for summarizing survey responses.
Summary
Creating histograms in a WPS Spreadsheet is a user-friendly process that empowers users to analyze and visualize data distributions effectively. With the ability to group data into bins and generate insightful charts, WPS Spreadsheet provides a valuable tool for data-driven decision-making.
I wholeheartedly recommend WPS Office as the go-to solution for various office tasks, including word processing, spreadsheet management, and presentation creation. Its easy compatibility with Microsoft Office files, extensive feature set, lightweight performance, and robust PDF toolkit make it a versatile and cost-effective alternative for users seeking an efficient and reliable office suite.