WPS Office
Free All-in-One Office Suite with PDF Editor
Edit Word, Excel, and PPT for FREE.
Read, edit, and convert PDFs with the powerful PDF toolkit.
Microsoft-like interface, easy to use.
Windows • MacOS • Linux • iOS • Android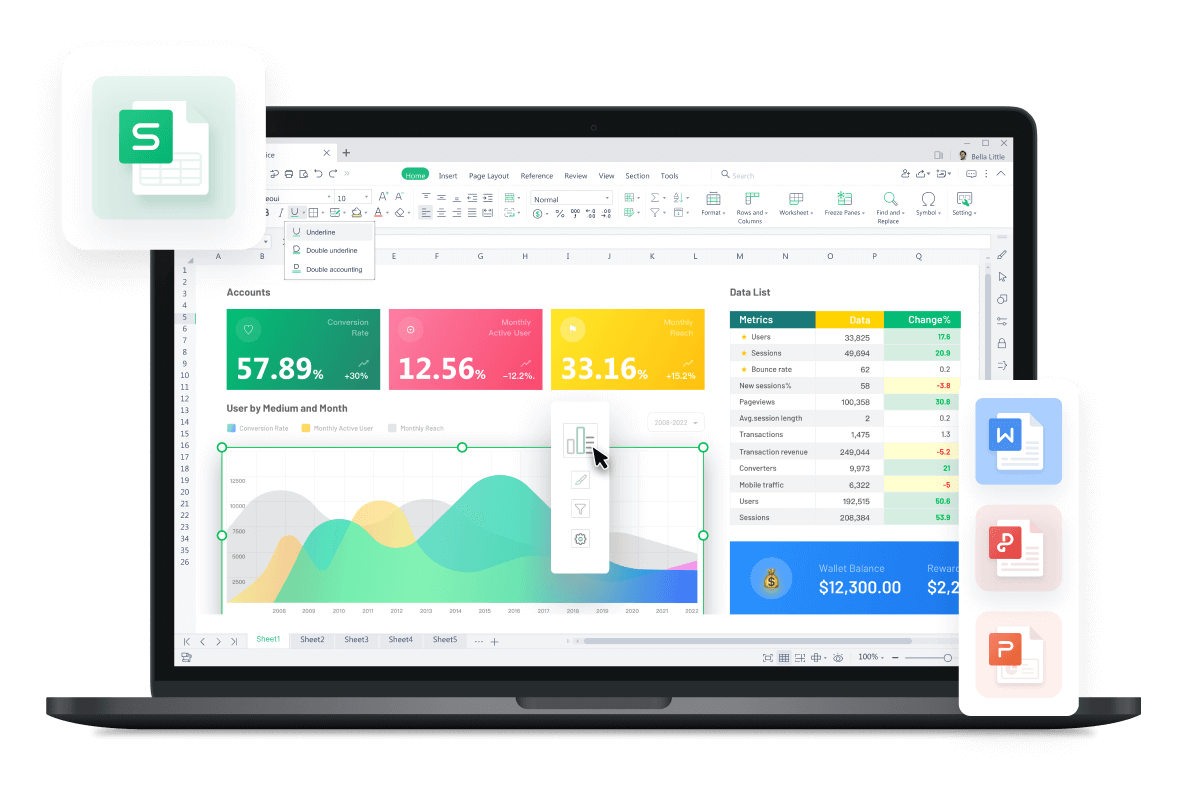 How to Copy Visible Cells Only in WPS Spreadsheet [A Step-by-Step Guide]
Efficiency is crucial in spreadsheet work. Copying only the visible cells not only saves time but also reduces errors and keeps data organized. So, how can you copy visible cells only in an Excel spreadsheet? In this guide, we explore how to copy visible cells in WPS Spreadsheet, helping you streamline your work and improve your data management.
Part 1: About Copying Only Visible Cells Features
Copying only visible cells refers to the action of selecting and duplicating the data that is currently visible in a spreadsheet, excluding any hidden or filtered-out information. This ensures that you replicate only the data that is actively being displayed on the screen.
Purpose: The primary purpose of this feature is to streamline data management and reduce errors. It allows users to focus on the specific information they are working with and avoid unintentionally duplicating hidden or irrelevant data. Whether you are dealing with large datasets or complex reports, copying only visible cells ensures that you extract and work with the most pertinent information, enhancing efficiency and accuracy.
Benefits:
Time-Saving: Copying only visible cells saves time by eliminating the need to manually filter and extract relevant data. This is particularly useful when working with extensive spreadsheets.

Error Reduction: By copying only visible cells, you reduce the chances of inadvertently duplicating hidden or filtered-out data, minimizing data inconsistencies and errors.

Data Organization: This feature contributes to better data organization. It allows users to maintain a clean and uncluttered spreadsheet, with unnecessary information excluded from the copied data.
When Is It Valuable: The need to copy only visible cells arises in various situations, such as:
Data Analysis: When analyzing specific segments of a dataset while ignoring irrelevant information.

Reporting: For generating concise and accurate reports by selecting visible data.

Sharing Information: To share specific parts of a spreadsheet with colleagues or clients, ensuring they only see the pertinent information.
Part 2: Steps to Copy Visible Cells Only in WPS Spreadsheet
Method 1 The Traditional Copy-Paste
Step 1: Open your document and filter the data as needed.
Step 2: Select the cells to be copied after filtering. Click Ctrl+C and click Ctrl+V to paste in the targeted area.
Ctrl + C
Ctrl + C
Method 2 Special Paste Options
Step 1: Open the WPS Spreadsheet and select the cells you want to copy.
Step 2: Press Ctrl + C or right-click and select Copy.
Copy
Step 3: Right-click on the cell where you want to paste the copied data.
Step 4: Select Paste Values to Visible Cells from the context menu.
Paste
Method 3 Using the Filter Function
Step 1: Open the WPS Spreadsheet and select the cells you want to copy.
Step 2: Click on the Data tab in the ribbon. Click on AutoFilter in the toolbar.
AutoFilter
Step 3: Filter the data as needed. Select all of the filtered cells.
Filter
Step 4: Press Ctrl + C or right-click and select Copy.
copy cell
Step 5: Select the cell where you want to paste the copied data.
Step 6: Press Ctrl + V or right-click and select Paste.
Paste
Part 3: How to Download WPS Office
Here are the steps to download WPS Office for free:
Step 1: Start by visiting the official WPS Office website.
Step 2: Look for the "Free Download" button on the website and click on it.
Click free download
Step 3: The download will begin automatically after clicking the button.
Step 4: Once the download is complete, open the downloaded file and follow the provided installation instructions to finish the installation process.
instruction
Part 4: Benefits of Using WPS Office
WPS Office
WPS Office is an all-in-one office tool application that caters to a wide range of productivity needs. It's designed with compatibility in mind, making it accessible on various operating systems. WPS Office is not just about convenience; it's also a feature-rich solution for your office tasks.
Key Features of WPS Office:
All-In-One Suite: WPS Office encompasses word processing, spreadsheet, and presentation applications, providing a comprehensive solution in a single software package. This integration minimizes the need for juggling between different applications.

Cross-Platform Compatibility: WPS Office supports multiple operating systems, including Windows, macOS, Linux, iOS, and Android. This cross-platform compatibility ensures that users can access and work on their documents from various devices and platforms without compatibility issues.

Modern Interface: The user interface of WPS Office is not only modern but also intuitive. It caters to both beginners and experienced users, streamlining tasks and improving overall efficiency.

Rich Functionality: WPS Office boasts a wide array of features and functions comparable to those found in premium office suites. This includes support for complex spreadsheets, charts, data analysis, and more, making it a reliable alternative to other office software.
WPS AI: A significant advantage of WPS Office is the inclusion of WPS AI, an advanced tool that enhances productivity by providing intelligent assistance. WPS AI aids with tasks like document analysis, efficient formatting, and intelligent content recommendations. It supports content generation, summarization, data analysis, and interactive chat with PDFs, making your office tasks more manageable and efficient.
FAQs
How to copy cells in WPS?
You can copy cells in WPS Spreadsheet by selecting a single cell or a range of cells. Simply right-click on your selection, choose "Copy" from the context menu, or use the keyboard shortcut Ctrl+C. This straightforward process allows you to duplicate cell content with ease.
How to format cells in WPS Spreadsheet?
Formatting cells in WPS Spreadsheet is a breeze. Select the cells you want to format, right-click, and select "Format Cells..." from the context menu. Alternatively, use the Ctrl+1 shortcut. This action opens the Format Cells window, where you can customize cell formatting to suit your specific needs.
Summary
In this guide, we've covered how to copy visible cells exclusively in WPS Spreadsheet, focusing on enhancing your data management proficiency. We've highlighted the advantages, purpose, and when it's most beneficial. The guide offers step-by-step methods to copy visible cells, making your spreadsheet work more efficient.
We've also emphasized WPS Office, a powerful, modern office suite that simplifies your tasks. With cross-platform compatibility, rich functionality, and the addition of WPS AI, WPS Office enhances productivity. Whether you're analyzing data or creating reports, WPS Office is a versatile solution.