WPS Office
Free All-in-One Office Suite with PDF Editor
Edit Word, Excel, and PPT for FREE.
Read, edit, and convert PDFs with the powerful PDF toolkit.
Microsoft-like interface, easy to use.
Windows • MacOS • Linux • iOS • Android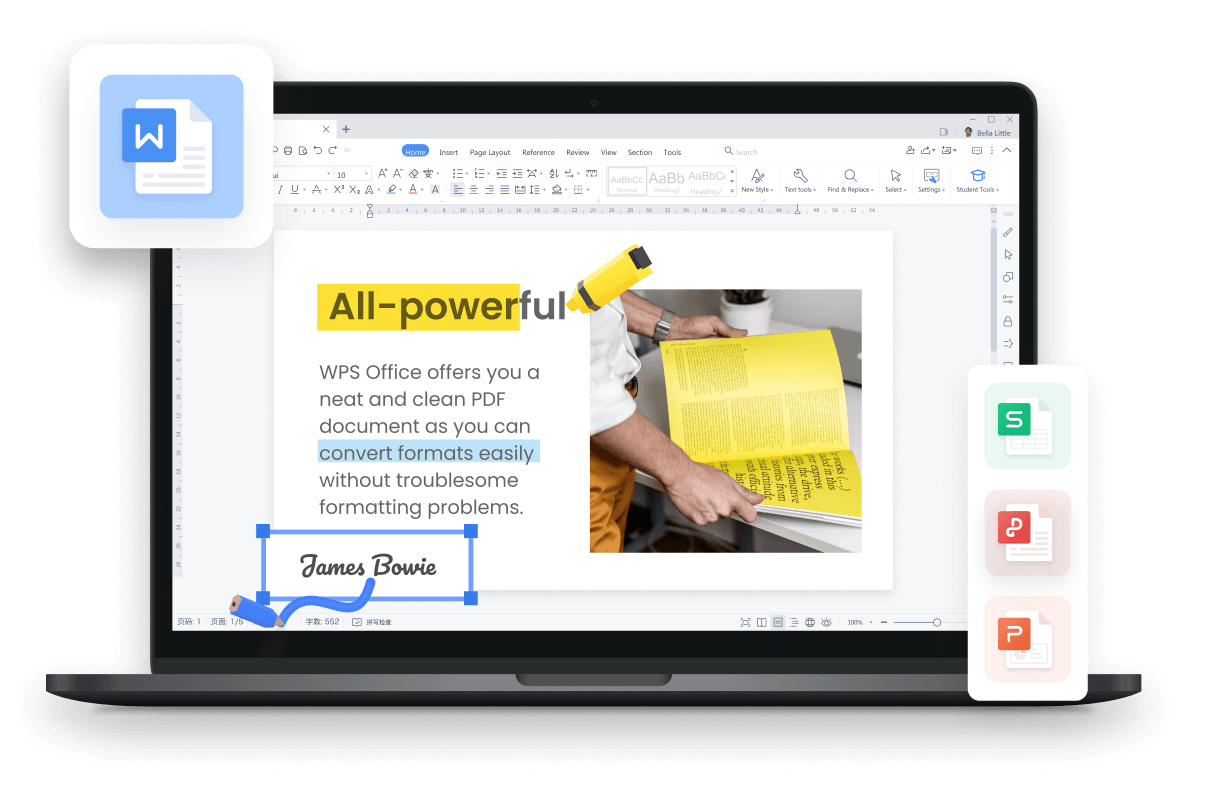 How to delete a Word doc page?
You don't want blank pages in the middle of your document or extra pages at the end if you're using WPS. Tables, repeatedly pressing the ENTER key, unnecessary section breaks, unintentional page breaks, extra paragraph markers, and other factors could all contribute to these extra pages.
Because you don't want your Word document to appear unprofessional as a result of this quirk, I'll show you how to delete blank and extra pages in Word in this article.
How to delete a Blank Page from the Center of a Word Document (how to delete a word document page on mac and Windows)
If you're working with a large word document and are about to present or print it, check for blank pages and an extra final page.
1. Launch the document with the WPS office.
2. Select the paragraph marker icon on the home section of the tab.
3. When you click on the icon, paragraph markers appear at the end of each paragraph and each blank line--basically, whenever you hit the ENTER key and at the start of the extra blank page.
4. To delete these extra pages, use your mouse or trackpad to select the paragraph markers and then press the DELETE button. If one of the markers remains, use the BACKSPACE key to remove it.
5. If you have the patience, you can also remove the blank page(s) by selecting them and pressing the BACKSPACE key until the paragraph markers disappear.
How to Delete an Extra Blank Page in a Word Document
So, you have a blank page in the middle or at the end of your Word document that won't go away. This is a very common and often frustrating issue that many users encounter when creating content in Microsoft Word. You can choose to print only specific pages, but this does not solve the problem.
1.Click the View tab to delete any extra blank pages that may have been added at the end of your document.
2. Go to the Navigation Pane. This will display a sidebar containing icons –Content, Section Navigation, Bookmark, Find and Replace. Click on Select Navigation to display all the pages of the document in the sidebar.
3. The active page will be selected automatically. Click the extra blank page to select it, then press the DELETE key on your keyboard to delete it.
You can also get rid of this extra blank page by pressing the BACKSPACE key.
How to Remove Word Doc Page Breaks (Removing word document page breaks in windows and mac)
In WPS Word, a page break is an invisible marker that separates one page from the next. This formatting mark allows text to flow smoothly from page to page. When you print the document, the printer uses the page break to determine where the first page ends and the second page begins.
1. Open your Word document.
2. Go to Home > Click the paragraph marker > Show/Hide button to display all non-printable hidden marks like page breaks, spaces, and non-breaking spaces in the document.
3. Double-click to select a page break and press Delete to remove it.
4. You can now click the Show/Hide button again to hide the other formatting marks in the document.
5. Alternatively, instead of double-clicking, you can also place your cursor just before the page break marker and hit Delete.
Conclusion
You've learned how to remove blank pages in Word to make your documents look more professional in this article. Thank you for your time. Please share this article with your friends and family if you found it useful.
Have you figured out how to delete word doc in the WPS office? If you want to learn more about Word features, you can enroll in the WPS Academy. You can also use WPS Office to edit excel spreadsheets and PowerPoint presentations for free.