WPS Office
Free All-in-One Office Suite with PDF Editor
Edit Word, Excel, and PPT for FREE.
Read, edit, and convert PDFs with the powerful PDF toolkit.
Microsoft-like interface, easy to use.
Windows • MacOS • Linux • iOS • Android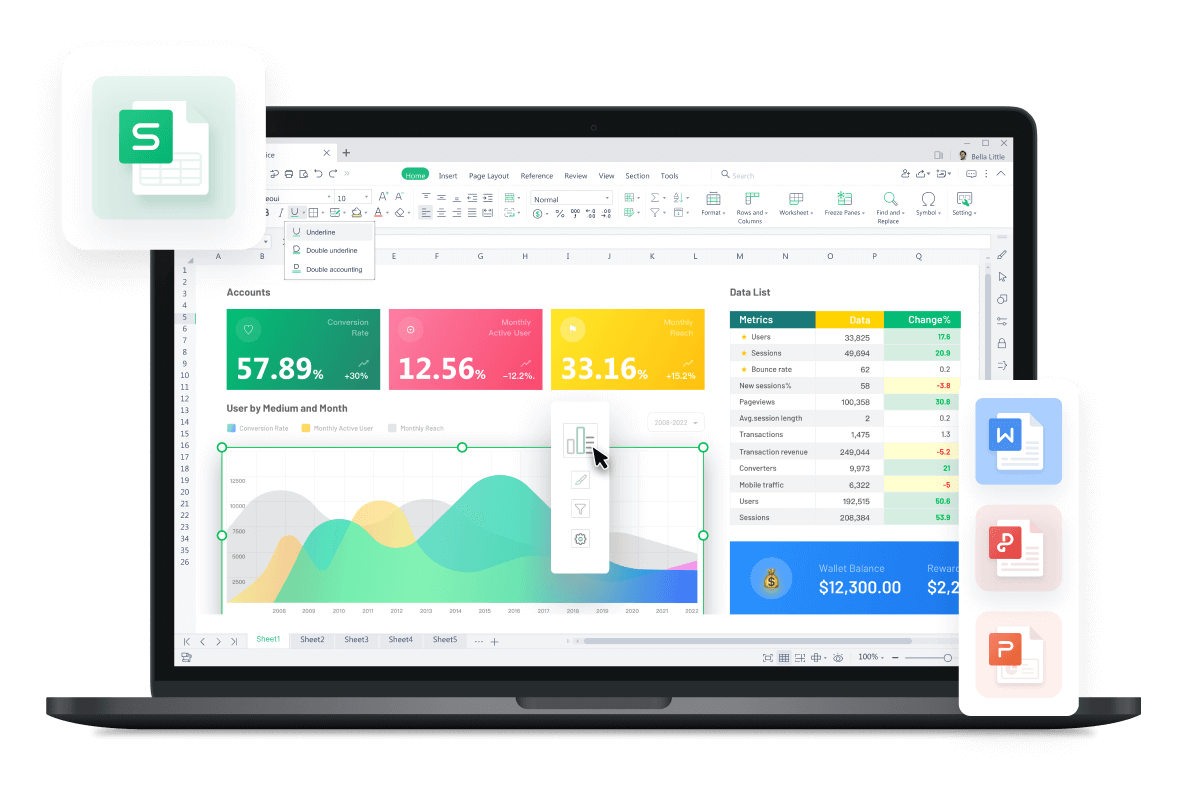 How to Distinct Count in WPS Pivot Table
WPS Office is a suite of office productivity software developed by Kingsoft. It is a popular alternative to Microsoft Office and includes various features, including a pivot table. A pivot table is an effective tool to summarize and analyze data.
Sometimes, the users must learn what does distinct Count mean in the pivot table? And how to distinct Count in a WPS pivot table?
Hence, this article will guide you on how to distinct Count in a WPS pivot table.
What is a Pivot Table?
A Pivot Table is like a super tool for innovatively working with data. It helps you calculate things, summarize information, and find out interesting stuff in your data.
PivotTables' work can differ depending on whether you use Excel on a computer or another platform. But don't worry; the good news is that once you understand how to use PivotTables in Excel, it's similar across different platforms.
Once you get the hang of using PivotTables in Excel, you can mix and match different data pieces to create customized reports that show exactly what you need. Think of it as looking at your data from different angles – like turning a puzzle piece to see how it fits in other places.
This unique feature in Excel, a Pivot Table, is just as cool in WPS Spreadsheets, helping you organize and analyze your data better.
PivotTables a versatile tool that can be used for a variety of tasks, including:
Calculating totals and averages

Analyzing trends

Identifying patterns

Identifying outliers

Creating custom reports
What is Distinct Count in Pivot Table?
The distinct Count of a field in a pivot table tells you how many different values are in that field. This can be useful for understanding the diversity of your data or for identifying outliers.
For example, if you have a pivot table that summarizes sales data by product, the distinct Count of the product field would tell you how many different products were sold. This information could help understand your product offerings' diversity or identify products that could be selling better.
The distinct Count can also be used to compare different groups of data. For example, you could compare the distinct Count of the product field in a pivot table for men and women to see which group has purchased more different products.
How to Distinct Count in WPS pivot table?
Several methods are available to distinct Count in WPS, but pivot tables offer a more convenient way.
Here is how you can distinct Count in WPS using the pivot table:
Step 1: Select the data you want to analyze.
Step 2: Go to the insert option and click on the icon shown above. Select the desired table format.
Step 3: Format As Table dialog box will appear. Click on OK.
Step 4: Click on the PivotTable button. A dialogue box will appear. Choose your data source. If your data is in tables, choose From Table/Range.
If you want to use data from external sources, choose From External Data Sources.
Step 5: Specify the location of your Pivot Table. Please select where you want to place it in the existing or new worksheets.
Check one of these options according to your needs. I am selecting a New worksheet.
Step 6: Click on the OK button.
Step 7: A new worksheet will appear with the PivotTable Fields menu; drag the column that contains the values you count into the Values area.
Step 8: Field List drop down menu will appear, now drag the data to the Rows and numbers to Values.
Step 9: Excel will summarize the values using the Count function. Now you can see the counts on your new worksheet.
Best Office Suite - WPS Office
WPS Office is a seamless and efficient way to work, ensuring a comfortable and productive experience. This versatile suite offers remarkable features that streamline your tasks.
WPS Office boasts remarkable compatibility with Microsoft Office files, effortlessly handling formats like PowerPoint, Word, and Excel. This means you can seamlessly collaborate and share documents with colleagues, regardless of their preferred office suite.
WPS features
Discover the Power of WPS Office:
User-friendly: Enjoy an efficient and comfortable working experience with its user-friendly interface. Furthermore, navigate easily, as WPS Office shares the same layout as Microsoft Office.

Compatible with Microsoft Office: Seamlessly compatible with Microsoft Office Files, ensuring hassle-free document exchange.

Advanced Formatting: Create polished documents, presentations, and spreadsheets effortlessly.

Collaboration Made Easy: WPS Office enables you to collaborate in real-time, ensuring smooth teamwork on shared projects.

Cloud Integration: You can access and edit your files from anywhere with integrated cloud services.

PDF Support: You can edit, convert, and create PDFs, streamlining your document management.

Efficient Data Analysis: Utilize WPS Spreadsheets' powerful data analysis and visualization tools.
Why WPS Office Stands Out:
Cost-effective Solution: Enjoy all these features for free or with affordable premium plans.

Cross-Platform Availability: Access your work on Windows, macOS, Linux, Android, and iOS devices.

Regular Updates: Experience continuous improvements and new features for enhanced usability.
Unleash Your Potential with WPS Office! Download now for a seamless and robust productivity experience that rivals even Microsoft Office.
FAQs
1. How to Find Distinct Values in Excel?
Several methods are used to find distinct values in Excel, but using the data tab is the easiest.
Step 1: Open WPS spreadsheets and go to the Data Tab.
Step 2: Press the Advanced Filter button in the menu.
Step 3: A new window will appear. Select the in-place in the topic section.
Step 4: Select the list where you want to find the distinct values by manually entering the list range or using the mouse cursor.
Step 5: Select the range through the mouse cursor, Then press Enter.
Step 6: Now mark the distinct records-only checkbox at the bottom of the window. Press the OK button.
Step 7: Now, your list will show only distinct values in the list, and it will hide all the duplicated entries. In this way, you can quickly identify Excel Distinct Values.
2. What is the Difference between Distinct Count and Unique Count?
Distinct Count and Unique Count are both methods used to determine the number of different or non-repeated values in a dataset, but they are different in their application:
Distinct Count refers to the Count of individual values in a dataset, excluding duplicate occurrences. Each unique value is counted only once.
Unique Count: While similar, unique Count often involves a broader scope, considering a combination of multiple columns or factors to define uniqueness. This method evaluates a fantastic variety of values, not just individual values, making it more specific.
3. Why does my Excel pivot table not have a distinct count?
You may need help with PivotTable if you add the pivot table's source data to the data model. Check the box "Add this data to the data model." Now you can use the distinct count feature in the Excel pivot table.
Summary
Distinct Count in a PivotTable table is a fantastic feature in WPS spreadsheets to count the number of different values in a field or spreadsheet.
WPS Office is a versatile suite that simplifies tasks and encourages productivity. Distinct Count and unique count functions in pivot tables offer valuable insights into data diversity.
With its intuitive interface, compatibility, and advanced features, WPS Office is an effective and affordable productivity solution.
Download it now for free and access its premium features with a 7-Days free trial!