WPS Office
Free All-in-One Office Suite with PDF Editor
Edit Word, Excel, and PPT for FREE.
Read, edit, and convert PDFs with the powerful PDF toolkit.
Microsoft-like interface, easy to use.
Windows • MacOS • Linux • iOS • Android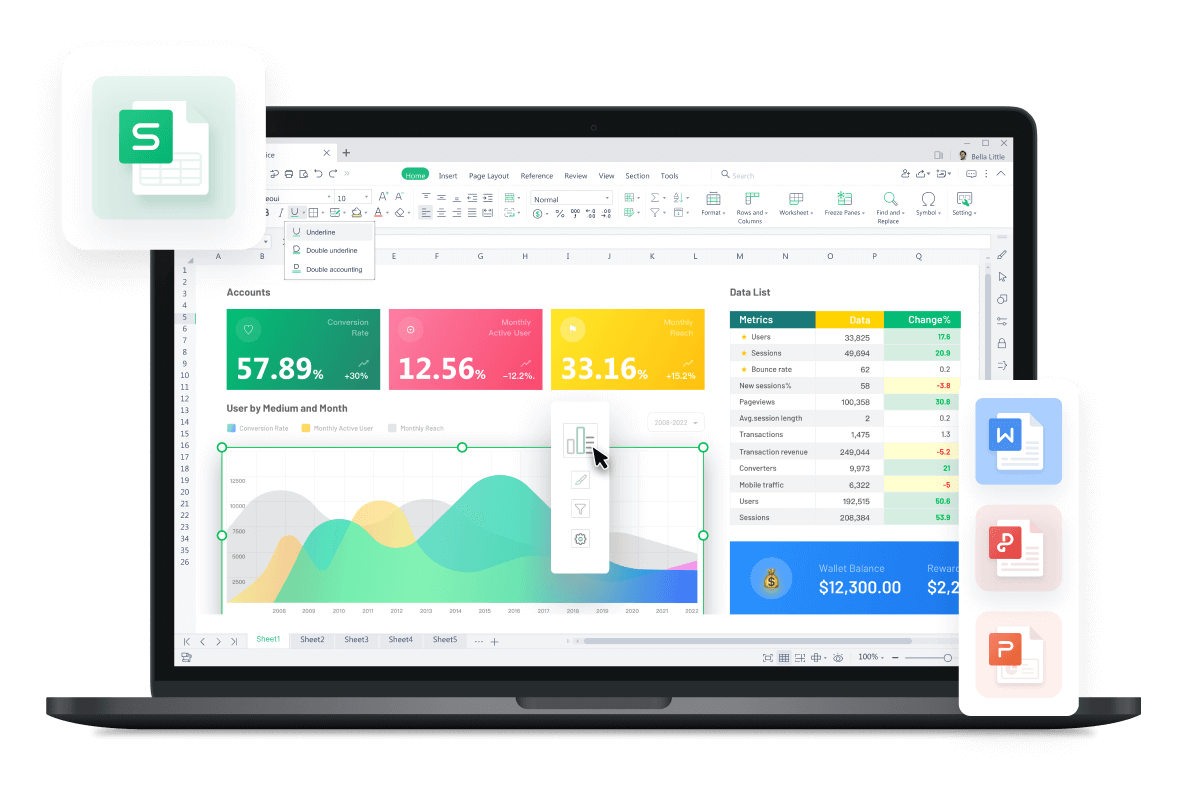 How to insert a line in Excel
As a good option, you have to use Excel 2011 since it has much more updated tools. The software is much more modern and allows you to modify and edit horizontal lines. These borders are inserted to separate data, either above or below. It is always necessary to know how to use these tools to have a more organized work.
To know how to insert a line in Excel, you must keep reading this article until the end. Getting the lines you want is very easy, and you can get them through the Source box found in the start menu. Before applying any tool, you must be familiar with the program to understand this method a little more.
How to insert a line in Excel online?
To start creating lines in your spreadsheets or paragraphs, you must press the Alt + Enter keys. You will instantly insert it. This is how to insert a line in Excel faster.
1. Double click on the cell of your choice to insert a line.
2. At the location where you want to insert the line, double-click.
3. The Alt + Enter buttons are the ones that will help you insert the line and then write the text.
How to insert a line in Excel Mac?
In More borders, you will find a high variety of diagonal lines available to place in the spreadsheet. This guide on how to insert a line in Excel is the most practical.
1. Don't worry about leaving blank spaces when putting your data in the spreadsheet.
2, Select the row below on the line you want to insert. If you want to add a line before row 5, you must click on row 5.
3. Enter the Cells menu, and select and insert to add your new lines.
4. Press the Shift key several times to insert the underscores.
5. Finally, go to the preview to see how your horizontal lines look.
If the insert option does not appear in the menu, you can go to Files – Options – Advanced. You will see the Cut, Paste, and Copy group; there should also be the insert button.
How to insert a line in excel in Window?
If you want to be able to create more than two lines, here you will have a small description of how to insert a line in Excel.
1. Click the cell where you want to add multiple lines of text. Then you must write in the first line.
2. Press the Alt + Enter button. This way, you can enter another line. Write again on the text line.
3. Press the Enter button to finish inserting.
Using these basic tools, you will see how to insert a line in Excel cells of your choice and how easy it is. There are a variety of articles that can give you information about this and other tools that would be fair to learn. All the people who work with Excel will access these articles to obtain more information when carrying out their work.
You have the opportunity to follow WPS Academy to be aware of all the Excel tools. The most important thing is that your work is perfect, and with all the information you will find here, you will be able to achieve it. Upon entering their website, you will see various articles available with Excel, Word, and more tools.
By downloading WPS Office software, you will be able to create documents in Word, PowerPoint, and Excel, all for free.