How to insert checkbox in excel in 5 minutes
A free Office suite fully compatible with Microsoft Office
A free Office suite fully compatible with Microsoft Office
Excel is one of the most commonly used tools all over the globe. The application of excel is in almost every field, which makes it a must-have tool. In Excel, there are many components that make things interactive and easy. Among such components, the checkbox is one hell of an interactive tool. There are steps to insert checkbox in excel, which must be followed. There is no third-party application or website involved in these steps to insert a checkbox in excel.
These steps would help you to add a checkbox in less than 5 steps. There are not many articles where valuable data is available on how to insert checkbox in excel is available. Also, methods without developer tab to add a checkbox are confusing and complicated. The steps to insert checkbox in excel are not confusing. You can insert checkbox in excel in less than 5 minuses on mac,PC,or android by following the steps.
Adding a checkbox in excel adds more clarity and will help you create dashboards. Interactive checklists and dynamic charts can also be created with these checkboxes in excel.
Here are the steps involved which are needed to be followed in inserting the checkbox in excel.
Step1- The first step to inserting a checkbox in excel is to get the developer's option. This developer's option is not visible in the ribbon area as it is to be enabled to see it.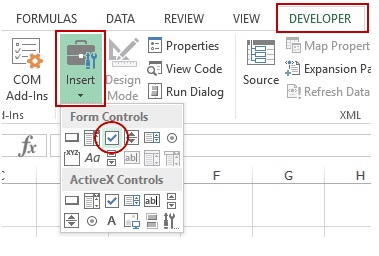 Right-click on any tab previously opened in excel and click on customize. A dialog box will be opened for customization of the excel tab.

In this dialog, you will see the customization of the ribbon option. The developer option within the Main Tabs pane on the right side will be visible.

Click on OK. This will add the developer option to the ribbon.
Now that the available option is visible, you are free to add interactive components to your excel.
Step 2: Click on the developer tab. You will find an option called content and click on it. Here, follow the steps insert> form controls> Checkbox.
Step 3: Once you click on the checkbox, you should click anywhere on the worksheet. This will insert a checkbox.
Step 4: Now that the checkbox is added, you have to create a link. You can link the checkbox to Excel by a right-click on the checkbox. A checkbox format option will appear. Click on Checkbox formal option.
In the format control box, you need to make these changes. These changes are required, and these steps are to be followed.
This will make sure that the checkbox is checked every time you open the workbook.
This is the link to the checkbox created.
These are the steps involved to insert checkbox in excel. These steps are very simple and easy to follow, and there is no third-party application or website involved.
By following these steps, you can add a checkbox in less than 5 minutes. Also, you can download WPS office for a better and an office experience.