How to insert comments in WPS Presentation
Uploaded time: October 20, 2021 Difficulty Beginner
A free Office suite fully compatible with Microsoft Office
Free download

How to insert comments in WPS Presentation
How to insert comments in WPS Presentation
When using WPS Presentation, we can use the Comment feature to help us check the suggestions more intuitively. Also, this feature will not affect or modify the original content of the file. So how can we insert comments?
Take these slides as an example. If we want to insert a comment on the first slide, click the Review tab above, and then click New Comment.At this time, a comment editing box will pop up in the upper left corner of the slide. Here, we can enter the comment content.
Use the left mouse button to long-press the comment icon and drag the comment to any position on the slide.
If we want to add multiple comments, we can click New Comment again.
We can also select the needed comment and click Edit Comment to edit.
Click Previous or Next to check different comments.
If we don't want to display the comment mark on the slide page, click Show/Hide Mark. We can alsoclick again to show the mark.
If we want to delete a comment, click to select the comment, and then click the Delete Comment drop-down button. Here are three different options for deleting comments: Delete Comment, Delete All Mark on the Current Slide and Delete All Mark in this Presentation.Click Delete Comment to delete the currently selected comment.
In addition, we can also select a comment and right-click to quickly Edit Comment, Copy Comment, insert New Comment, and Delete Current Comment.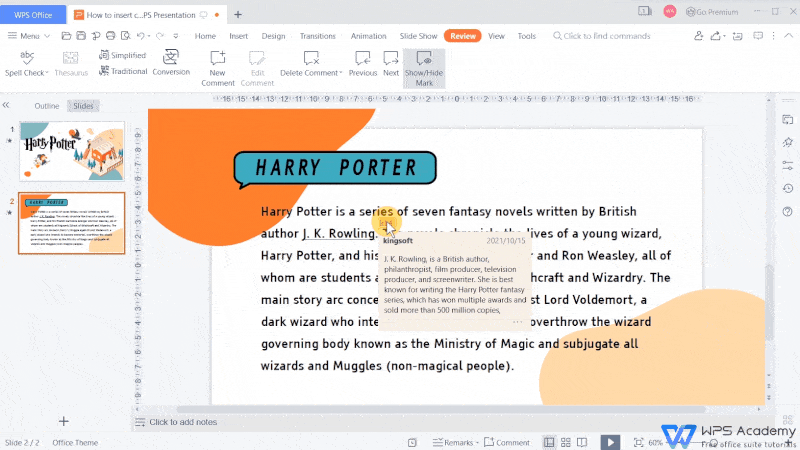 What a practical feature! Did you get it?
This skill could be compatible with Microsoft Office PowerPoint.