How to insert shapes in WPS Presentation
Uploaded time: October 20, 2021 Difficulty Beginner
A free Office suite fully compatible with Microsoft Office
Free download

How to insert shapes in WPS Presentation
How to insert shapes in WPS Presentation
Shapes inserted in slides could make a presentation more attractive. How can we insert shapes in a presentation document?
First, click the Insert tab, and click the Shapes button. In the selection list, we can see that there are different categories, namely Lines, Rectangles, and Basic Shapes, Block Arrows, Equation Shapes, Flowchart, Stars and Banners, Callouts, and an Action button.
Here we take the shape of Heart, which could be found in the Basic Shapes drop-down list. Insert it by dragging the cursor.
Here are the points to be noted.
If we want to fill a shape, select it, and get into the Drawing Tools tab to click the Shape Fill icon. Then, we can fill the selected shape with Colors, Picture or Texture, Pattern, etc.
Click Picture or Texture and then From Picture. In the pop-up dialog, choose the picture for shape fill and click OK.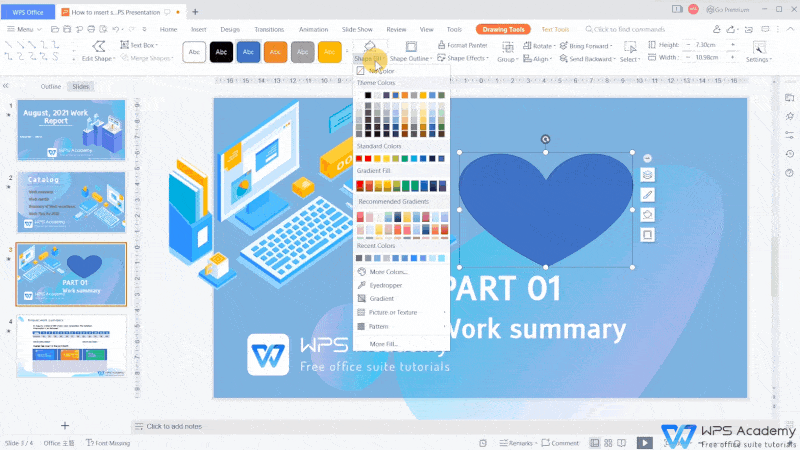 In addition, we can add irregular and fancy shapes, such as the Home shaped vector graphic. To insert it, choose the Home shaped graphic in the Action button category. Then, drag the cursor to adjust its size.
After the series of operations, we'll see a pop-up Action Setting window. Here we can set the action on clicking the action shape, which could hyperlink to a specific slide or run programs, and meanwhile to play sounds. If we want to add hyperlinks to jump to the first slide, we just need to check Hyperlink to and click First slide. In this way, when we play the slide show, we can jump to the first slide by clicking the shape.
Have you got the tips to insert shapes in slides? To learn more skills about shape fills, shape borders, and animations, please visit the website of WPS Academy.