WPS Office
Free All-in-One Office Suite with PDF Editor
Edit Word, Excel, and PPT for FREE.
Read, edit, and convert PDFs with the powerful PDF toolkit.
Microsoft-like interface, easy to use.
Windows • MacOS • Linux • iOS • Android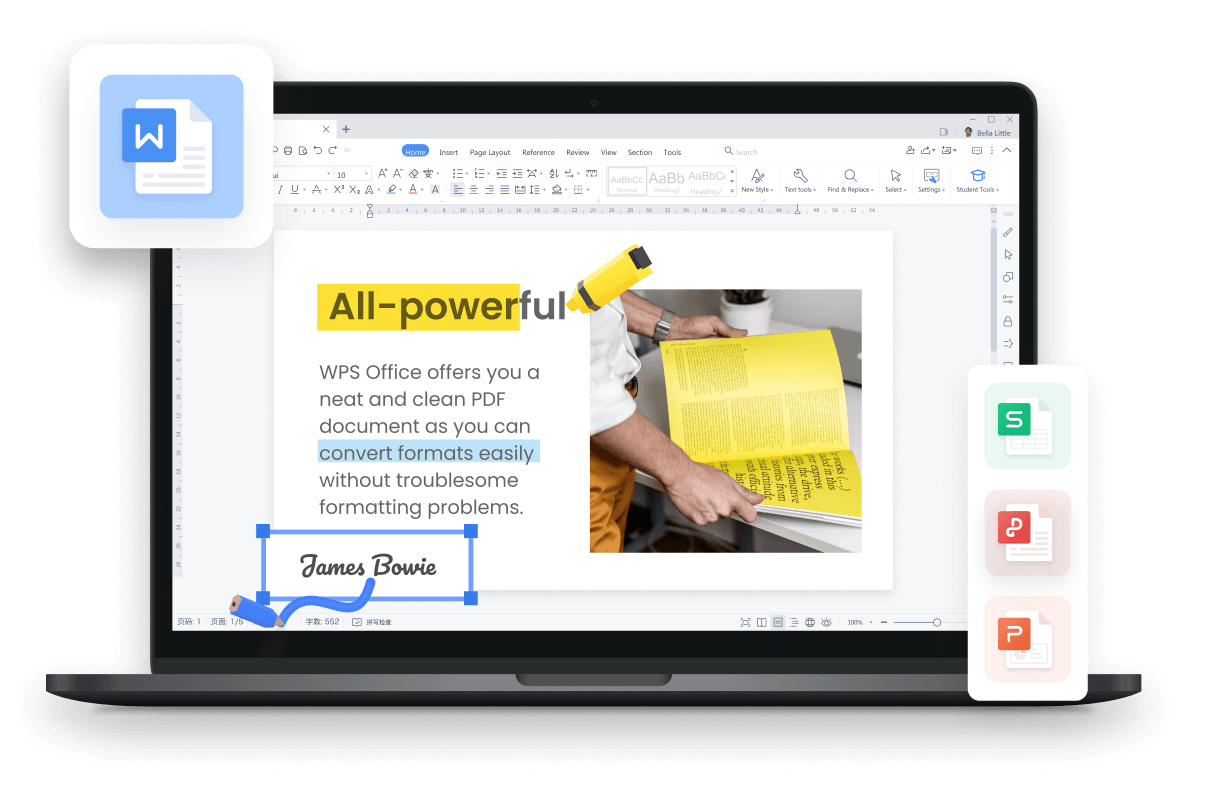 How to Mail Merge in Word Using WPS Office: A Step-by-Step Guide
The advent of email in the 20th century was a groundbreaking communication innovation, simplifying message delivery with a quick type-and-send mechanism. As email usage surged, sending personalized messages to multiple recipients became common. While handling this manually for a large audience presented challenges, enter mail merge—a tool that streamlines this process, and yes, it's available in WPS Office! In this guide, we'll have a look at mail merge,and how to use Mail Merge in Word using WPS Office.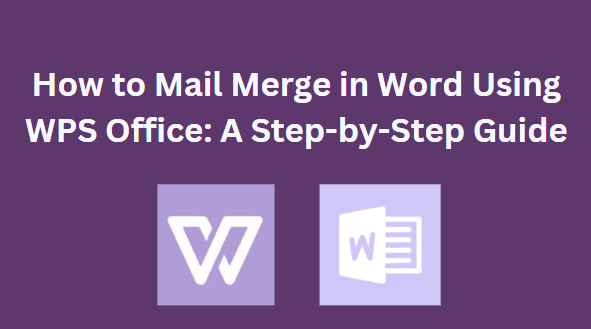 How to Mail Merge in Word Using WPS Office
What Is Mail Merge Feature in Word?
The Mail Merge feature in Microsoft Word is a game-changer when you have to send out a large number of personalized emails or letters. Picture this: you need to send 100 or 200 emails, and each one requires customization based on the recipient. Alternatively, you want to send letters, and for each letter, you wish to include the recipient's first name and specific details about them.
Now, you could manually insert this information into every email or letter, which would be incredibly time-consuming. However, with Mail Merge, you can automate this process effortlessly. All you need is a spreadsheet or some data source containing the names and other information you want to customize.
How to Do a Mail Merge in Word Using WPS Office?
We will now learn how to use mail merge in WPS Office through our carefully crafted step-by-step tutorial with a WPS Office guide.
Suppose we are launching a new product at our jewelry company, specifically clay jewelry. We have a customer spreadsheet containing the names and email addresses of our customers.
WPS Spreadsheet Data source
Step 1: Open WPS Office and create a new blank document where you can prepare your email newsletter.
WPS Office
Step 2: Utilize WPS AI to generate a product launch letter automatically for your customers.
Step 3: Once your document is ready, navigate to the "Reference" tab and click on the "Mail Merge" option in the ribbon menu.
WPS Writer Reference tab
Step 4: Insert your data source by clicking on the "Open Data Source" option in the Mailings tab.
WPS Writer Mailings
Step 5: Browse and select your Excel file containing customer information and emails.
WPS Writer browse data source
Step 6: Verify the connection by clicking on "Mail Merge Recipients" to display all fields and records from the Excel file.
WPS Writer Mail Merge recipients
Step 7: For personalization, click on "Insert Merge Field" next to "Dear" in your document, select both First Name and Last Name, and click "Insert".
WPS Writer insert merge field
Step 8: Navigate to "Merged Data", where you can see the personalized information (e.g., "Sophie Doe"). Make use of the "Next Record" option to preview different records.
WPS Writer Merged data option
Step 9: Click on "Merge to Email" to open the "Merge to Email" window. Specify the recipients in the "To" field, choose the Email, and customize the subject line.
WPS Writer Merged to email
Step 10: Click "OK" to start the mail merge process on WPS Office.
Step 11: If prompted by your mailing client (e.g., Outlook), click on "Allow" to send emails to your customers.
WPS Writer Prompt to Merge Mail
Although the process may seem lengthy, it is an efficient way to send multiple personalized emails to your customers or clients. Note that mail merge in WPS Office is currently not available on mobile devices; it is recommended to perform this on a computer.
How to Change the Data Source in Mail Merge Using WPS Office
If you need to change the data source, follow these steps:
Step 1: Navigate to the "Reference" tab and click on the "Mail Merge" option in the ribbon menu.
Step 2: Click on "Open Data Source" and then select "Close Data Source" to close the previous data source.
WPS Writer Close Data Source
Step 3: Click on "Open Data Source" once more, and choose "Open Data Source" to initiate a new data source.
This provides an easy way to switch data sources and send emails by combining different data sets.
How to Fix Mail Merge Error: "WPS Writer Cannot Open the Data Source"?
Sometimes, while performing mail merge, we encounter an error like this:
WPS Writer Data Source Error
This has a very easy fix, we simply need to download the Access Database Engine.
Step 1: Visit the official Microsoft Office website to download the Access Database Engine.
Microsoft Access Database Engine 2016 Redistributable download
Step 2: Choose the option suitable for your system and click "Download".
Microsoft Access Database Engine download window
Step 3: Restart WPS Office and try opening your data source again.
These steps will resolve the mail merge error in WPS Office.
WPS Office, a robust and free office suite, stands out as an excellent alternative to Microsoft Office, offering users the ability to perform mail merge in a manner strikingly similar to its counterpart. Notably, the distinguishing feature lies in the pricing, as WPS Office offers complete freedom of use without any associated costs.
WPS Office
Let's delve into the benefits that WPS Office extends to its users:
Free to Use: WPS Office provides a suite of applications, including Writer, Spreadsheets, Presentations, and PDF tools, all accessible to users completely free. It epitomizes the essence of a genuinely free office suite.

AI Integration: The integration of WPS Office with AI introduces a complimentary AI assistant, WPS AI. This intelligent assistant aids users in tasks such as crafting blog posts, summarizing PDFs, and generating unique presentation designs.

File Compatibility: WPS Office stands out with its remarkable file compatibility, allowing users seamless access to various file types, including Google Docs files, Microsoft Word files, and more.

Cloud Storage: Benefit from the convenience of WPS Cloud, enabling users to store files securely and access them from any location at any time. This cloud platform is available free of charge.

Template Store: Explore a treasure trove of professionally designed templates for diverse needs in the WPS Template Store. These templates are available for free download and can be effortlessly edited using WPS Office.

Collaboration: WPS Office facilitates seamless collaboration with colleagues or friends, providing users with the ability to track changes made. This feature encapsulates the true essence of collaborative teamwork on shared documents.
FAQs
Q1. Can I do a mail merge in Word using WPS Office on my mobile device?
No, WPS Office on mobile devices does not offer a built-in mail merge feature comparable to Microsoft Word's mail merge functionality. While WPS Office provides several powerful features for document editing and formatting on mobile platforms, such as Android and iOS, the specific mail merge function typically requires the full desktop version. Mail merge is a complicated and data-intensive process often used for constructing personalized documents, such as form letters or labels.
Q2. How to create address labels in Word using WPS Office?
Step 1: Create a spreadsheet with columns for Name, Address Line, State, and Zip. Save this document.
Create Spreadsheet
Step 2: Launch WPS Office, open a new blank document, and save it with a relevant name like "Address Labels".
Step 3: Navigate to the "References" tab and click on "Mail Merge". Now open your data source by choosing the spreadsheet you created in Step 1.
WPS Writer Mail Merge feature
Step 4: Insert the merge fields into the document for Name, Address Line, State, and Zip, ensure proper formatting and spacing.
Step 5: Preview the merged data by clicking on "Mail Merge Recipients" to ensure accuracy. If you're content with the settings, click "Finish & Merge," and then choose "Edit Individual Documents".
WPS Writer insert merge fields
Step 6: Save your document and print the labels by going to the "File" menu, selecting "Print", and adjusting print settings. Ensure your label sheets are loaded correctly in the printer.
Q3. Can I perform mail merge using different languages with WPS Office?
Yes, WPS Office offers robust mail merge capabilities in multiple languages, making it accessible to consumers worldwide. It simplifies creating customized documents in various languages, for example, Spanish, French, and English, facilitating successful communication with diverse audiences. Its user-friendly design and extensive language support make it an excellent option for efficient document creation.
Elevate Your Communication with WPS Office's Effortless Mail Merge Mastery
Learning how to use mail merge in Word using WPS Office is essential for those aiming to streamline their email lists. Sending personalized emails in bulk with the same format can be time-consuming, and WPS Office offers a convenient solution for free.
In addition to mail merge, WPS Office provides various features, including a cloud platform, PDF tools, and more. To elevate your document creation and management experience, download WPS Office today and unlock a world of seamless productivity.