WPS Office
Free All-in-One Office Suite with PDF Editor
Edit Word, Excel, and PPT for FREE.
Read, edit, and convert PDFs with the powerful PDF toolkit.
Microsoft-like interface, easy to use.
Windows • MacOS • Linux • iOS • Android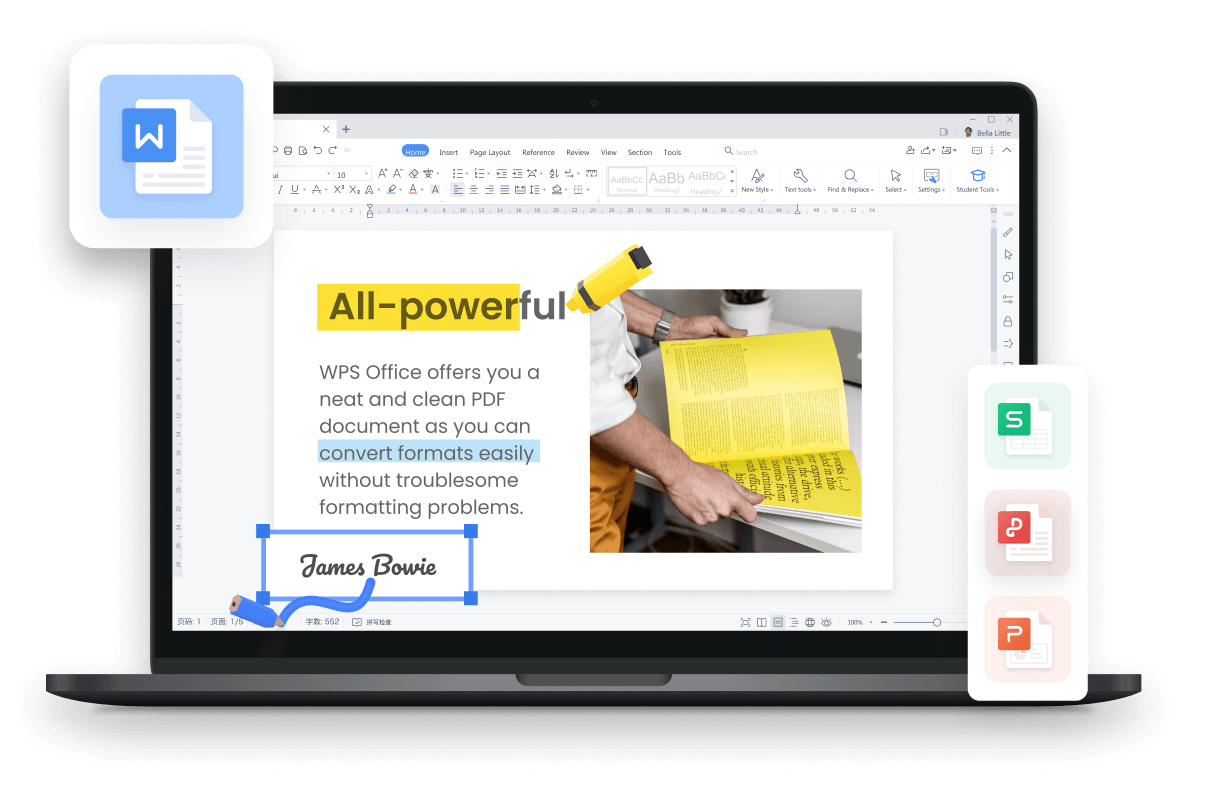 How to Print Back to Back in WPS Office
With the rising cost of paper and the growing awareness of environmental protection, printing on both sides of paper is becoming increasingly important. WPS Office offers a variety of ways to print back-to-back, making it easy to save paper and reduce waste.In this preface, we will explore some of the most efficient ways to print back-to-back in WPS Office.
What is a back to back Print in the WPS Office?
Back-to-back printing in WPS Office, also known as duplex printing, is the process of printing on both sides of a sheet of paper. This eco-friendly printing method not only saves paper but also creates more compact and efficient documents.
With duplex printing, you can reduce your environmental footprint while making your content more reader-friendly. In this guide, we'll walk you through various methods to achieve seamless back-to-back printing in WPS Office, helping you save resources and promote sustainability. Let's get started!
How to print back to back in the WPS Office?
Method 1: Print Document on Both Sides of Paper
Step 1 Begin by opening your document in WPS Writer.
Step 2 Now, press the shortcut key Ctrl+P to activate the Print interface, then check "Duplex at Printer." This crucial step ensures that your file will be printed on both sides of the paper.
check duplex
This method is quick and efficient for duplex printing in WPS Office, saving both paper and time.
Method 2: Check if Your Printer Can Print on Both Sides of Paper
To determine if your printer supports duplex printing, follow these steps:
Step 1 Click Menu t tab.
Step 2 Select Print > Print Review
Print reviw
Step 3 UnderPrint mode, click "Print One Sided."
print mode
Observe if the option "Duplex Printing" is available. If it is, your printer is indeed capable of duplex printing.
Result
Checking your printer's capabilities is essential to ensure seamless duplex printing. It helps you make the most of your hardware.
Method 3: Set Up Manual Duplex Printing
If your printer doesn't support automatic duplex printing, you can set up manual duplex printing by following these steps:
Step 1 In the Menu tab.
Step 2 Select Print > Print review
Step 3 Under Print Mode, click "Print One Sided."
Then, click "Manually Duplex Printing."
manual duplex printing
Manual duplex printing may require a little extra effort, but it's a handy solution when automatic duplex isn't available. It's all about maximizing your resources.
What's the benefit of the back to back print in the WPS Office?
The benefit of back-to-back printing in the WPS Office is clear: it allows documents to be printed on both sides of the paper, a method known as duplex printing. This environmentally-friendly approach not only conserves paper but also reduces resource consumption. By utilizing both sides of each sheet, you maximize the efficiency of your printing, contributing to resource conservation and cost savings.
Here's a resonating reminder:
Ensure your printer supports duplex printing. (Note: Some older or basic printers may not have this feature.)

If you can't find the duplex option in WPS Office, check your printer driver settings; it might be within the printer properties in your computer's settings.

Before hitting the print button, take a moment to proofread your document carefully. This helps prevent wasting paper in case you need to make corrections.

Consider using recycled or eco-friendly paper to further minimize the environmental impact of your printing.
Why Choose WPS Office?
wps office
WPS Office is a modernized and powerful suite of office tools designed to meet your productivity needs efficiently. With a user-friendly interface and convenient functions, it's the ideal choice for both beginners and experts.
Pros of WPS Office
Simple interface and convenient functions: WPS Office has a user-friendly interface that makes it easy to get started, even for users who are not proficient in office software. It also offers a variety of convenient features, such as tabbed browsing, document recovery, and collaboration tools.

Free to use: WPS Office is free to download and use for basic functions. Users can upgrade to a premium version for access to additional features, such as cloud storage and document encryption.

Cross-platform compatibility: WPS Office is available for a variety of platforms, including Windows, macOS, Linux, iOS, and Android. This makes it easy to access your documents and work on the go
| | | |
| --- | --- | --- |
| Feature | WPS Office | Microsoft Office |
| Cost | Budget-friendly pricing options | Typically more expensive |
| Cross-Platform Compatibility | Works seamlessly across various OS | Primarily Windows-centric |
| System Resource Requirements | Lightweight, lower resource usage | Heavier, may require more powerful hardware |
| Interface Familiarity | Familiar UI resembling Microsoft Office | Consistent Microsoft Office interface |
| Free Version Available | Yes, with essential features | No, full suite requires a subscription |
| Document Compatibility | Excellent compatibility with MS Office formats | Native support for MS Office formats |
| Cloud Integration | Offers cloud storage and integration options | Integrated with Microsoft's OneDrive and SharePoint |
| Collaboration Features | Collaboration tools for team productivity | Comprehensive collaboration features |
| Specialized Tools | Includes PDF editing and OCR capabilities | Offers a wide range of specialized applications |
I use WPS Office instead of Microsoft Office because it is free, cross-platform compatible, and easy to use. I also find that WPS Office has all of the features that I need for my work.
If you are looking for a free and powerful alternative to Microsoft Office, I highly recommend WPS Office.
Steps to edit Word/Excel/Powerpoint in WPS Office
Step 1 Open the WPS Office app that you want to use (Writer, Spreadsheets, or Presentations).
select application
Step 2 Open the document that you want to edit.
open
Step 3 Make your changes to the document.
edit
Step 4 Save the document.
save document
Frequently Asked Questions
1.Can documents be double-sided?
The general rule typically favors a single-sided document format, primarily to simplify scanning into document retrieval systems and prevent the oversight of not scanning the back of a page.
2.How do I adjust margins for back-to-back printing?
Step 1 Open your document in your word processing software.
Step 2 Go to "Page Layout" in the top toolbar.> Find "Margins."
margin
Step 3 Adjust margins to fit your back-to-back printing needs, saving your changes.
adjust
Step 4 When printing, select "Duplex" or "Print on Both Sides" in your printer settings for double-sided printing.
Summary
In summary, this guide is a comprehensive resource for mastering duplex printing in WPS Office in 2023. It emphasizes the importance of eco-friendly printing practices to save paper and reduce waste. The article provides three methods for achieving back-to-back printing in WPS Office.
Additionally, the article introduces WPS Office as a powerful and user-friendly alternative to Microsoft Office, emphasizing its cross-platform compatibility and cost-effectiveness. The features and advantages of WPS Office are compared to Microsoft Office.