How to repair files in WPS Presentation
Uploaded time: February 22, 2022 Difficulty Intermediate
A free Office suite fully compatible with Microsoft Office
Free download

How to repair files in WPS Presentation
How to repair files in WPS Presentation
During our daily study or work,we sometimes find that the file is full of error codes or we cannot even access it. For those who use File Repair for fixing the file, restoring it to its original state won't be a problem at all.
Click the Tool tab, then click File Repair.In the pop-up dialog box, click Repair damaged file to add the error file.
You can also drag the file directly to the WPS Files Repair interface, which supports multi-format files such as doc, ppt, and xls.
Next, WPS Files Repair will analyze the document. Wait a moment, and then you can find the file list on the left and Text Content on the right, where you can preview the content of the file.
Then, you can set where you want to store the file, click Repair to finish the process.
After the repair, click View File to check the location of the file.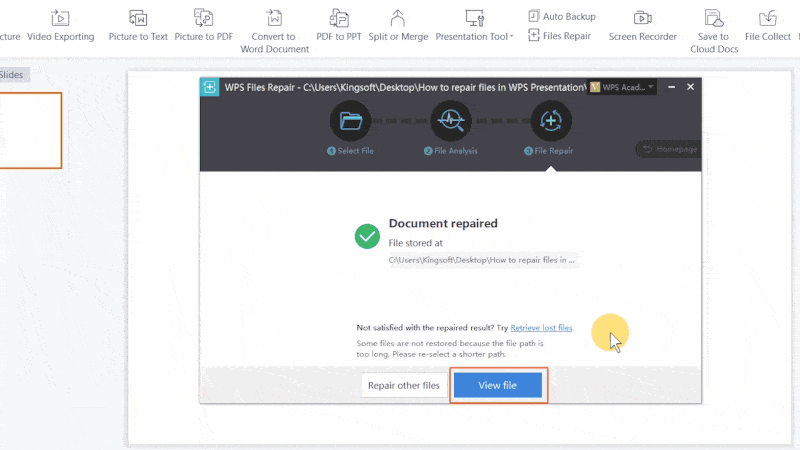 Note: this function can't guarantee a 100% successful repair It depends on the damage degree of the original file.
In addition, this powerful function can also help us retrieve files that were accidentally deleted during work.
Click Retrieve lost files in the lower right corner and wait for a few seconds.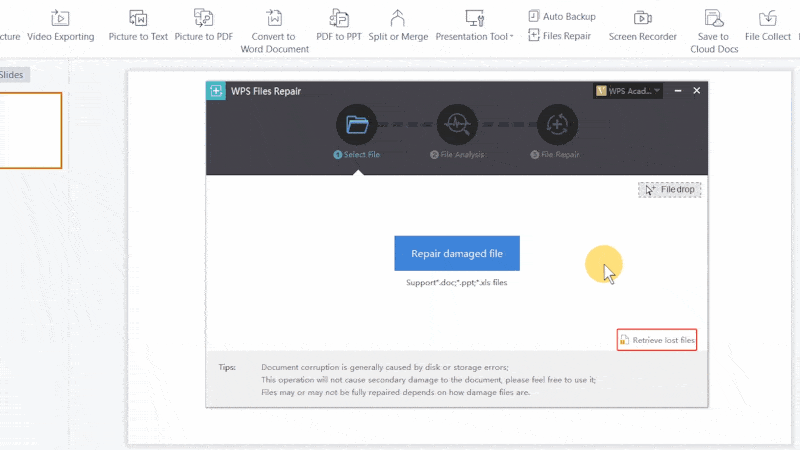 After the analysis of WPS Files Repair, we can find the files that WPS Office has edited. In the search box in the upper right corner, enter the name of the file you want to retrieve. At this time, relevant historical files are displayed on the left side.
Choose where you want to store the file, then click Repair. Now, we can check the retrieved file.
Finally, I want to tell you one more tip:
This operation will not cause any secondary damage to the file, so, feel free to use it.