WPS Office
Free All-in-One Office Suite with PDF Editor
Edit PDFs like Word
Convert, merge, split, scan, and sign PDFs
More than PDF: Use Word, Excel, and PPT for FREE
Windows • MacOS • Linux • iOS • Android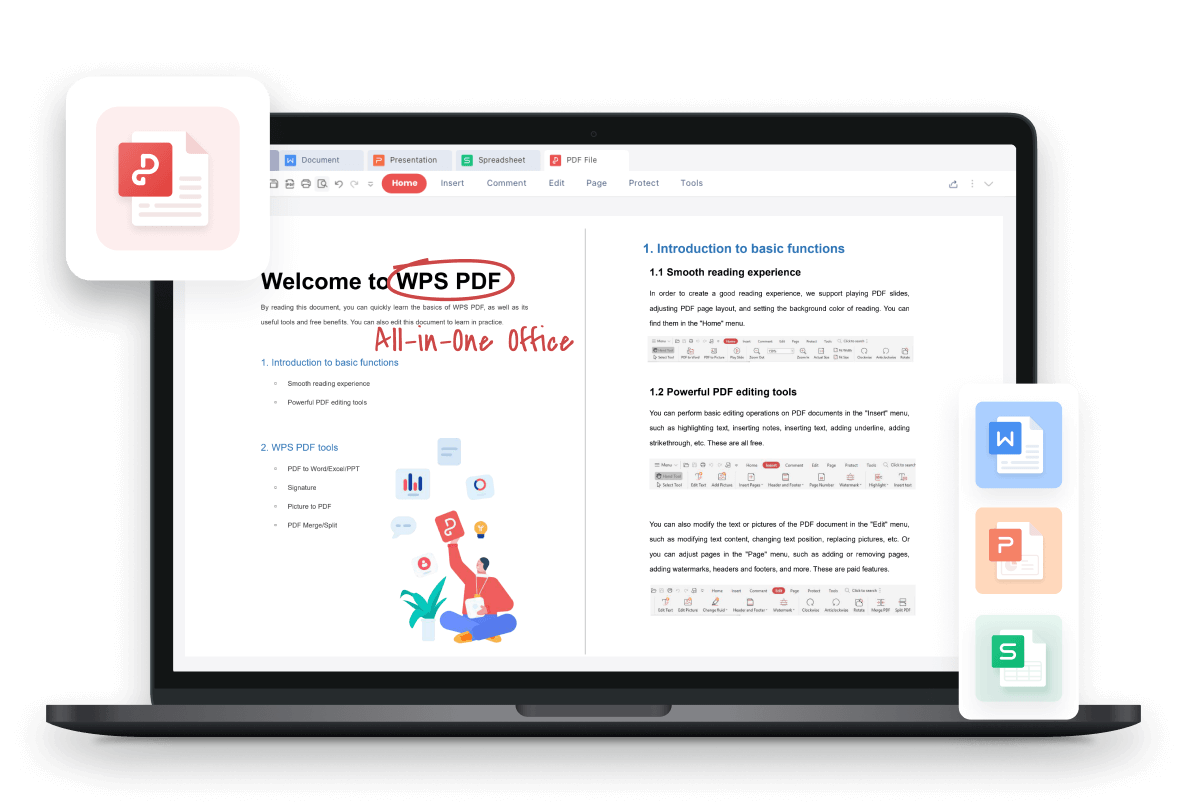 How to Save Edited PDF in WPS Office Without Premium
WPS Office is a suite of software that helps you work with documents, spreadsheets, PDFs, and presentations. It comes in free and premium versions. The free version provides basic features, while the premium includes extra tools and advanced options.
It's a handy tool for creating, editing, and managing various office-related files.
But sometimes users need to learn how to save edited pdf in the WPS office without premium.
This article will introduce the guide on how to save edited pdf in WPS Office without premium.
How to Save Edited PDF in WPS Office Without Premium?
With the widespread use of PDF files across various industries and personal tasks, the demand for editing capabilities has significantly risen.
PDFs offer a convenient way to share documents while maintaining their formatting, making them popular for contracts, reports, presentations, and more. However, the limitations of traditional PDFs, often considered non-editable once created, led to a growing need for enhanced editing features.
This demand has given rise to advanced software tools that enable users to make changes, add annotations, insert images, and even manipulate text within PDF documents. As the use of PDFs continues to expand, the evolution of editing capabilities plays a pivotal role in improving efficiency and collaboration in both professional and everyday life.
Besides editing pdfs, one must also know how to save edited pdfs in WPS without premium for free.
So, it's crucial to learn how to save the edited pdfs to ensure you don't waste your time editing and end up with nothing.
Here we will explore ways to save edited pdf in WPS Office without premium. Let's dive into it.
Step 1: Open your PDF file to edit.
Step 2: Select the Edit button in the main toolbar. This button's shape depends upon the version of the WPS Office you are using. In some versions, it looks like a pencil icon.

Step 3: Edit your PDF file. Add or remove text, images, and pages from the document.
Step 4: You can save the changes to your PDF file by clicking on File and then selecting Save in the main menu bar.
Alternatively, you can press Ctrl+S on your keyboard to save the File. And everything is done!
WPS Office lets you experience the power of productivity with a free trial.
This is not all; WPS Office enables students to elevate their experience by participating in exciting events to win WPS Office 1-month premium for free.
If you are a student, you can use student email and get a 90% discount to get a one-year premium in the 2023 fall-back-to-school event. Isn't it amazing?
So what are you waiting for? Download it now!
Forget about premium suite offices. Empower your work and studies with the WPS Office.
Stay connected and informed by following WPS Office on their official social media channels to stay in the loop and make the most of these fantastic opportunities.
Best Office Suite - WPS Office
In the fast-paced world of modern work, having a versatile and efficient office suite is crucial for seamless productivity. WPS Office is an exceptional solution, offering many features to enhance your working experience.
WPS Office is highly compatible with Microsoft Office files offering a range of standout tools like PowerPoint, Word, and Excel. Let's explore how WPS Office can revolutionize your workflow and why it's a must-download for anyone seeking a dynamic office suite.
WPS features:
Compatibility Beyond Boundaries: WPS Office sets you free from file compatibility issues. With WPS Office, you can effortlessly open, edit, and save Microsoft Office files, preserving formatting, styles, and content.
Whether it's Word documents, PowerPoint presentations, or Excel spreadsheets, WPS Office ensures a smooth transition between platforms, allowing you to collaborate seamlessly with colleagues, clients, and partners.
PowerPoint Excellence: WPS Presentation empowers you to craft captivating presentations with ease. It provides extensive templates, animations, and transition effects to create visually striking slideshows.
Express your ideas effectively through advanced features such as multimedia integration, animations, and customizable layouts. With WPS Presentation, your message will resonate powerfully in every boardroom or virtual meeting.
Word Wizardry: WPS Writer, the counterpart to Microsoft Word, redefines document creation. Its intuitive interface supports advanced formatting options, rich media integration, and collaborative tools.
Utilize its extensive array of templates to produce professional-looking documents effortlessly. Whether it's a report, proposal, or brochure, WPS Writer empowers you to bring your ideas to life.
Excel Expertise: WPS Spreadsheets is your go-to solution for data analysis and handling. You can efficiently manage your data, create complex formulas, and generate insightful graphs and charts.
Whether tracking expenses, analyzing market trends, or making financial projections, WPS Spreadsheets equip you with the tools needed for accurate and comprehensive data management.
Seamless Cloud Integration: WPS Office embraces the era of cloud computing, allowing you to store and access your documents from anywhere, anytime. You can sync your files across devices effortlessly, ensuring you can pick up where you left off, regardless of whether you're working on your computer, tablet, or smartphone.
Collaboration Made Easy: WPS Office recognizes the significance of collaborative work. Its real-time collaboration feature enables multiple users to edit documents simultaneously, fostering seamless teamwork regardless of geographical boundaries.
What are the differences between WPS Office Free and Premium Versions?
Free Version:
Basic office tools like Writer, Presentation, and Spreadsheets.

Compatible with Microsoft Office files.

Available for free.

Suitable for general tasks and basic document editing.
Premium Version:
Full access to advanced features in Writer, Presentation, and Spreadsheets.

WPS Pdf on the WPS Premium free trial for 30 days. And a 90-day free trial in the Thai version.

Get more templates, fonts, and customization options.

Enhanced cloud storage of 20 GB for easier document access.

Ad-free experience for uninterrupted work.

Premium support for faster assistance.

Available through two subscription plans. WPS Premium and WPS Business.

Monthly or yearly plans to suit your needs.

Easily save your edited pdfs in WPS Office without premium and collaborate with others.

WPS Premium Free Trial: Experience all premium features for a limited time before deciding on a 7-Days free trial.
If you need basic features, a free version is enough to fulfill your requirements. But if you need advanced features, upgrade to WPS Office Premium for a richer, more powerful office suite to boost your productivity and creativity.
How to Download WPS Office?
Downloading WPS Office is super straightforward. Your computer must meet the system requirements to run WPS smoothly. So, before installing it, ensure your system meets those minimum requirements.
Steps to download WPS Office:
Go to the WPS Office official website and click on the download menu. Click on the free download button.
After downloading it, An agreement and policy menu will appear, read and check it.
Click on the Install button. Instantly, the installation process will begin, and WPS will be installed on your computer.
Open the WPS Office and use it for free!
FAQs
1. How to Save a PDF File without Fillable Fields in WPS Office?
You can save a PDF File without Fillable Fields in WPS Office in three steps.
Open the PDF in WPS Office Writer

Select "Export to PDF''

Uncheck the "Include fillable fields" option.

How do I save an edited PDF in WPS Office Mobile?
Open the WPS Office Mobile app and the PDF document you want to edit and save.

Make changes in pdf; once you're done with the edits, look for the save or save icon within the app. This is typically represented by a floppy disk or a cloud icon, often found in the top menu or the bottom toolbar.

After tapping on the save option, the app might ask you to choose a location where you want to save the edited PDF. You can save it locally on your device or to a cloud storage service if you have one linked.

Choose the save location, name the File, and tap the "Save" or "Confirm" button. The app will then save the edited PDF with your changes.
Summary
This comprehensive blog post delves into a step-by-step tutorial on effortlessly saving edited PDFs using WPS Office without requiring a premium subscription.
Furthermore, this blog post introduces differences between free and premium versions of WPS Office to help you choose the suitable one.
WPS Office isn't just an alternative—it's an upgrade to your productivity toolkit. It offers unparalleled compatibility with Microsoft Office files. It stands as a comprehensive office suite for professionals seeking efficiency and versatility.
So, say goodbye to compatibility woes and embrace a smoother, more efficient workflow with WPS Office.
Download WPS Office today and experience the future of office productivity firsthand.