WPS Office
Free All-in-One Office Suite with PDF Editor
Edit Word, Excel, and PPT for FREE.
Read, edit, and convert PDFs with the powerful PDF toolkit.
Microsoft-like interface, easy to use.
Windows • MacOS • Linux • iOS • Android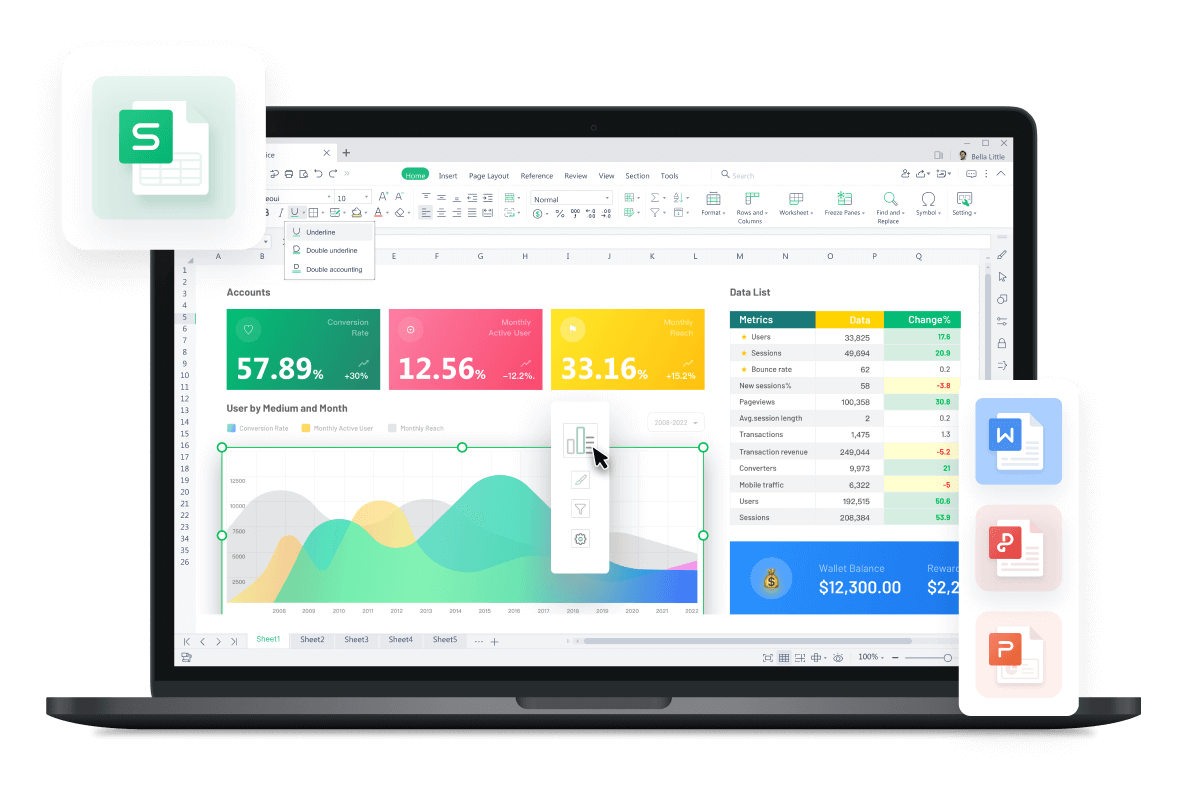 How to Unprotect a WPS Spreadsheet Without a Password (Step by Step)
Have you lost the password to your essential WPS spreadsheet and locked it out of your file? Don't panic. While WPS's password protection keeps your data safe, it can block legitimate access when passwords are forgotten or lost. This article will walk you through several ethical methods to legally bypass password protection and regain access to your WPS spreadsheets - no password required.

How to Unprotect a WPS Spreadsheet Without a Password?
Preliminary Steps Before Unprotecting
Before trying to unprotect a locked spreadsheet, take these preliminary steps:

If the file is shared or on a network drive, verify you have permission to edit the file. Unprotecting will only work if you have write access.

Make a copy of the original protected file as a backup. It ensures you have the original in case something goes wrong.
Unprotect a WPS Spreadsheet Without a Password - Step-by-Step
After testing many methods and tricks, the Passper for WPS Spreadsheet can be your go-to solution. It's an efficient and user-friendly tool that can help you recover the "password to open" and remove the "password to modify" from your WPS Spreadsheet.
Follow these step-by-step instructions to unprotect your WPS Spreadsheet effortlessly.
Step 1: Download and Install Passper for WPS Spreadsheet
The first step is downloading and installing Passper for WPS Spreadsheet on your computer. Passport is a professional password recovery tool that can remove restrictions and recover passwords for WPS Spreadsheet files.
Step 2: Choose the 'Recover Password' Option
Once Passper is installed, launch the program and click the "Recover Password" option. This will allow you to recover the password used to protect the WPS spreadsheet.
Step 3: Add the Encrypted Spreadsheet File
Next, add the encrypted WPS spreadsheet file to Passper. You can do this by browsing the file's location on your computer and selecting it.
After that, choose the attack type - Dictionary, Combination, Mask, or Brute Force. Select the one that best suits your needs to decrypt the spreadsheet file.
Step 4: Click 'Recover' to Find the Password
Finally, click on "Recover," and Passper will start working to retrieve the lost password. It may take some time, depending on the complexity of the password.
The Passper for WPS Spreadsheet offers a straightforward and effective solution to unprotect your WPS Spreadsheets.
Whether you need to recover the "password to open" or remove the "password to modify," this software simplifies the process, ensuring your data is accessible and editable when you need it.
Why Use WPS Office?
WPS Office is a free office suite that allows you to open, create, edit, and save Microsoft Office files like Word, Excel, and PowerPoint. It is fully compatible with both Windows and Mac operating systems. WPS Office provides a great alternative to Microsoft Office with no licensing fees.
Below are the main reasons I will suggest you for using WPS Office:
Ability to Edit Microsoft Documents
One of the most significant benefits of using WPS Office is its compatibility with Microsoft file formats like .doc, .docx, .xls, .xlsx, and .ppt. This allows you to seamlessly open, edit, and save Word, Excel, and PowerPoint documents without any formatting issues or data loss.
Interface and Usage Similar to Microsoft Office
The WPS Office interface will be instantly familiar to Microsoft Office users. The ribbons, menus and overall layout closely resemble what you are used to in Word, Excel, and PowerPoint.
That is why it is easy to transition from Microsoft to WPS Office without re-learning how to use office software.
Clean and Intuitive New File Experience
When starting a new document in the WPS Office, you are presented with clean and intuitive template choices. Beautiful templates for letters, resumes, reports, presentations, and more are designed to help you get started quickly. Finding the perfect template for your needs is simple and fast.
Powerful Spreadsheet and Presentation Tools
WPS Office offers more than just a text editor. The powerful spreadsheet editing tools in WPS Presentation provide pivot tables, formula building, advanced filters, lookups, and everything else you would expect from a leading spreadsheet editor.
Small File Size and Low System Resource Use
Unlike some free office suites, WPS Office has a surprisingly small file size that takes up minimal storage space. It also uses less RAM and CPU power when running than alternative options.
Active Development and Community Support
WPS Office is under active development, with new features, security patches, and bug fixes coming out continually. There is also a vibrant community of WPS Office users who share tips templates, and offer support through forums and discussion groups.
Availability in Multiple Languages
WPS Office is available in numerous languages beyond just English. These include Spanish, French, Portuguese, German, Russian, Polish, and more.
Whether you need an office suite in your native language or simply want to practice document editing in another language, WPS Office has covered you.
Free for Personal and Commercial Use
One of the best aspects of WPS Office is that it is entirely free, both for personal and commercial use. There are no hidden costs or fees. You can use WPS Office on as many computers as you want without paying anything.
High Compatibility Across Platforms and Devices
A key benefit of WPS Office is its high compatibility across different platforms, operating systems, and devices. WPS Office works seamlessly on Windows PCs and Mac computers. Documents look and perform exactly as expected, regardless of what system you are using.
Cloud Storage Options
Finally, WPS Office integrates easily with popular cloud storage platforms like Google Drive, Dropbox, and more. It allows you to access your documents from multiple locations and devices. Collaboration is enhanced when using WPS Office with cloud storage.
FAQs
Q1: How Can I Open Powerpoint Without A License?
Some free options to open PowerPoint without a license are Google Slides, LibreOffice Impress, Apache OpenOffice, and online PowerPoint viewers like Office Editing for Docs.
Q2: Can You Remove Password Protection From Powerpoint?
To remove password protection from a PowerPoint presentation, open the file, go to File > Info > Protect Presentation > Encrypt with Password, delete the password, and click OK.
Q3: Why Is My Microsoft Powerpoint Locked?
A PowerPoint file might be locked if it's being edited by someone else, if PowerPoint is still open with the file, or if the file is marked Final and can no longer be updated.
Summary
When the password for a protected WPS spreadsheet is lost or forgotten, the file becomes inaccessible, leading to blocked access and lost productivity. However, Passper for WPS Spreadsheet provides a straightforward password recovery solution. Passper's password recovery feature lets you quickly regain access to locked spreadsheets.
I recommend using WPS Office for all document, spreadsheet, and presentation needs. The ability to open, edit, and create Word, Excel, and PowerPoint files makes WPS Office a versatile option. With its free personal and commercial use, multi-platform availability, and mobile apps, WPS Office is an optimal alternative to Microsoft Office in terms of features and cost. For any office task, WPS Office is a top choice.