WPS Office
Free All-in-One Office Suite with PDF Editor
Edit PDFs like Word
Convert, merge, split, scan, and sign PDFs
More than PDF: Use Word, Excel, and PPT for FREE
Windows • MacOS • Linux • iOS • Android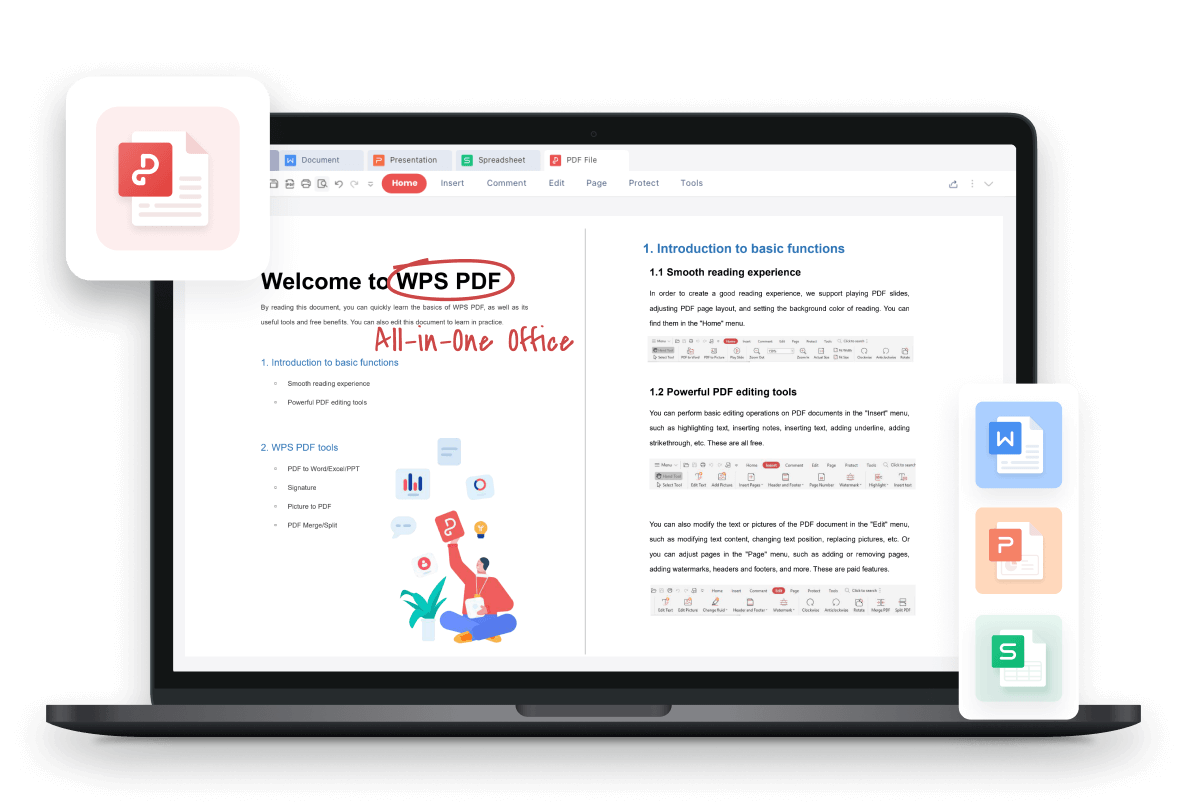 How to use the PDF password remover in WPS Office
Are you looking for a free PDF password remover? The PDF password remover in WPS Office will perfectly solve your problem. Quickly check the contents of how to use the PDF password remover in WPS Office. This free tutorial will help you become advanced from a beginner in office software.
Due to the concern for information security, sometimes we need to set a password to the PDF file so that it cannot be opened, edited or extracted by other irrelevant people.
Now let's get started to learn how we can remove PDF password in WPS Office.
l
Steps to
use the PDF password remover in WPS Office
1. Open the encrypted PDF file in WPS Office, and enter the password.
2. Head to the Protect tab, and click the Encrypt button.
3. In the pop-up dialog, uncheck the options of Set the open password, and Set password of editing and extracting if any.
4. Click Confirm, and thus the password is removed quickly.
l
What is WPS Office?
WPS Office is a professional and user-friendly WPS Office suite including four powerful modules of WPS Writer, Spreadsheet, Presentation and PDF. As the best alternative to Microsoft office suite, WPS Office is trusted by over 100,000,000 users all over the world for its powerful functions, concise interface and intuitive path. WPS is committed to offering the users with the best integrated office experience.
In this tutorial, we have mastered the quick way to
use the PDF password remover in WPS Office. Now explore more skills to use the function of file protection in WPS Academy! Welcome to visit WPS Official Academy for numerous
tut
orials
de
signed
for users of different levels.
1. How to encrypt PDF files | WPS Academy Free Office Courses
2. Set password to protect privacy in WPS spreadsheet | WPS Academy Free Office Courses
3. Set Allow Users to Edit Ranges in a protected sheet | WPS Academy Free Office Courses
WPS Office's powerful PDF function allows users to view, edit, and share documents freely online via all PC ends and mobiles. You can print, download, and comment PDF versions of files whenever you want.