WPS Office
Free All-in-One Office Suite with PDF Editor
Edit Word, Excel, and PPT for FREE.
Read, edit, and convert PDFs with the powerful PDF toolkit.
Microsoft-like interface, easy to use.
Windows • MacOS • Linux • iOS • Android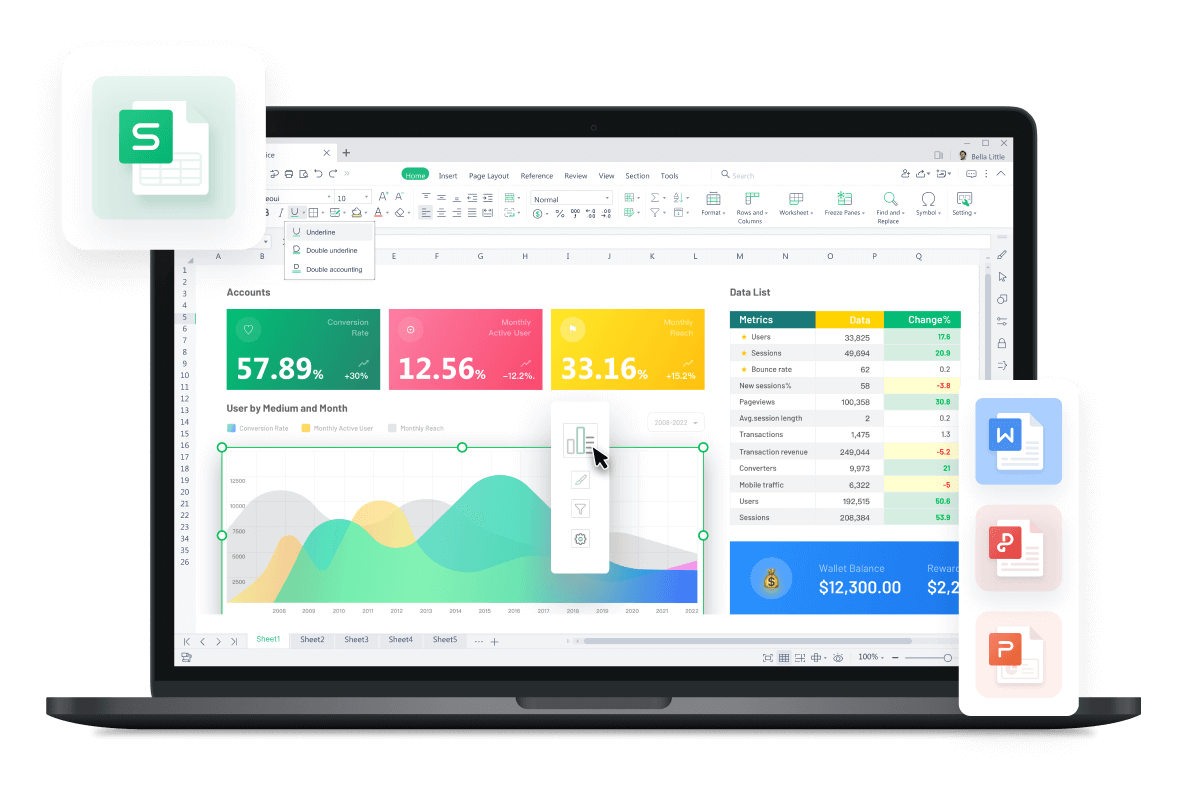 Set Header/Footer at Page Setup in excel
Are you still not a confident WPS Spreadsheet user and see page set up as a tricky matter? Don't worry
. T
o help out, we've prepared this tutorial just for you.
Page Setup consists of four parts, namely, Page, Margins, Head/Footer and Sheet. In today's tutorial, we will learn the Head/Footer.
·
Example of setting Head/Footer in
Page Setup
Go to the Page Layout tab, and click Settings > Page setup.
Head to the Header/Footer tab, where you can set the header and footer with some built-in options, such as page numbers and sheet numbers.
You can preview in the rectangle box above or click Print Preview to preview the effect.
Click Custom Header, and then we will see three setting boxes corresponding to three areas in header's left, middle, and right.Here, you can freely set the text format and insert elements such as page number, picture, date, time, etc.
We want the time to display on the left and the page numberin the middle of the page.
Go to the First Section box, and then select Time.Next, go to the Center Section, and select Page number and Number of Pages, with anof to connect them. Don't forget to type spaces before and after the of.
The complete form goes like this:
&[Page Number] of &[Number of Pages]
We can also preview it by clicking Printing Preview. This also works for Custom Footer.
Apply Different odd and evenpageseparately to Header, and Footer is also available in WPS Spreadsheet.
Check Different odd and evenpage, and then clicking either Custom Header or Custom Footer will give you two different tabs to customize, namely, Old Page Header/Footer, Even Page Header/Footer.
Similarly, you can click Print Preview to preview the effect.
Click Different first page, and then you can make a difference between the first page and the rest of the pages like what we did in setting different odd and even pages to the header.
·
To
learn
more about
page setup in
WPS Office:
Click here to see how can we set header and footer
Excel is the most powerful tool to manage and analyze various types of Data. This free WPS Spreadsheet tutorial for beginners covers in-depth lessons for Excel learning and how to use various Excel formulas, tables and charts for managing small to large scale business process.