WPS Office
Free All-in-One Office Suite with PDF Editor
Edit Word, Excel, and PPT for FREE.
Read, edit, and convert PDFs with the powerful PDF toolkit.
Microsoft-like interface, easy to use.
Windows • MacOS • Linux • iOS • Android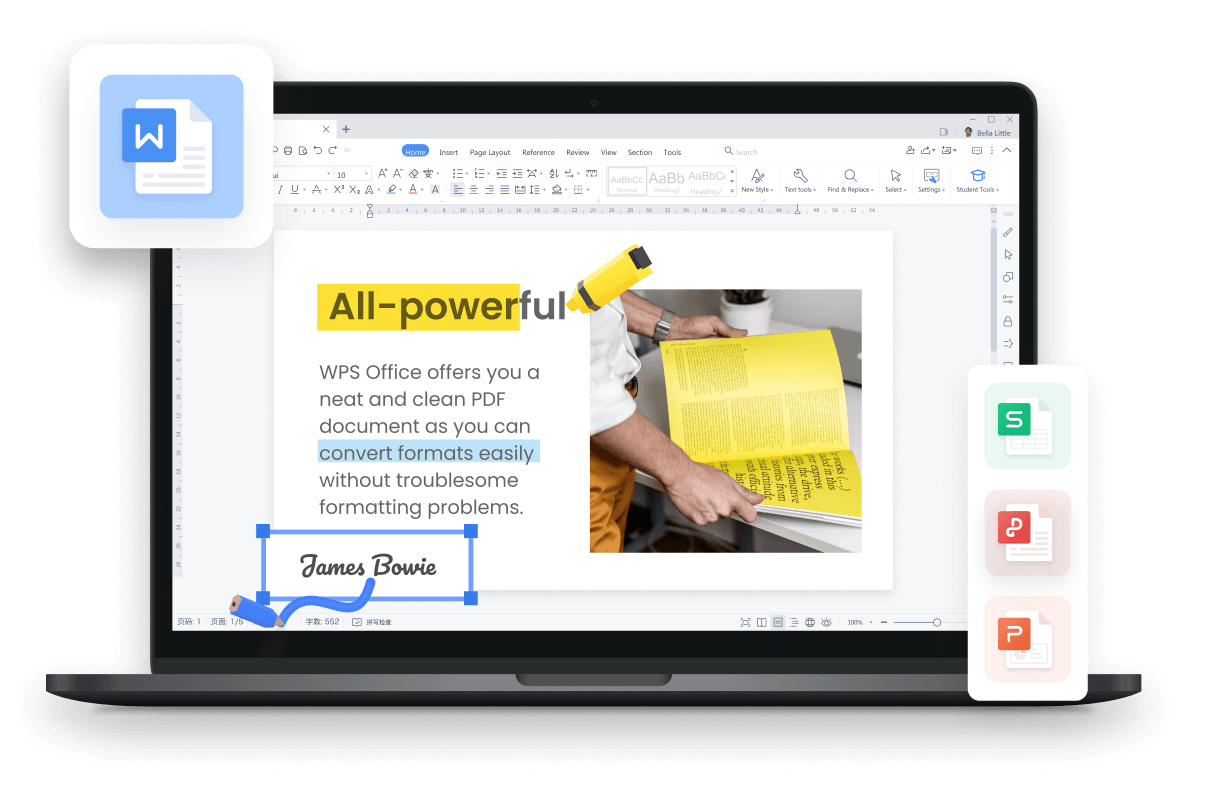 Top 10 Free Invoice Template for Word Download 2022
Invoicing can be a complex and time-consuming part of running a business, but it doesn't have to be. With free invoice templates, you can create professional invoices in WPS Word without the need for expensive software.
This guide explains the benefits of using Word and how to create invoices with Word. It also provides a free invoice template for word that can be downloaded and customized to fit your business needs. Below is a list of the 10 best free invoice template for word.
This sample invoice is laid out like a notebook, with a mix of thin black dividers, blue tabs, and black grid lines. The standard layout with the invoice details and terms on the left side is like a formal document, but this template has a slight design touch that makes it more attractive.
Invoice Registration of Receivable and Payable
A narrow horizontal header shows the logo, while blue page breaks show the financial details. White boxes contain billing information and a breakdown of transactions. This contrasts with the bold background of the invoice header itself. The compact design leaves plenty of room for terms and acknowledgements.
Simple Fresh Blue Billing Invoice
Professional fonts and a traditional blue color theme create this invoice template suitable for billing of all sizes and types. Payment method and payee logo match the clean design of this modern-looking template.
This free invoice design features a thick serif font and bold separator lines. Light blue tabs identify categories and payment terms for optimal organization and readability. The hierarchy of information is consistent with traditional invoices, but the individuality they embody is completely unique.
In the invoice breakdown and header, categories and headings are highlighted in fresh green to help readers find the appropriate section. The Total column is shaded as well as the fine divider. The classic font and professional design give the template a sleek, modern look.
Invoice Flow Accounting Statement
The smooth grid lines and the Total tab in jet black give it a modern look with minimal design elements. The horizontal header includes a section for billing information and space for a logo. Clear typefaces and generous placement improve readability.
Timeless fonts and traditional structure make this classic invoice template suitable for all types of transactions.
Invoice Information Registration Form
This professional invoice template uses traditional formatting and standard left alignment, presenting only the facts.
、
A large sans-serif font and even spacing without gridlines make this invoice template look more like a corporate document.
Contract Invoice Registration Form
This template is simply amazing to handle any type of transaction as it has many boxes available.
The WPS free invoice template for word in WPS is a great alternative to creating invoices from scratch. The Internet is full of templates, and if none of them suits your needs.
You can also download WPS Office to edit the word documents, excel, PowerPoint for free of cost. Download now! And get an easy and enjoyable working experience
In the WPS Academy, you can learn how to make invoices to promote your expertise You can do this. With WPS, you can make invoices very easily.