WPS Office
Free All-in-One Office Suite with PDF Editor
Edit Word, Excel, and PPT for FREE.
Read, edit, and convert PDFs with the powerful PDF toolkit.
Microsoft-like interface, easy to use.
Windows • MacOS • Linux • iOS • Android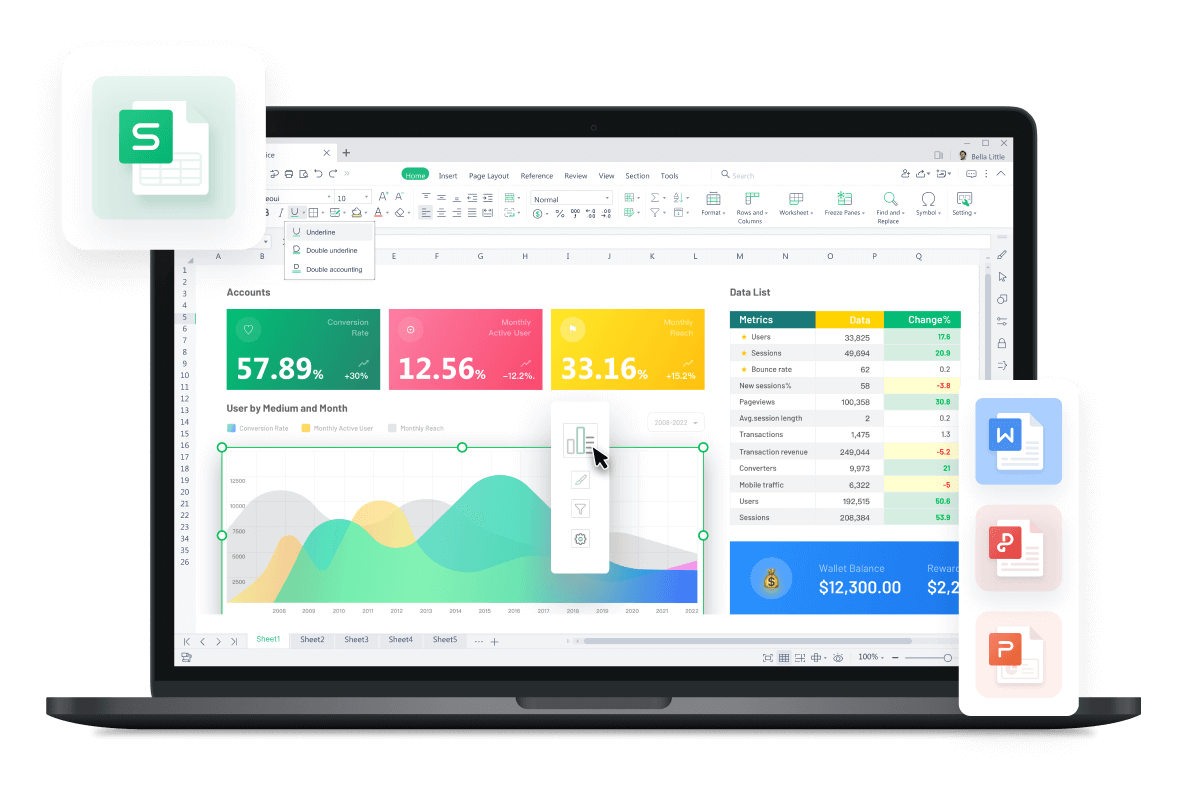 Top 10 project tracking templates excel
A project management technique called project tracking is used to monitor the status of work inside a project. By keeping track of your project, you may assess actual progress against what was anticipated and spot any problems that might make it more difficult to complete the project on time and on budget.
By evaluating project deviation and monitoring milestones, project tracking enables stakeholders and project managers to understand what work has been completed, the resources that were utilised to complete those tasks, and how to generate an earned value analysis.Excel project tracking template is very necessary for a business to have.
WPS provides many excel project tracking template, some of which are given below:
For project managers, sponsors, team members, and other project stakeholders to better track and manage their projects, we've assembled the most practical collection of lovely project timeline templates.
Use this easily customizable project task list template to assign tasks to team members and monitor project progress. Take use of the columns for due dates and time finished in this simple project task list WPS template to increase your project management efficiency.
Use this plain and straightforward template to explain every aspect of your project to your team or clients. Distribute to important stakeholders the crucial information you entered, such as the people involved, project milestones, problems, status updates, and new requests.
The first step in starting any project is to create a project overview timeline using the WPS template. This template provides a high-level description of the project. It is used to persuade senior management, but it also serves to align the entire project team on the aims and objectives of the project.
Discover the top WPS project management templates that you can quickly download and utilise for no charge to track project status, coordinate team and stakeholder progress, and handle issues as they arise.
Contractors, consultants, freelancers, and other service providers who manage or work on numerous projects with numerous deliverables and responsibilities may benefit greatly from our project tracker. It can aid in better communication and keep you on the same page as your clientele.
A visual list of tasks or activities organised chronologically is the general project timeline template by WPS, which enables project managers to see the full project plan in one location. A project timeline usually looks like a horizontal bar chart with each task represented by a name and a start and finish date.
With the help of this flexible weekly project timeline template, you can easily manage the week-to-week logistics of your project work. Any team member can easily assess how close a task is to completion by entering the task names, their start and end dates, durations, and current status (e.g., Not Started, In Progress, Complete, or On Hold). The template is perfect for teams that are working on single-week sprints or who wish to monitor task dependencies over the course of a project while also keeping an eye on overall project progress.
You may keep track of your daily, weekly, monthly, and yearly activities using WPS's project to-do list timeline. Likewise, you'll discover that it's simpler to support your ideas. As a result, it will be more difficult to forget ideas that could be crucial.
A thorough and organised project management plan is necessary for a project to be successful. Use our project plan template to get planning started. This Project Management Plan template is a great place to start when organising your project.
Project tracking is a technique for keeping track of and observing the advancement—or lack thereof—of the tasks and activities related to a specific project. Key staff can keep track of a project's progress to determine whether it will be completed on schedule and within budget.
We hope that you have liked excel project tracking template for free that comes with a formula sheet, that we have mentioned above. There are more project tracking templates available in the WPS template store than those that are shown above.Download WPS Office now and get a pleasurable working experience for your business.