Are you unsure if it's worth investing in a Microsoft Office license? With the rising cost of subscriptions, it's understandable to have second thoughts. But fear not, as this guide will walk you through the 5 key things to consider before using your license. Plus, we'll show you cost-effective ways to obtain a license and edit Office documents for free.
1. There are 2 Types of a Microsoft Office License
Microsoft Office offers two primary types of licenses: subscription licenses and lifetime licenses.
A subscription-based license requires monthly or yearly payments and provides ongoing access to the latest version of Microsoft Office applications. In contrast, a lifetime license involves a one-time payment and provides access to a specific version of Microsoft Office,.This may necessitate the purchase of a new license for an updated version.
Microsoft Office Subscription vs. Lifetime License
Understanding the differences between these licenses is crucial for maximizing your investment and getting the most out of the software. Let's take a closer look at these two types of Microsoft Office licenses.



Subscription License

Lifetime License

Product

Microsoft 365 Family

Microsoft 365 Personal

Office Home & Student 2021

Price

Starting for $69.99/year

$149.99, One-time purchase

Office software

Full office suite

Only Word, Excel, PowerPoint

License to

Email account

1 PC/ 1 Mac

Free update

Yes

No

Multiple devices and platforms

Yes

No

Real time collaboration

Yes

No

Access to online features

Continual

May be limited or discontinued

Ability to transfer license

Limited or unavailable

Available
2. How to Get 1-Month Free Microsoft Office License
If you're interested in trying out Microsoft Office before committing to a subscription, you can sign up for a 1-month free trial of Microsoft 365. This trial provides access to the latest version of Office applications, including Word, Excel, and PowerPoint, as well as cloud storage through OneDrive. It's a great way to test out the software and determine if it's the right fit for you.
Here are the steps to sign up for a 1-month free trial of Microsoft 365
Steps:
1. Go to the Microsoft 365 website and scroll down then click on "Try free for 1 month"
2. Sign in with your Microsoft account or create a new one if you don't already have one.
3. Enter your payment information.
4. Follow the prompts to download and install the Office applications on your computer or device.
5. Start using the Office applications and enjoy your 1-month free trial!
Pros:
You can try Microsoft without buying a license

Can give licenses to 2-6 people, great for small business

Can use a full Microsoft Office Suite
Cons:
Only 1 month

Need to pay $99 per year after free-trial
3. How to Get Microsoft Office Lifetime License
Getting a Microsoft Office lifetime license requires purchasing a one-time license key and activating it on your device. Following these steps so you can get Microsoft Office Lifetime License easily
Steps:
1. Go to the Microsoft 365 website.
2. Select the version of Office that you want to purchase.
3. Choose "Buy now" to add the license to your cart.
4. Review your order and select "Check out."
5. Sign in with your Microsoft account or create a new one.
6. Enter your payment information and billing address.
7. Review your order summary and click "Place order."
7. Follow the installation prompts and enter your license key when prompted.
8. After installation, you can start using your lifetime license of Microsoft Office.
By following these steps, you can quickly and easily purchase a Microsoft Office lifetime license directly from Microsoft.
Pros:
Cheaper than subscription plan

Enough for personal and education use
Cons:
No free update

No free-trial

Can't use other Office software like Teams, online collaboration, Outlook,etc

Need to buy an extra license if you have more than 1 computer.
4. How to Edit Microsoft Office Documents for Free
Microsoft Office offers a range of powerful tools for creating and editing documents, spreadsheets, and presentations. However, it can be costly to purchase and maintain a Microsoft Office subscription. Fortunately, there are several free alternatives that offer similar functionality and are compatible with Microsoft Office file formats.
In light of the cost associated with Microsoft Office subscription, WPS Office provides a viable alternative with similar functionality,as it allows you to open, create, and edit Microsoft Office documents for free. It also includes a spreadsheet program and a presentation program, similar to Microsoft Excel and PowerPoint, respectively.
Steps to edit Word/Excel/Powerpoint in WPS:
First you have to download WPS Office:
1. Access Wps Office and download Wps Office for free
2. Install Wps on your device
3. Select "Open" from the toolbar.
4. Browse to the location where your Word/Excel/PowerPoint file is saved and select it.
5. Double click to open the document in WPS Office.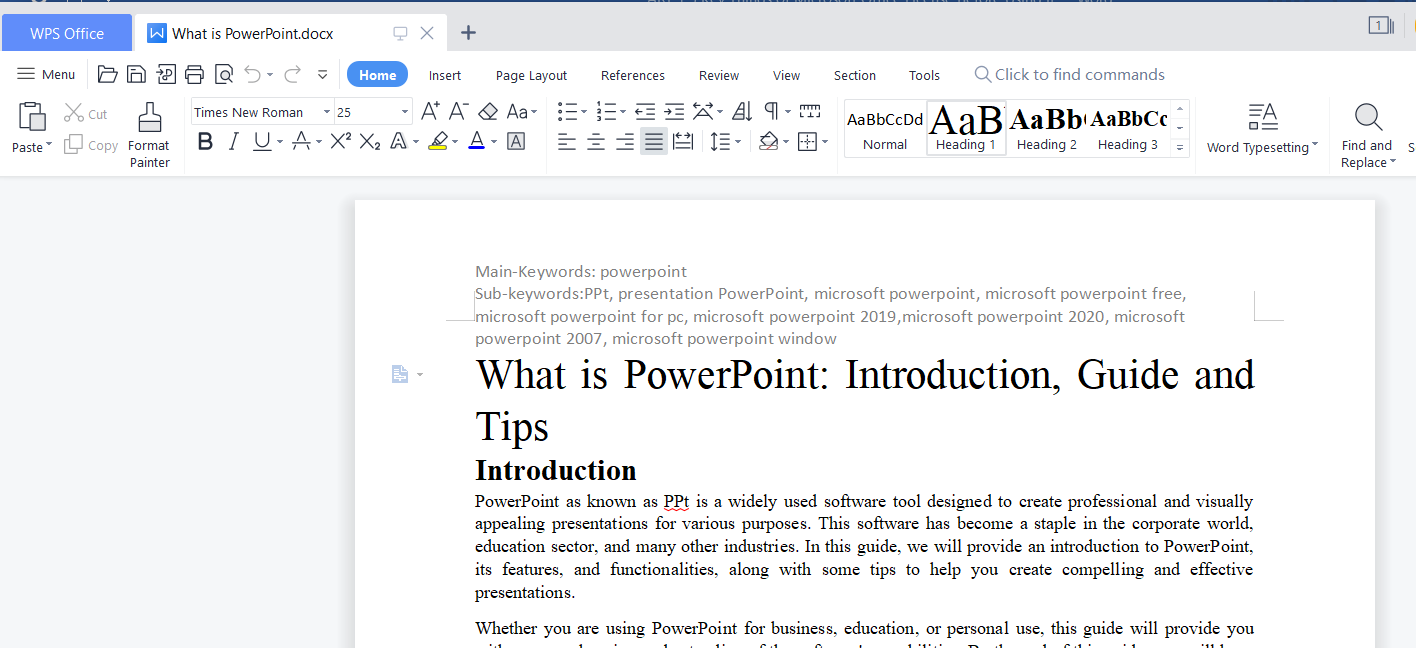 6. You can now edit the document as you like.
7. Once you have made the necessary changes, click on the "File" menu again and select "Save" or "Save As" to save the edited document.
5. 5 Factors to Consider when Choosing a Microsoft Office License
When choosing a Microsoft Office license, there are several important factors to consider that can affect both the functionality of the software and the cost to your organization. Here are five key factors to keep in mind:
1. Number of Users: Consider the number of employees or users that will need access to the software, as this will impact the cost of licensing.
2. Required Applications: Determine which applications your organization will require, such as Word, Excel, PowerPoint, Outlook, and others. This will help you choose the appropriate license bundle.
3. Online vs. On-Premises: Decide whether you need an online or on-premises solution, based on your business needs and IT infrastructure.
4. Upgrade Options: Check for upgrade options and support for the software, as this can impact the longevity of your investment.
5. Licensing Model: Finally, choose the appropriate licensing model based on your usage patterns, such as a perpetual license or subscription-based model.
FAQs
Q1. How do I check the authenticity of a Microsoft Office license?
Open any Office application (e.g. Word, Excel) and click on "File" in the top-left corner.

Click on "Account" or "Help" in the left-hand menu.

Look for the "Product Information" or "About" section, which should display the license status and activation status of your Office installation.

If your license is genuine and activated, it will show "Product Activated" or "Product Licensed".
Q2. Can I use Microsoft Office for free if I am a student?
Microsoft offers Office 365 Education for free to eligible students and teachers, which includes the latest versions of Word, Excel, PowerPoint, and other tools. You can check your eligibility and sign up for the program on the Microsoft Education website
Q3. Which Microsoft Office license is better for Business?
Microsoft 365 Business Standard: Includes cloud-based Office apps, email, file storage, and collaboration tools.

Microsoft 365 Business Basic: Includes cloud-based Office apps and email, but with limited file storage and collaboration features.

Office Home & Business 2019: Includes desktop versions of Word, Excel, PowerPoint, and Outlook for one-time purchase.
Q4. What is Microsoft Retail Licensing?
Microsoft Retail Licensing refers to licenses for individual users or small businesses that are purchased directly from Microsoft or authorized resellers. These licenses are typically sold as subscriptions (e.g. Office 365) or one-time purchases (e.g. Office Home & Business 2019), and are used to activate and use Microsoft Office software.
Q5. How to License Staff in Bulk for My Company?
To license staff in bulk for your company, you can use Microsoft's Volume Licensing program. This allows you to purchase and manage licenses for multiple users at once, with flexible payment and deployment options. You can learn more about Volume Licensing on the Microsoft website and contact a Microsoft representative for assistance with purchasing and setup.
Summary