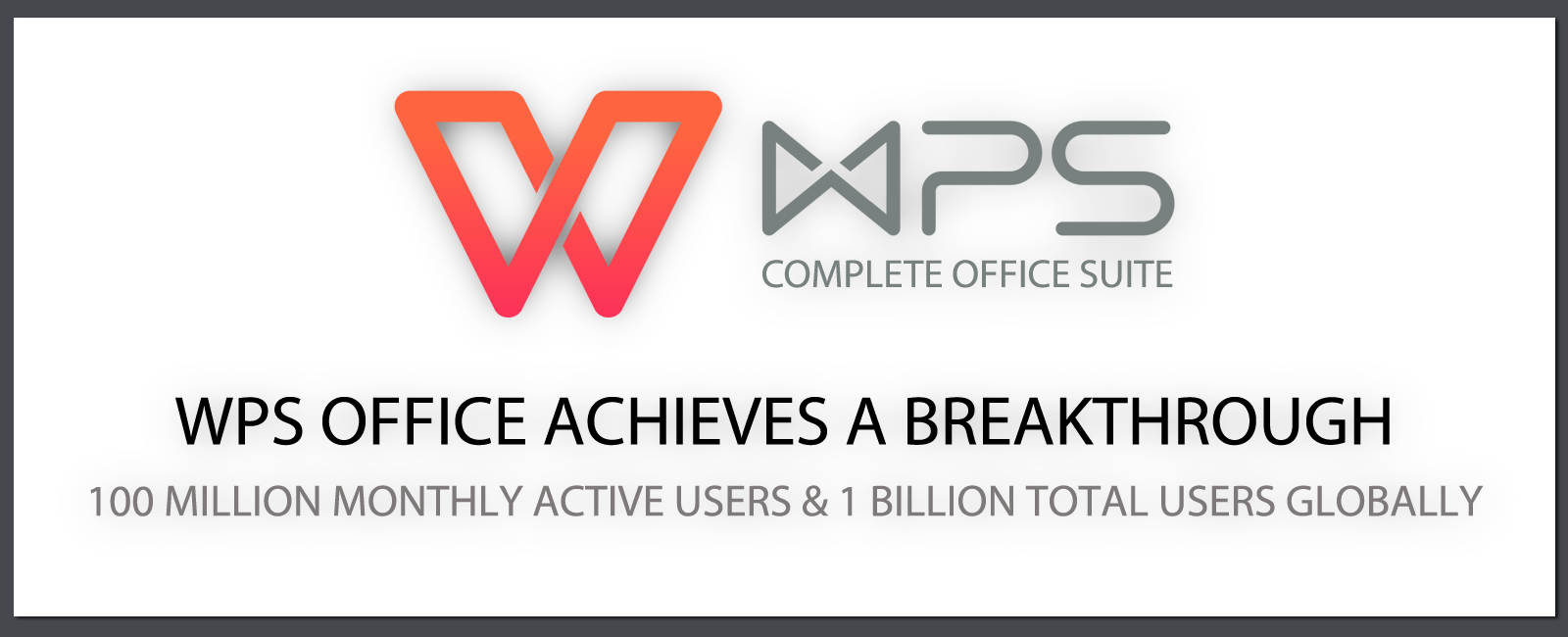 PALO ALTO, Calif., December 09, 2016 – WPS Office Software, a leading office productivity suite for PC and mobile devices, today announced it has reached a breakthrough 100 million monthly active users on its WPS Office Suite for Android, a number that is on par with companies such as Blackberry Mobile Messenger, LinkedIn, Pinterest, Snapchat, Spotify and Telegram. Additionally, the company has acquired one billion users across 237 countries and regions.
On the heels of these substantial milestones, WPS Office has also been named a winner in the sixth annual Best in Biz Awards, earning a bronze award for Consumer Product of the Year. The Best in Biz awards is the only independent business awards program judged by members of the press and industry analysts. The North America program garnered more than 600 entries, from an impressive array of public and private companies of all sizes and from a variety of industries and geographic regions in the U.S. and Canada.
"We are thrilled to have reached these significant highlights, a testament to the demand for a comprehensive, quality office productivity suite at an affordable price," said Cole Armstrong, global marketing director. "A high volume of active users is one of the best forms of validation we could achieve, and even better, coupled with the recent award from Best in Biz. We look forward to increased growth and momentum as we continue to innovate and deliver software that is affordable, easy to use and improves user productivity."
WPS Office Software offers a complete office suite—including Writer, Presentation, Spreadsheets, and a built in PDF reader—in an easy to use and familiar interface. The suite is compatible with Microsoft Office documents and offers more than 230 fonts and hundreds of free templates. Integration with cloud providers such as Google Drive, Dropbox and Box gives users the ability to collaborate with others and support business operations. The suite is also available for iOS and Android mobile platforms, with more than 550 million total Android users and 1,000,000 reviews on Google Play.
What WPS Office Users Are Saying
While the number of WPS Office users continues to soar, the company also receives accolades from its customers:
Lee Harrington, Journalism Lecturer, University of Houston: "I saw an article pointing to WPS Office as the 'best alternative to MS Office,' but that's not accurate—it's not just the best alternative, it's a better solution!"
Chris Todd, Chief of Operations, SkyDancers International: "WPS Office has already begun to make a positive impact on our business. The iOS features alone have reduced the amount of hours we have to spend at the office because of the gains in productivity. However, the most impressive part of WPS Office is just how easy to use the software is. Little or no training is needed which is very compelling to businesses of any size."
Dee Todd, IT Administrator, Fisheries Supply Company: "WPS Office is a really inexpensive alternative solution to Microsoft Office, but without compromising on performance. Users can seamlessly switch over to WPS and get straight to work. I love it!"
Tweet this: @WPS_Office Achieves a Breakthrough 100M Monthly Active Users & 1B Total Global Users http://ow.ly/mA9q306Z3XA #Android #iOS #MicrosoftOffice
About WPS Office Software
Palo Alto-based WPS Office Software is a leading office productivity suite for PC and mobile devices. With more than 1.2 billion installs, WPS Office is a high performing, yet considerably more affordable solution that is recognized as a preferred alternative to Micosoft® Office and is fully compatible and comparable to Microsoft PowerPoint, Excel and Word. The WPS Office suite is available for Windows and Linux-based PCs as well as Android and iOS. WPS Office Software is a subsidiary of Kingsoft Corporation, China's leading Internet services and software company. More information can be found at http://www.wps.com.
Follow us on Twitter and Facebook .
Media Contact:

WPS PR
mktg@wps.com