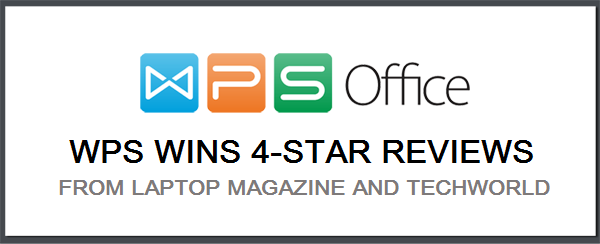 PALO ALTO, Calif., August 16, 2016 – WPS Office Software, a leading office productivity suite for PC and mobile devices, has earned two four-star editorial reviews from the publications Laptop Magazine and Techworld. The coveted four-star designations appeared in the August 5 edition of Laptop Magazine and in the July 14 edition of Techworld.
In the WPS Office 2016 Review in Laptop Magazine, the editor praised the office productivity suite for its compatibility with MS Office, its customizable interface, and other unique features. In the review, Laptop noted that "WPS Office does an excellent job of fulfilling its promise to be as much like Microsoft Office as possible while costing less and providing a few more neat features," adding that "WPS Office has a narrow niche and fills it well." Among the "Pros" of the software, the review lists features such as tabbed documents, eye-protection mode, and a user interface that can be either static menus or modern Ribbon, concluding that "WPS Office is the most attractive Office 365 alternative, thanks to its customizable interface and other unique features." The full review is available at: http://www.laptopmag.com/reviews/software/wps-office.
Techworld's review highlights many advantages to using WPS Office's "light yet powerful office suite," including a "speedy installation process"; "real depth" with support for tables, charts, shapes, images, equations, and more; compatibility with SmartArt and WordArt; and an internal reader in the word processor application for opening PDFs. "A seriously impressive and attractive suite of tools," Techworld concludes in awarding its four-star review. The full review is available at: http://www.techworld.com/download/office-business/wps-office-2016-free-v10105652-3330664/.
In addition to giving WPS Office four stars in its full review, Laptop Magazine also named WPS Office 2016 as "Best Desktop Office Alternative" in the feature Best Microsoft Office Alternatives 2016 that appeared in Laptop's August 6 edition. In awarding the productivity suite four stars, Laptop notes that "it looks so much like Office at times you'll forget what you're using. Even better, the suite offers a few helpful features you won't find in Microsoft Office."
"It's an honor to receive such high reviews and esteemed recognition from these prestigious industry publications," said Cole Armstrong, senior director of marketing, WPS Office Software. "These coveted four-star ratings are another testament to WPS Office's commitment to ensuring that we provide a high performing solution that's more affordable than Micosoft® Office. Our unique office software solution has been proven to help all users reach their goals while increasing productivity."
The WPS Office productivity suite offers a complete office suite—including Writer, Presentation, Spreadsheets, and a built in PDF reader—in an easy to use and familiar user interface. WPS Office, which is Android for Work integrated, is available for Android and iOS as well as Windows and Linux-based PCs. The software is available through one of several licensing options, including annual, lifetime, or freemium. In terms of annual licensing, WPS Office is one-fifth the price of Microsoft with an annual license fee of $19.99 compared to Microsoft's $99.
Laptop Magazine is part of Tom's Guide, which has 17.5 million monthly visitors and offers expert reviews, features, and news analysis to guide consumers when purchasing and using technology products. Techworld, published by IDG, offers the latest news and views on innovation, startups, developers, disruptive technology, and their impact on UK business and society.
About WPS Office Software
Palo Alto-based WPS Office Software is a leading office productivity suite for PC and mobile devices. With more than 1.2 billion installs, WPS Office is a high performing, yet considerably more affordable solution that is recognized as a preferred alternative to Micosoft® Office and is fully compatible and comparable to Microsoft PowerPoint, Excel and Word. The WPS Office suite is available for Windows and Linux-based PCs as well as Android and iOS. WPS Office Software is a subsidiary of Kingsoft Corporation, China's leading Internet services and software company. More information can be found at http://www.wps.com.
Follow us on Twitter and Facebook .
Media Contact:

mktg@wps.com
WPS PR