WPS Office
Free All-in-One Office Suite with PDF Editor
Edit Word, Excel, and PPT for FREE.
Read, edit, and convert PDFs with the powerful PDF toolkit.
Microsoft-like interface, easy to use.
Windows • MacOS • Linux • iOS • Android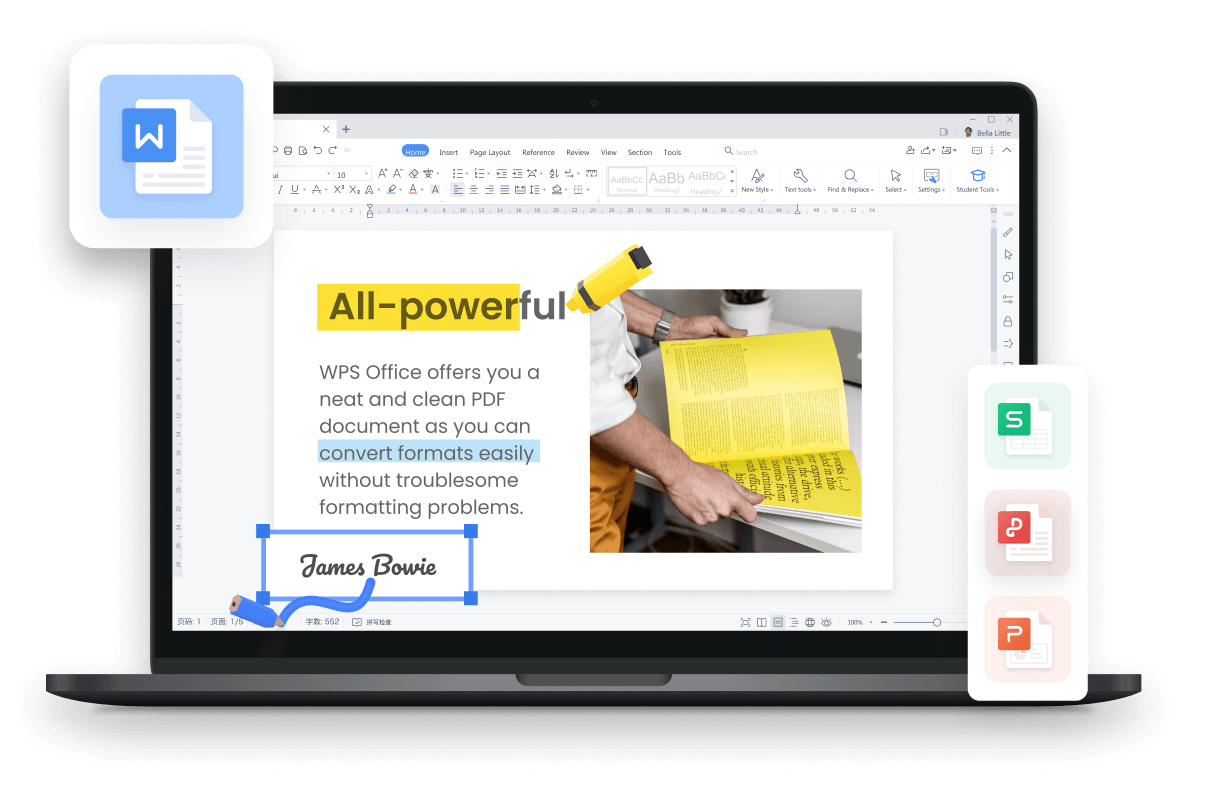 Does WPS Office have Outlook
Since WPS Office stands side to side with Microsoft Office in terms of quality of delivery and rate of improving work efficiency, users hope to see an application like Outlook embedded in WPS Office. Does WPS Office have Outlook?, Is it called WPS Outlook? Am I to download them separately? These are questions in the mind of WPS office users and potential users. This article will proffer answers to all of these questions and also inform you of how to use WPS Office with Outlook of Microsoft Office.
What does WPS Office include? Does it have Outlook?
WPS Office is an Office application that has all the necessary applications to make you effective at work. WPS Office has some special applications like WPS Cloud and WPS AI. These special additions add spice to WPS Office.
The main contents of WPS Office includes WPS Writer, WPS Spreadsheet, WPS Presentation, WPS PDF, WPS AI and WPS Cloud. Someone is waiting to see Outlook, oh yeah, WPS Office doesn't have Outlook embedded in it. Outlook is an application with mail and calendar by Microsoft and it is also included in Microsoft Office.
Outlook is a productivity app that helps you keep track of your schedules with the calendar embedded in the app and your email which is your online workspace, this is why Outlook is a highly sought after app. While WPS Office doesn't have Outlook in its system, you can merge mail across WPS Office and Outlook.
Unique features of WPS Office for Outlook
As I have opined above, WPS Office doesn't have Outlook embedded in it but it can work well with Outlook and produce exponential increase in your productivity level. There are some features that make WPS Office for Outlook special, we will be looking at them individually for proper understanding.
WPS Office increases your productivity by helping you mail merge and using WPS AI to write emails for Outlook.
How to Mail Merge in WPS Office
Mail merging is a process that helps you to send emails with the same content but with little differences in recipient details. Mail merging saves you so much time while working and grants you speed and most importantly it saves you of stress. Mail merging is a thing you should be able to do at a whim at work and that's why we will have a look into the process in the following steps.
Step 1: Download WPS Office. If you don't have WPS Office, it's high time you got the best office productivity app into your device. Download here.
WPS Office download link
Step 2: Produce your data source. Your data source is simply your data organized in a way it can be selected and the best way to present your data is to put it in a spreadsheet. You'll get to know why it is better in a spreadsheet as we go on. Mail-merging involves you sending basically the same information but little difference in your recipient details therefore, these little differences are accounted for in your spreadsheet.
Step 3: Open WPS Writer, click on references and select mail merge. One of the applications in the WPS Office Package is WPS Writer. WPS Writer is the word processing document of WPS Office. You are to select references from the panel above and after clicking on references, you will see mail merge and you are to click on mail merge and then you have started your task.
References, WPS Office Header Section
Mail merge, under References
Step 4: Open data source. There is a space where you can select "open data source". Opening your data source is a way of synchronizing the mail you are typing with your data source. When you open a data source, your mail becomes connected to the data source. Remember, the data source was initially created for the mail you are working on. The data source will be uploaded from where you have saved your data source. Either on your PC storage, WPS Cloud or from any other source.
Opening Data Source
Step 5: Insert Merge field. Inserting the merge field means you are showing the places where the fields from your data sources would fit into your mail. Whenever you get to a point where you want data from your source document to fit in, you click on the insert merge field.
Inserting merge fields
Step 6: Merge and Send. When you click on merge and send, the WPS writer/Docs compiles all you have written and puts it in a shareable format. When you click on Merge and Send, it brings the option Send by mail and that is where you will select Outlook which is the mailing app we are using. To use Outlook, you have to make sure your default mail app is Outlook.
Sample Email
Merging to Email
Step 7: Preview. It is advised that you preview this process before sending out if it is the first time you are trying it out just to avoid and correct mistakes. You can preview by clicking "View Merged Data"
That is pretty much the process of using WPS Office and Outlook to mail merge, follow the steps above and you will surely navigate the process easily.
Remember this is only one of the ways WPS Office can work with and help you manage Outlook. Let's see the next one.
How to Use WPS AI to write email for Outlook
You can use the WPS AI to write your emails for Outlook. Artificial Intelligence's curating prowess is a valuable weapon in these days of information overload. This is why we need to explore how WPS AI can assist you in writing email for Outlook. You can use WPS AI to write your emails by following these steps
Step 1: Click on WPS AI from the WPS Writer page
WPS AI is just at the top right of the white canvas of WPS Writer. When you click on WPS AI, it will redirect you to a page where you will be asked to login or sign-in, do what you have to do in your case.
WPS AI
Step 2: Start writing with WPS AI. After signing in, the "Start writing with WPS AI" will be just on top of your canvas and you can click on it and select from the already available options or fill in your command in the bar provided and then you get your response from the AI. In this case you can enter a command for a mail type that you want and edit. You can also type in your email for WPS AI to edit before sharing on Outlook.
Writing with WPS AI
Each of these abilities of WPS AI makes work easy for you and also increase your productivity level greatly and this is why I'll always advise that you have WPS Office on your device to make work enjoyable and stress free for yourself.
WPS Office vs Microsoft Office
Office productivity apps are extremely important because of the great effect they have on the execution of tasks and work. In the world of Office productivity apps, WPS Office and Microsoft Office are miles ahead of the others and this is because of special features and regular updates. However, the emergence of WPS AI has caused Microsoft Office to become the second best. WPS Office ensures that minimal memory space is taken on your device while still getting the best that any other productivity app will offer.
WPS Office doesn't have Outlook but you can see just how lethal it is still and with the addition of AI, it has an edge over Microsoft Office. Try WPS Office out and I can guarantee that you are getting the crux of what the market has to offer.
FAQs
How to reduce PDF file size for Email attachment online
Step 1: Search for "WPS online PDF Compressor"
Step 2: Click on "Upload PDF" on the page.
Step 3: Choose desired file size and compress.
Step 4: Download the compressed PDF
These are the steps to follow in compressing your PDF email attachments online.
Follow this link for more details
https://pdf.wps.com/blog/quick-guide-on-how-to-reduce-pdf-file-size-for-email-attachment-post477/
How to reduce PDF file size for Email attachment offline
Step 1: Download WPS Office and open your PDF with WPS Office
Step 2: When WPS PDF canvas opens, click on "tools".
Step 3: Then click on "Compress" when the "tools" expand.
Step 4: Choose desired size and then Compress
https://pdf.wps.com/blog/quick-guide-on-how-to-reduce-pdf-file-size-for-email-attachment-post477/
Summary
WPS office is a one of a kind app and why anyone would say that has been demonstrated in this article. Though WPS Office doesn't have Outlook its ability to combine with apps cannot be undermined and we know that through the fact WPS Office can be used to mail merge for Outlook and you can also use WPS AI to write email for Outlook. You'll agree with me that these abilities of WPS Office reduce work stress considerably and make work faster.
Without doubt, WPS Office is the best office productivity app around and you should consider downloading WPS Office if you haven't downloaded it. The features of this app should be at the fingertips of every progress-oriented worker. Do well to mail merge next time you want to send a mail to more than one person with the same detail with difference in recipient details. Till next time.