WPS Office
Free All-in-One Office Suite with PDF Editor
Edit Word, Excel, and PPT for FREE.
Read, edit, and convert PDFs with the powerful PDF toolkit.
Microsoft-like interface, easy to use.
Windows • MacOS • Linux • iOS • Android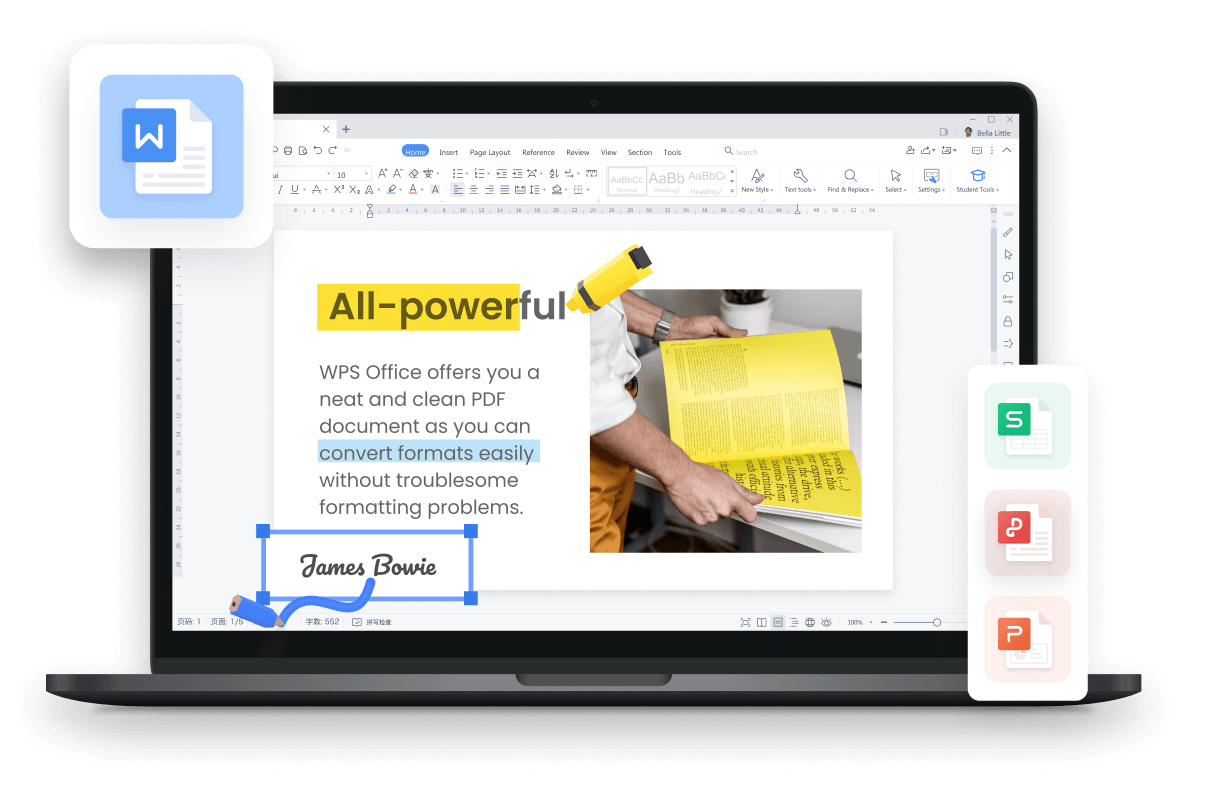 How Many Words Fit on a Page
As we know, the number of words depends on the size. If the size is larger, less number of words fit on the page.In general estimation, a typical page of single spaced document with font size 12 pt takes approximately 500 words to fill the page. This function let us know how many words fit on a page.
On the other hand, you will need 250 words to fill a page of a double spaced document. The type of font you use may change your word count, but it should not affect too much. One thing should be clear that whether you are using or working on WPS 2010,WPS 2013,WPS 2016 or you get a mac or a windows, It will not effect.
How Many Words per Page
Before we dive into how to count the number of words on a page and control the number of words per page, let's first answer the question of how many words fit on a page. The answer to this question varies depending on a few factors, such as font size, line spacing, and margins.
How Many Words per Page in Google Docs
According to the website "SuiteGuides", the number of words per page in Google Docs a can vary depending on the formatting, font size, and spacing of the document.
Assuming a font size of 12 points, single-spaced text, and standard margins, an average page in Google Docs would contain approximately 500 words. However, this number may be higher or lower depending on the specific document settings and content.
How Many Words per Page in MS Word
In other words, the default page size of MS Word is also similar to that of its competitor, which is the letter-sized page with 1-inch margins. However, by using Arial font size 12 as a reference, we can see that Microsoft Word can accommodate slightly more words per page.
For instance, a single-spaced MS Word page can contain around 550 words, whereas a 1.5 spaced page can have approximately 375 words. Lastly, a double-spaced MS Word page can fit roughly 275 words. These figures can vary depending on the font type, font size, and spacing used, but they can serve as a general guide when writing documents using MS Word.
How Many Words per Page in WPS Word
For a page with 1 inch margins, 12 point Times New Roman font, and minimal spacing elements, a good rule of thumb is 500 words for a single spaced page and 250 words for a double spaced page The truth is that the number of words per page depends on a variety of factors such as they type of font size,spacing elements,margin spacing and paragraph length to name a few. Let me show you some steps how many words fit on a page.
Two Ways to Count Words per Page
Now that we know the importance of knowing how many words are in one page, let's explore two ways to count words per page. These features are both available in WPS Office.
Look at the Status Bar
Here is a step-by-step guide on how to use the status bar to count words per page:
1. Open the Microsoft Word document that you want to count the number of words per page for.
2. Look for the status bar at the bottom of the document. It should display the number of words in the document.
3. Right-click on the status bar, and a pop-up menu should appear.
4. Make sure that "Word Count" is selected. If not, click on "Word Count" to enable it.
Pros and Cons of Using Status Bar to Count Words per Page
Pros
Convenient: Using the status bar to count words per page is a convenient method as it is easily accessible at the bottom of the document.

Quick: It provides a quick way to know the number of words on a page without having to go through the entire page.

Real-time counting: The word count on the status bar is updated in real-time, making it easy to keep track of the progress of your writing.
Cons
Does not apply to all software: While the status bar is a useful tool for many word processing programs, not all software includes this feature.

Limited information: The status bar only shows the word count, and it doesn't provide other information such as the number of characters, paragraphs, or lines.

Distraction: Constantly checking the status bar can be a distraction and may disrupt your writing flow.
Use the Word Count
In this first step it shows that if you want to check how many words are there in the very first page first of all go to the review option.
2. After clicking on the review option it will give you some more options like this.
3. As it is shown in the above screenshot you can see an option with the name of Word Count before clicking on that you just have to click on any page you want to count words for example click on page 1 and then press on the Word Count Option to read the words.You can see there are 515 words here.
Pros and Cons of using the word count feature:
Pros
Flexibility: Applies to all software, not just specific programs like the status bar.

Customization: Word count features often come with customization options, such as the ability to exclude footnotes, endnotes, or headings from the word count.

Accuracy: Using the built-in word count feature ensures accuracy in determining the number of words in your document, as it is a precise count.
Cons
Complex Steps: Can be more complicated than looking at the status bar, especially if you're not familiar with the software.

Access Issues: May not be as visually integrated into the document as the status bar.
How to Adjust a Page in Word?
To perform this function you have to change the size and font to print, let me show you how to change it.
1. First of all you have to go to the WPS office and then open a document to press control +A to all document content.
2. Press ctrl D for font style and size option now you can easily modify the font style and size or adjust a page.
Page Layout on word
One formatting aspect you need to create your document is to make adjustments to the layout of the page. The page layout affects how content appears and includes the pages orientation,margins and sizes.
The below picture shows how to change page orientation
1. Select the page layout tab.
2. Click the orientation command in the page setup group click on the orientation it will further give you two more option portrait and landscape tap on any them.
FAQs
Q1. Other Factors that Affect Word Count & Doc Length?
There are several other factors that can affect the word count and document length, such as
Font Selection

Text Size

Margin Width

Subheading Usage

The Presence of Images, Charts and Tables
Using a larger font size or wider margins can increase the number of pages, while using a smaller font size or narrower margins can decrease the number of pages.
Q2. How many pages is 300/400/500/… words?
The number of pages that 300, 400, 500, or any other number of words will take up depends on the font size, font type, line spacing, and margin size used in the document. However, as a general rule of thumb, a page with standard formatting (12-point font, double-spaced, 1-inch margins) will contain approximately 250-300 words.
Average Number of Pages Based on Word Count (Google Docs & Microsoft Word)
Conclusion
In conclusion, determining the number of words per page is essential for meeting the word count and page count requirements of your document. In this article, we discussed two ways to count words per page, why it's important to know, and some common FAQs. We also recommended using WPS Office to make the process easier.
At the end of the day, tools like WPS Office can be a lifesaver for those looking to control their word count and page length. Its built-in word counter, along with other features like font and margin adjustment, make it a great choice for anyone looking to produce high-quality documents quickly and efficiently.
With these tips, you can now write with confidence and meet your document requirements efficiently.