WPS Office
Free All-in-One Office Suite with PDF Editor
Edit Word, Excel, and PPT for FREE.
Read, edit, and convert PDFs with the powerful PDF toolkit.
Microsoft-like interface, easy to use.
Windows • MacOS • Linux • iOS • Android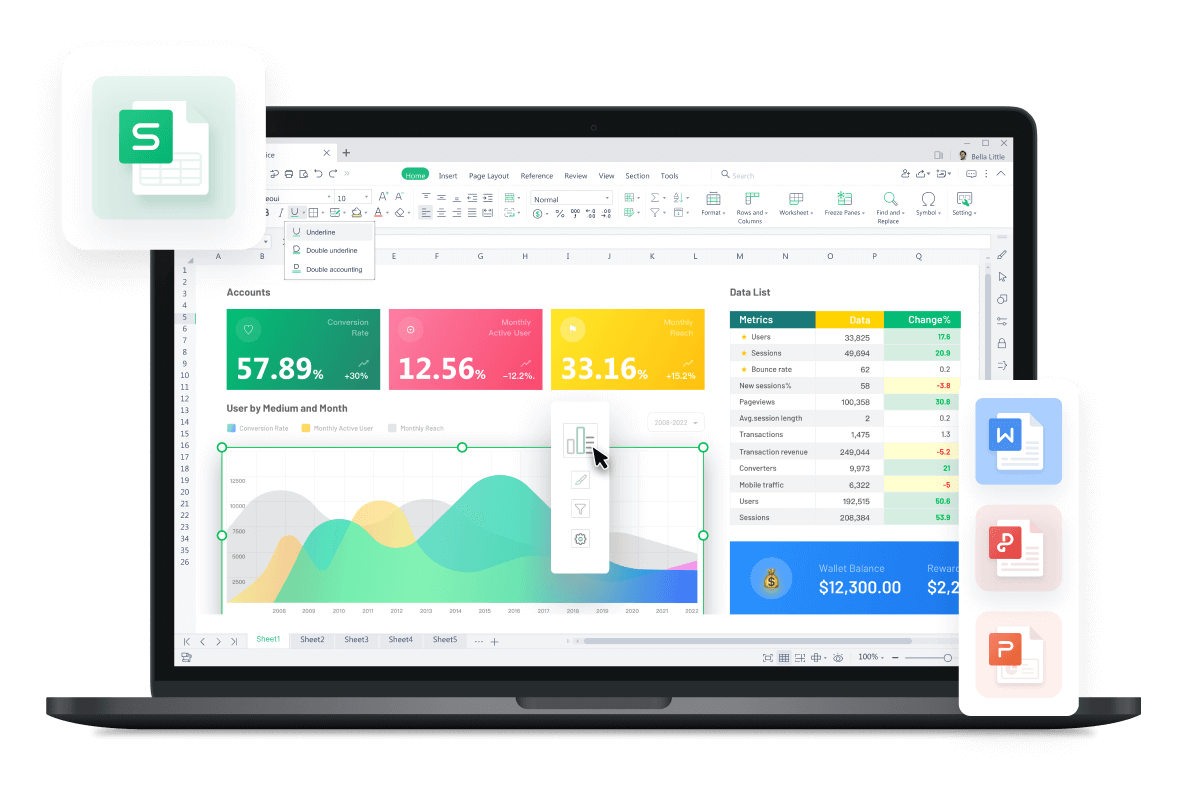 How to analyze data using pivot tables in WPS Office Excel
Welcome to WPS Official Academy, and this tutorial helps you master how to use pivot tables to analyze data in WPS Spreadsheet.
Steps to create a pivot table and analyze data with it.
l
Create a pivot table in WPS Spreadsheet
1. Prepare your pivot table data and open it in WPS Office; for example, the following table illustrates the sales of a coffee brand in different countries and months in 2021. Select the range of data you want to analyze in a pivot table. Go to the Insert tab and click the PivotTable button.
2. In the pop-up Create PivotTable dialog, you can also choose where you want the PivotTable report to be placed, for example, New worksheet here. Click OK and the pivot table is created in the new sheet.

3. In the pane on the right, drag the fields to the pivot table areas including FILTERS, COLS, ROWS and VALUES. For instance, drag Month to the FILTERS area, Country to COLS, Product to ROWS and Sales to VALUES. Then a pivot table is successfully created and you can use it to analyze data now!
4. Likewise, you can also place the parameters including month, country, product and the like in different areas of the pivot table. For example, drag Month to the COLS area, so you can directly see the sales in different months.
l
Use the pivot table to analyze data
1. In this pivot table, for example, we can see the total sales of each kind of coffee of this brand and the total of the brand in different countries. We can know that Latte sells best among all types of coffee, and the brand is favored more in France than in other countries.
2. If you want to analyze the sales condition in December, for example, you can click the drop-down button behind Month and click Select this item to filter the specified month. Then we can see directly Cappucino is favored in December.
3. You can also click the drop-down button behind Country and Product to filter the data.
Term Explanation
l

What is a pivot table
As a powerful feature built in WPS Office, pivot tables provide an interactive view of your datasets, allowing you to analyze trends, comparisons and the like based on the data.
More knowledge about pivot tables in WPS Spreadsheet
Want to learn more about pivot tables? You can visit How to set the calculated field of the pivot table | WPS Academy Free Office Coursesto explore how to set the calculated field of the pivot table.
WPS Spreadsheet could be an alternative to Microsoft Office Excel. Includes 100's of built-in formulas, pivot tables and more. Includes advanced animation, slide transitions, and support for video, images, audio and even Flash.