WPS Office
Free All-in-One Office Suite with PDF Editor
Edit Word, Excel, and PPT for FREE.
Read, edit, and convert PDFs with the powerful PDF toolkit.
Microsoft-like interface, easy to use.
Windows • MacOS • Linux • iOS • Android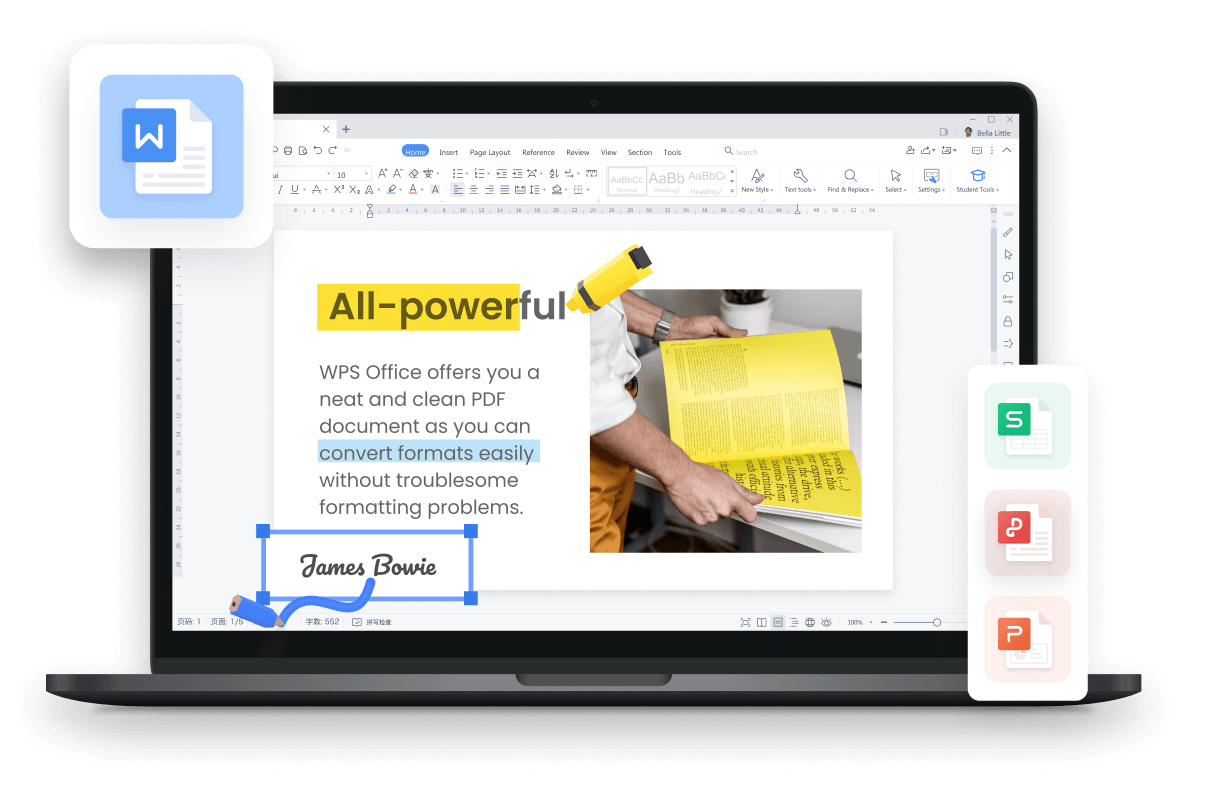 How to Center Text in WPS Writer - A Step-By-Step Guide
Documents serve various crucial purposes, from school projects to business reports and countless other avenues. It's imperative that our documents are presentable so that viewers can easily comprehend the content. For example, center-aligning headings can help viewers grasp the document's purpose. However, many people are unaware of how to center text in Word using WPS Office, and this article aims to bridge that knowledge gap. We will explore different methods to address this issue and shed light on using WPS Writer on mobile devices.
How to Center Text in WPS Writer
2 Methods to Center Text in WPS Writer on PC
Let's explore two distinct methods for centering text in WPS Writer:
Method 1: Manual Alignment via the Home Tab
WPS Writer offers a wide array of options, including the ability to center your text from the Home tab. Here's how:
Step 1: Select the text you want to center-align and navigate to the Home tab.
WPS Writer select text
Step 2: In the ribbon menu, simply click on the "Center Align" option to position your text in the center of your document.
WPS Writer home tab center alignment
Note: If you're wondering how to align text vertically in WPS Writer, you can use the same method to achieve this.
This method is simple, straightforward, and easy to follow. Notice the clean and user-friendly interface of WPS Writer? The well-organized options make it incredibly easy to locate and use, enhancing the overall user experience.
Method 2: Utilizing a Shortcut
WPS Writer also allows you to center text with a convenient shortcut:
Step 1: Select the text you wish to center-align in your document.
Note: You can also press "CTRL + A" to select all the text in the document, or use "SHIFT + arrow keys" to choose specific text. WPS Writer offers several shortcuts for users' convenience.
WPS Writer select text to align
Step 2: Press "CTRL + E" on your keyboard to instantly center-align the text—quick and convenient.
WPS Writer shortcut to align text
Both of these methods are convenient and user-friendly, catering to different user preferences. WPS Writer ensures that all users have the options they need. So, if your "E" key happens to malfunction, you can always resort to the Home tab. It's all about providing ease to different users' needs.
How to Center Text in WPS Writer on Mobile
WPS Writer is also available on both the Apple App Store and Google Play Store, extending its capabilities to mobile users. You can easily center your text on your WPS Writer mobile with these steps:
Step 1: Open the document you wish to edit in WPS Writer on your mobile.
Step 2: Select the text you want to center-align in your document.
WPS Writer mobile select text
Step 3: Access your toolbar, where you'll find the Alignment option. If your text is currently left-aligned, it will display as "Left Aligned." Click on it, and then select "Center Alignment" to center your text in WPS Writer Mobile.
WPS Writer mobile align center
This offers mobile users a convenient option to center their text while on the go, eliminating the need to transfer documents to a PC for editing. WPS Writer empowers users to edit their documents on their handheld devices, making editing hassle-free. Try WPS Office Mobile on Android or iOS devices for yourself; it's free, so you can focus on your work without worrying about costs.
Why Choose WPS Office for Word Document Editing?
WPS Office is your versatile, free solution for opening, creating, editing, and saving Microsoft Office files, including Word, Excel, and PowerPoint. Whether you're on Windows or Mac, WPS Office is fully compatible and offers a range of advantages that set it apart:
WPS Writer
Rich Functions: WPS Office provides a robust suite of features, empowering you with the tools you need for comprehensive Word document editing. From formatting to advanced text manipulation, you have a wide range of functions at your fingertips.

Support for Online Documents: Seamlessly collaborate on your Word documents with the support for online documents. Share, edit, and work on your files with colleagues or friends in real-time, ensuring productive teamwork.

Safe and Stable: WPS Office prioritizes your document's security and stability. Your data is kept safe, and the software's performance is reliable, ensuring a smooth editing experience.
Make the smart choice for your Word document editing needs—choose WPS Office for a powerful, free, and dependable solution.
How to download WPS Office for Free?
Step 1: Visit the WPS Office website on your computer and click the "Free Download" icon, located at either the center or top right corner of the page.
WPS Office Download
Step 2: After downloading, go to your downloads and click on the "wps_wid.cid" setup file. In the pop-up, agree to the terms and conditions, then click on "Install Now".
WPS Office Install now
Step 3: After the installation is completed, WPS Office will open automatically, allowing you to start using it right away.
WPS Office interface
FAQS:
Q1. Can I collaborate with others on a document in the WPS Office?
Yes, you can collaborate with your colleagues in the WPS Office. It provides powerful collaborative document editing capabilities, allowing numerous users to work on documents smoothly. It offers real-time collaboration features equivalent to other renowned suites, for instance, Microsoft Office. This collaborative approach makes it an excellent choice for corporations and educational organizations where cooperation and document sharing are crucial for efficient work processes.
Q2.Does WPS Office have preset templates for different document types?
WPS Office provides ready-made templates for various document types, such as business reports, resumes, flyers, and presentations. These templates simplify the creation procedure and enable users to generate professional-looking documents effortlessly. They offer pre-planned formatting and layouts that can be personalized for faster and easier formatting, making it appropriate for diverse purposes.
Streamline Your Document Editing with WPS Writer
We've explored how to center text in Word using WPS Office, a simple and effective way to enhance the visual appeal of your documents. WPS Office is an outstanding choice for your office needs, offering numerous advantages: it's free, compatible with nearly all systems, and boasts a user-friendly interface that simplifies navigation and use. Give WPS Office a try by downloading it today and align your office tasks!