WPS Office
Free All-in-One Office Suite with PDF Editor
Edit Word, Excel, and PPT for FREE.
Read, edit, and convert PDFs with the powerful PDF toolkit.
Microsoft-like interface, easy to use.
Windows • MacOS • Linux • iOS • Android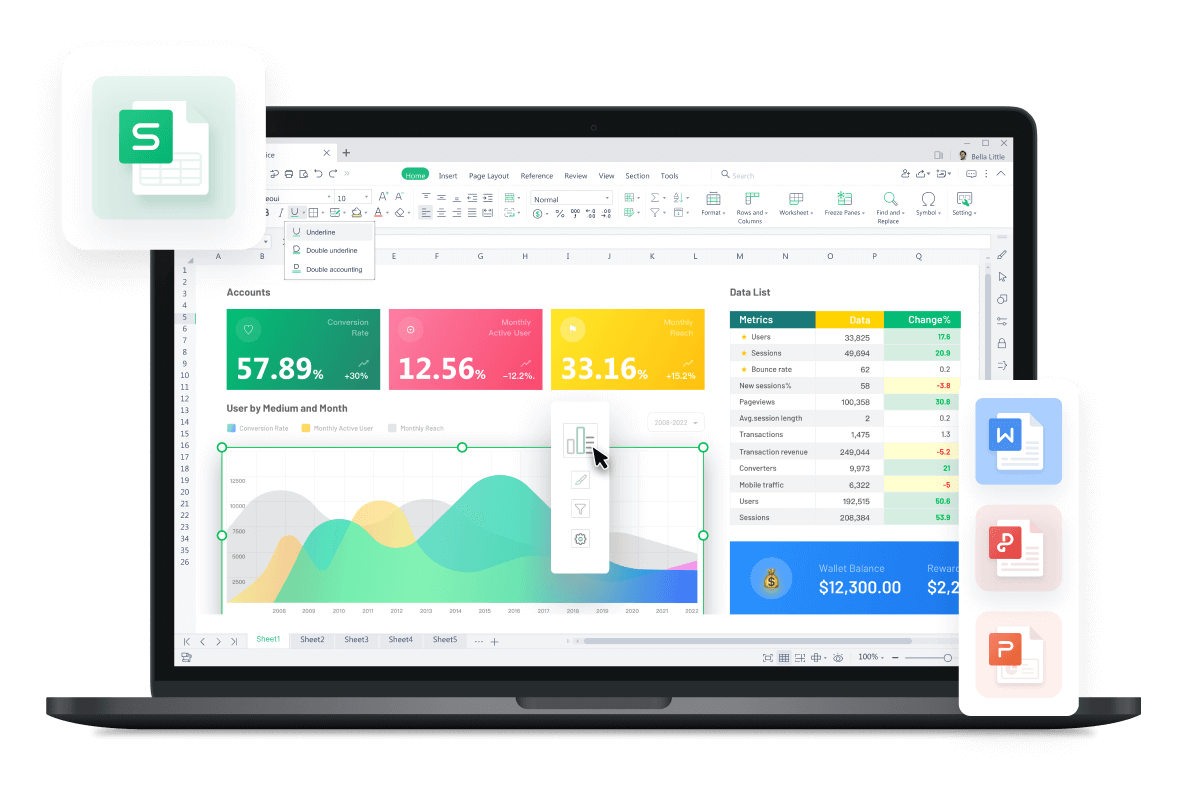 How to do wrap text in Excel online
Excel is a platform on which numerous methods and functions are available to perform. It helps individuals to work properly and it also allows people to save their precious time and work smartly. Excel always update its functions and always give the best methods by which individual can take benefit from them easily. How to wrap text shortcuts is also a function of excel in which we wrap text through many mediums. It allows proper view in a cell because sometimes big large content hides between the cells and it creates hassle to view properly. This intends that assuming the text is too lengthy to even consider fitting inside its cell, it will consequently conform to show up on various lines inside the cell.
First, we will wrap the text with a wrap text function in it, but it needs some steps to follow.
1) first make data of a long sentence that hides behind the cells and is not viewed properly.
As you see, an apple a day keeps and another sentence is behind the cell and not viewing properly and after that, a new sentence is written.
2) Now click on the WRAP text button which appears in the HOME options like this, when you click on WRAP text the selected text will get wrapped and able to give us a proper view.
So, by following all these steps you can easily find how to wrap text shortcuts in easily.
Wrap Text Keyboard Shortcut.
There is no devoted console easy route for the wrap text organizing, yet you can in any case involve the Alt hotkeys for this.
Certainly, a quick and easy way to apply the formatting.
Here in this above example, I use the shortcut of ALT+H+W, after pressing these buttons the text will automatically be wrapped, hence by this we again get our wrap text shortcuts.
Wrap Text in the Format Cells Dialog Box
This is also a shortcut by which we can easily find out how to wrap text shortcuts. This function is also performed in excel and this method requires some steps which are as follows.
1) The first step is to make data in a spreadsheet as above like this.
2) After that an option is showing in the upper bar of excel format, when you click on it a dialog box will appear then click on cells.
3) When you click on cells a dialog box will open and many options are showing, click on the top ALIGNMENT and then in the text control option you find wrap text, mark on it, and then click ok your text will get a wrap. This is also a wrap text shortcut.
You can also find this feature in the latest excel versions 2016/2018/2019 spreadsheet, where you can easily find the right way to find how to wrap text shortcuts in excel.
Did you learn about how to wrap text on excel Spreadsheets? You can follow WPS Academy to learn more features of Word Document, Excel Spreadsheets, and PowerPoint Slides.
You can also download WPS Office to edit word documents, excel, and PowerPoint for free of cost. Download now! And get an easy and enjoyable working experience