WPS Office
Free All-in-One Office Suite with PDF Editor
Edit PDFs like Word
Convert, merge, split, scan, and sign PDFs
More than PDF: Use Word, Excel, and PPT for FREE
Windows • MacOS • Linux • iOS • Android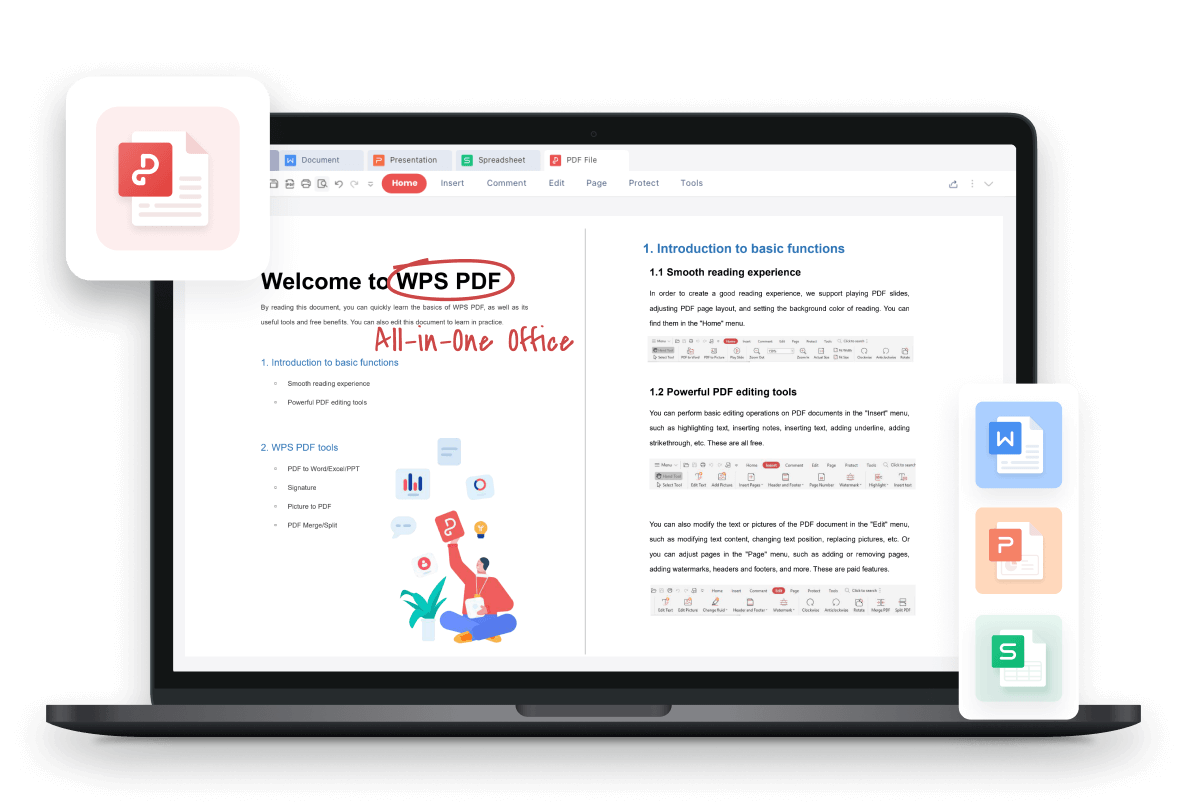 PDF is a common electronic document format widely used in various scenarios, such as business contracts, legal documents, medical risk documents, etc. Next, we will introduce how to properly fill out and sign PDF documents to ensure document integrity, legal validity, and privacy protection.
How to fill out the PDF?
You can easily edit PDF files, including filling out forms. Here are some of the main features of PDF Fill:
Text input: You can insert text into PDF forms just like in a regular text editor.

Checkmarks: You can enter elements such as checkmarks, circles, dots, and more. This is very convenient for selecting multiple options or answering yes/no questions.

Insert Pictures/Dates: It supports one-click insertion of pictures and dates.

Form Recognition: WPS PDF can automatically recognize form fields, which simplifies the filling process.
---
How to sign the PDF?
Open the PDF file and click the "Fill & Sign" tab.

Click "Add Signature." You can draw your signature, upload frequently used signatures to cloud synchronization for subsequent reuse.

Insert the signature into the PDF, and you can either delete, fix, or insert the same signature across multiple pages.
---
What Is a Certificate Signature?
While an ordinary signature may suffice for everyday documents, when it comes to signing important documents like business contracts or legal agreements, a PDF certificate signature becomes an indispensable tool to ensure document security and legality.
Operation Steps:

Let's demonstrate the steps for creating a certificate signature using a formal purchase contract:
Click "Certificate Sign" > "Add Signature."

Enter the required information in the pop-up window, including your name, encryption Key Algorithm, usage, country, company, and department.

Set a password for the certificate signature (remember this password, as you'll need it for identity verification). The certificate signature can only be inserted into the document after successful authentication.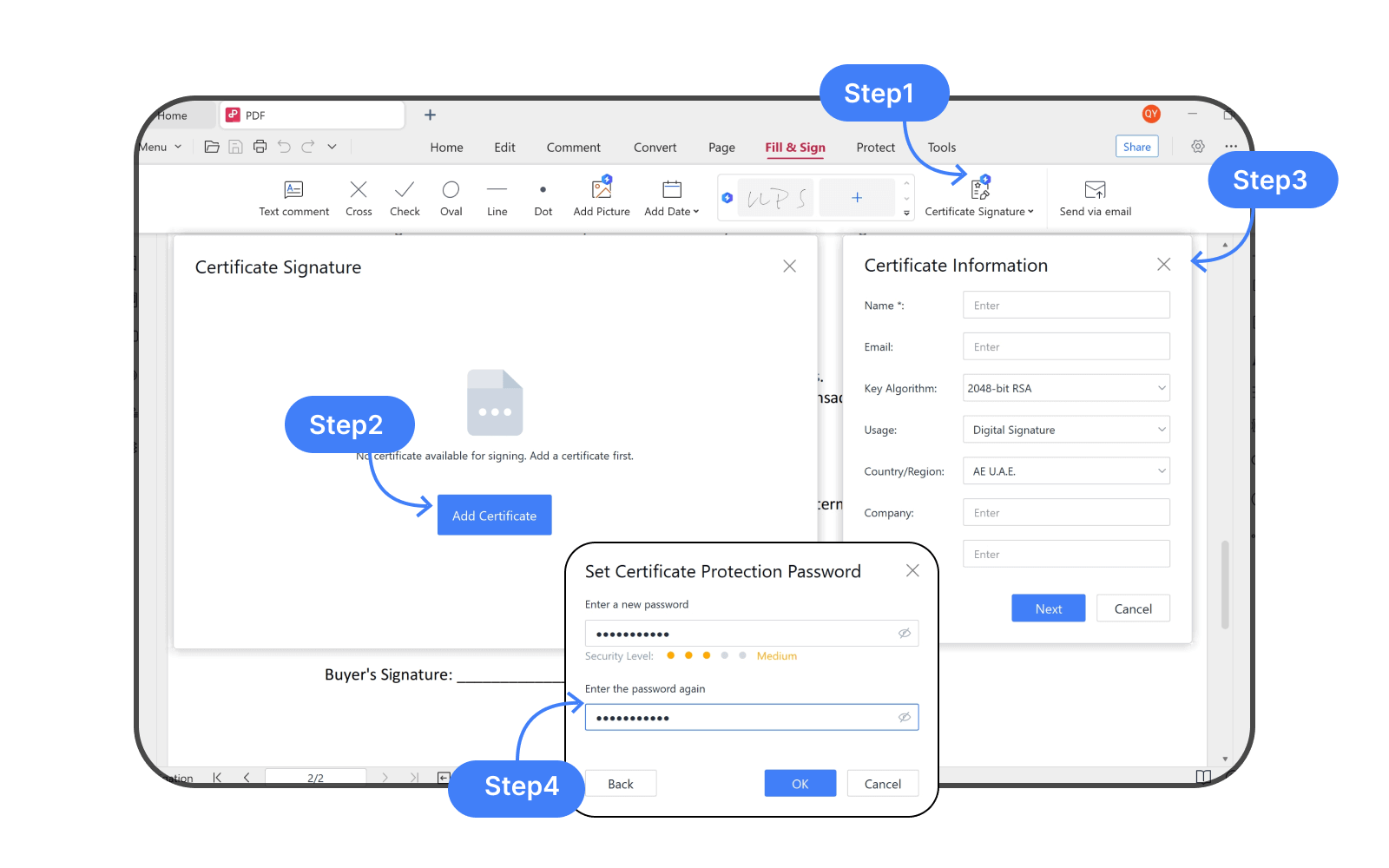 After setup, you can configure the certificate signing by:
Changing the signature style or replacing it with an image or drawing.

Adjusting the signature's dimensions.

Adding additional elements, timestamps, and reason.

Specifying the page range for batch signing multiple pages.
How Can I Ensure the Validity of My Certificate Signing?
Once a certificate signature is applied, you cannot move its position or edit the document. Any modification to the document content will invalidate the certificate signature.

Double-clicking the signature allows you to view signature details, showing the signed certificate information, signing time, and the signer's identity.
How Do I Manage My Certificate Signings?
Click the "Protect" tab > "Manage Certificate Signings."
You can import other certificates stored locally on your computer.

You can edit, delete, or export created certificates.
---
Advantages of the WPS PDF signing feature
:
WPS Office's PDF fill and sign tool streamlines the process of filling out, signing, and sharing documents, enhancing office productivity and simplifying document management.
- First, our PDF filling feature enables easy completion of forms, text insertion, checkbox marking, and text editing in PDFs. It's ideal for forms, reports, contracts, and more, eliminating the need for manual paper processes or cumbersome scanning.
- Next, you can utilize WPS Office's digital signature function to sign PDFs swiftly, ensuring document integrity and legal validity, all electronically. No printing, signing, or scanning required, saving time and promoting environmental responsibility.
- Finally, WPS Office also offers email forwarding, allowing you to attach PDFs and send them directly from within the application for quick document delivery.