WPS Office
Free All-in-One Office Suite with PDF Editor
Edit Word, Excel, and PPT for FREE.
Read, edit, and convert PDFs with the powerful PDF toolkit.
Microsoft-like interface, easy to use.
Windows • MacOS • Linux • iOS • Android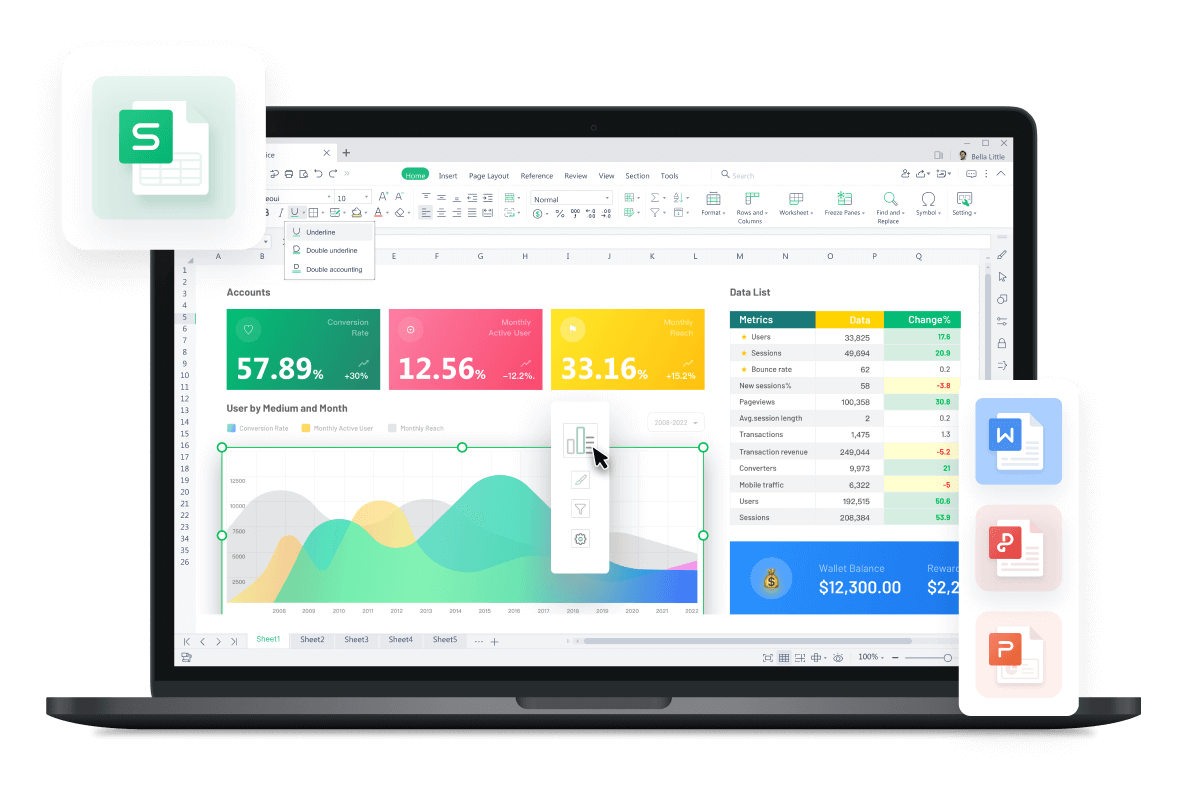 How to Make a Perfect Pie Charts in WPS Office
Pie charts are a popular way to visualize data, and they can be easily created in WPS Office. However, if you are new to WPS Office, you may not be familiar with the steps involved. This article will walk you through the process of creating a pie chart in WPS Office, step by step. We will also discuss the best way to organize your data for a pie chart, and how to customize the chart to your needs.
How to Make a Pie Chart in WPS Office
Step 1: Select the Data for the Pie Chart
Begin your pie chart creation process by carefully selecting the data you want to visualize.
Step 2: Navigate to the Insert Tab
Once your data is chosen, head over to the "Insert" tab within WPS Office.
Step 3: Access the Pie Chart Options
Within the "Insert" tab, locate and click on the "Insert Pie or Doughnut Chart" drop-down button. This will open a selection of chart options.
Step 4: Choose the Pie Chart
From the array of chart types presented, opt for the "Pie" chart type. This will insert a pie chart into your document, beautifully representing your selected data.
How to Customize Your Pie Chart in WPS Office
Step 1: Select the pie chart, click the "Chart Element" button at the top right, and check "Data Labels" to display values.
Step 2 Click the triangle icon beside "Data Labels," then choose "Outside End" to move values outside the chart.
Step 3 To show both total values and percentages, click a Data label then click "More options." In the "LABEL" tab, select "Percentage."
Step 4: Style Your Chart
Personalize the chart's look. Click "Change Color," pick a color type, and choose a built-in style, like "Style 12."
Step 5: Add Images
Enhance visual appeal by clicking a part of the pie, then go to "FILL & LINE." Choose "Picture or texture fill," select a picture file, and adjust as needed.
Step 6: Finalize the Chart
Click the pie chart. In "CHART OPTIONS," select "No Fill" for "FILL" and "NO LINE" for "LINE." Add a suitable title, and your customized pie chart is ready to convey your data effectively.
WPS Office: Your Best Alternative to Microsoft Office
WPS Office, a free office suite, empowers you to effortlessly open, create, edit, and save Microsoft Office files, encompassing Word, Excel, and PowerPoint. It offers full compatibility on both Windows and Mac, bridging the productivity divide with convenience and flexibility.
Features
Word Processor: Create papers, letters, and reports with the AI writer and translation tool.

Spreadsheet: To handle spreadsheets, use the formula wizard and data visualization tool.

Presentation: To make presentations, use a slide sorter and a video editor.

PDF Reader: View, edit, and produce PDFs, as well as annotate and fill out forms.

Cloud Storage: Store files online so they may be accessed and shared from anywhere.
Pros
Free Accessibility: Access Word, Excel, PPT, and a powerful PDF toolkit at no cost.

Abundant Templates: A wealth of templates to simplify your document creation.

Feature-Rich: Enjoy a wide range of functions for diverse office tasks.

Efficient and Lightweight: A resource-friendly solution that operates smoothly.

Online Document Support: Collaborate seamlessly with support for online documents.

Reliability and Security: A stable and secure platform for worry-free work.
In my personal experience, WPS Office is a valuable tool for various office tasks. I often work with documents, spreadsheets, and presentations, and WPS Office's compatibility with Microsoft Office files has been a significant advantage. It's been easy to open, edit, and save documents seamlessly.
FAQs
1. Can I add animations to my pie chart in WPS Office?
Yes, you can add animations to elements in your pie chart in WPS Office. Here's how:
Begin by opening your slide and selecting the specific text or object within the chart that you want to animate. Next, navigate to the "Animation" tab, where you'll find a range of preset animation options. Click the drop-down button on the right side of these presets to choose an animation that suits your needs. To see how your animation will look, simply click the "Play" button located at the bottom of the task pane on the right.
2. Is it possible to export the pie chart as an image?
Certainly! You can export your pie chart as different types of image files. First, select the pie chart you wish to export. Then, right-click on the chart to reveal a handy drop-down menu. From this menu, locate and select the option labeled "Save as Picture." Once you click on this option, a "Save As Picture" window will appear. Choose the destination on your PC where you'd like to save the image. You can also select the image format; for instance, you may opt for PNG. Finally, click "Save," and your chart will be saved as an image file on your computer for future use.
Summary
This guide helps you create perfect pie charts in WPS Office 2023, from picking your data and chart style to making them look great and adding animations. WPS Office is a free alternative to Microsoft Office, useful for writing, making spreadsheets, presentations, and handling PDFs, and it works on Windows and Mac.
It's free, has lots of templates, many functions, runs smoothly, supports online teamwork, and is safe. You can even make your pie charts fancy! We've answered common questions, making it easy for you to master pie charts in WPS Office, making data visual and clear for everyone.