WPS Office
Free All-in-One Office Suite with PDF Editor
Edit Word, Excel, and PPT for FREE.
Read, edit, and convert PDFs with the powerful PDF toolkit.
Microsoft-like interface, easy to use.
Windows • MacOS • Linux • iOS • Android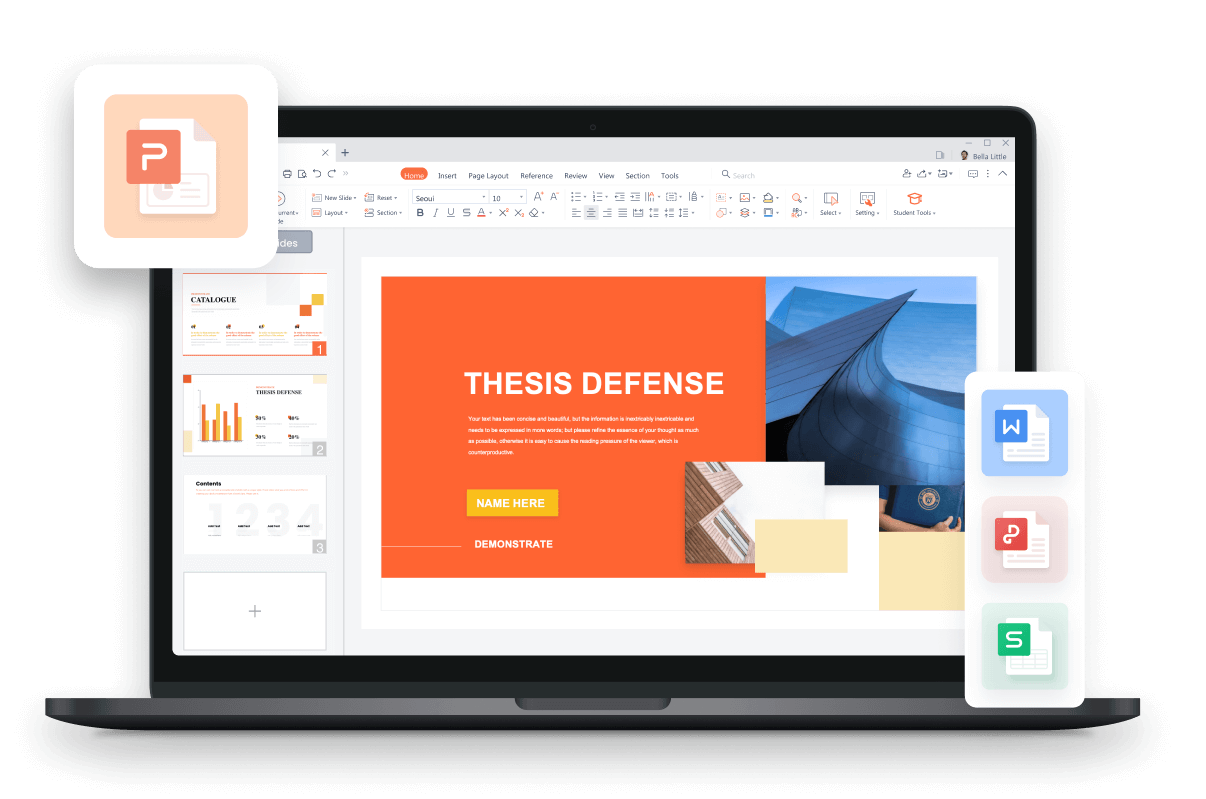 HOW TO CHANGE LOWERCASE TO UPPERCASE IN WPS PPT
Image showing a dummy presentation on WPS PowerPoint
WPS PowerPoint is a popular tool for creating presentations. Users often face difficulties when changing text case from lowercase to uppercase. However many users often face difficulties when it comes to changing the text case from lowercase to uppercase. Without delay let's dive into this guide and enhance your presentation skills using WPS PowerPoint.
How to Change Lowercase to Uppercase in WPS PPT:
When it comes to creating presentations in WPS PowerPoint, being able to manipulate text is a skill. A common task for presenters is converting lowercase text into uppercase. In this section we will guide you through each step of the process so that you can easily modify the text case in your presentations.
Selecting the Text Box:
Before you can change the text case you must first. Select the text box in your presentation where you want to apply these modifications.To modify the text in WPS PowerPoint follow these steps. First open your presentation, in WPS PowerPoint. Next locate the slide that contains the text you want to change. Click on the text box that holds the desired text and proceed with making your modifications. You can easily recognize a text box as it will have a bounding box around the text.
Selecting a text box
If your presentation includes multiple text boxes, make sure that you select the correct one. This step is very important as any changes you make will apply only to the selected text box. Highlight the text in the text box that requires transformation.
Highlighting text in the selected text box
Navigating the Text-Editing Menu:
Once you have selected the text box containing the text you want to modify, it's time to access the text-editing menu in WPS PowerPoint. This menu provides you with the tools necessary to change the text case effortlessly. You can reach this menu by two ways:
Option 1. Right-Click Method: An efficient way to access the text-editing menu is to right-click on the selected text. A context menu will appear, offering various options for text manipulation. Among these options, you'll find the "Font" option. After clicking the "Font" option a window appears showing actions that can be performed on the selected text.
Menu shown when text is right clicked on
Option 2. Ribbon Menu: Alternatively, you can use the Ribbon menu at the top of the WPS PowerPoint window. Look for the "Home" tab, where you'll find a section dedicated to text formatting. Within this section, you'll discover the "Settings" option and click on it and then select the "Font" option. After clicking, the font option a window appears showing actions that can be performed on the selected text.
Accessing the text-editing menu from the ribbon menu
Step-by-Step Walkthrough:
Now that you've accessed the text-editing menu, let's proceed with a detailed step-by-step walkthrough on actually changing text from lowercase to uppercase and vice-versa.
Step 1: After clicking the "Font" option from whichever method you choose, a window appears showing actions that can be performed on the selected text

Step 2: At the bottom there is a section called "Effects", in that section you will find options "Small caps" and "All caps" among other options.
Effects subsection in the text editing menu
Step 3: Select the "Small caps" if you want to transform the case of all the selected text to lowercase, as this selection instructs WPS PowerPoint to convert all the selected text to uppercase letters. Then click the "OK" button at the bottom of the window.
Selecting "Small Caps" option
Step 4: Select the "All caps" if you want to transform the case of all the selected text to uppercase, as this selection instructs WPS PowerPoint to convert all the selected text to uppercase letters. Then click the "OK" button at the bottom of the window.
Selecting "All Caps" option
After performing the above steps, you should:
1. Review the Changes: After selecting the "All caps" option, take a moment to review the changes in your text. You'll notice that all the previously lowercase letters are now in uppercase.
The text which was in lowercase has been transformed to uppercase
2. Undo if Necessary: If you change your mind or realise you've selected the wrong text box, don't worry. You can easily undo the changes by pressing "Ctrl + Z" on your keyboard.
3. Save Your Presentation: Once you are satisfied with the text case changes, remember to save your presentation. Click on the "File" tab, select "Save" or "Save As," and choose your desired location and filename. Saving ensures that your modifications are preserved.
Confirming Changes and Saving:
To ensure that your changes are correctly applied and saved, follow these final steps.
1. Preview Your Slide: Take a few seconds to review the slide where you have applied textcase changes. Check to ensure that the entire text is now uppercased as desired.
2. Save Again: To save the presentation once more is quite a helpful habit after ensuring the modifications. Checking twice helps to make sure you're saving your work in a safe place so as not to lose anything.
By following these steps, you can now confidently transform text from lowercase to uppercase in WPS PowerPoint and thereby improving your presentation's readability and impressive nature. It's best to use this technique when you want to emphasise certain areas, and ensure consistency in your slides.
When to Use Uppercase in Presentations:
Using uppercase in a presentation is very important because it will help you convey your point clearer, with more impact and better readability. Let's explore two major and important scenarios where uppercase letters play a crucial role:
Emphasising Headers and Titles:
Titles and headers are what hold a presentation together. In short, they guide the reader along with the content. Uppercasing the headings and titles adds some classy touches but calls focus too.
Using capitalised letters for headers and titles in your slides also conveys an authoritative tone to the audience. They mark the start of a new section or subject and help keep your listeners/readers on track. They also make a visual hierarchy so that you can identify the ordered relationship among the text in the presentation.
So in short, to emphasise something — highlight a key detail or commence a fresh segment of text — using uppercase for your headings & titles will serve you well.
Highlighting Key Points:
A successful presentation is built around the points of emphasis such as statements or quotes, important terms. Using capital letters is one of the techniques to achieve this goal.
When you present key information in uppercase, you give it a distinct visual identity. This draws the eyes of your audience, signalling the importance of the content. Whether it's a pivotal quote, a crucial statistic, or a standout term, uppercase letters ensure it doesn't go unnoticed.
In presentations, clarity reigns supreme. Uppercase letters contribute to this clarity by providing a noticeable differentiation between standard text and noteworthy elements. When your objective is for your audience to retain specific points, let uppercase letters be your steadfast ally.
Pro Tips for Streamlined Text Editing in WPS PowerPoint
Efficient text editing represents a prized skill in the art of creating polished presentations. Within WPS PowerPoint, a trove of shortcuts, features, and plugins await to streamline your editing process and make text case adjustments a breeze.
Text Editing Shortcut Keys:
For more efficiency in text editing, WPS PowerPoint provides an array of shortcut keys:
- Ctrl + A: to select all the elements in the slide
- Ctrl + I: to italicise the selected text
- Ctrl + E: to centre text
- Ctrl + K: to insert hyperlink
- Ctrl + S: to save the document
- Ctrl + Z: Undo the last action, helpful for quickly reverting text case changes.
With these shortcuts keys you will improve your ability to move around and manipulate the text, enabling better and faster presentation making experience.
Set Text Effects in WPS Presentation:
There are some text effects such as shadows, reflections, and glows available in WPS Presentation for you. These effects can be employed to highlight important points, make stunning headings, as well as decorate all of the slides in your slide presentation. With the text effects feature you can take your presentations to the next level and make them lively.
Why Use WPS Office?
WPS Office is a flexible and intuitive office suite which is a compelling alternative to other office software. Here's a brief overview of why you should consider using WPS Office:
WPS Office supports all MS office formats and features. With these products you can work with word, excel, powerpoint files and many others without any problems of losses with quality and functionality. It is also compatible with the same keyboard shortcuts, commands, and menus used in Microsoft Office.

WPS Office – Free and Easy to Use! WPS Office can be downloaded and installed from the official site for free. It's completely free and you may enjoy it even without advertisements. WPS Office is very user-friendly with an incredibly simplistic and easy to understand the interface.

WPS Office has additional functionalities and tools compared to Microsoft Office. The WPS office is more than an MS-Office clone. It possesses several functions which are missing from a pure-bred Microsoft office; namely the capability to edit images, convert PDF files, encrypt documents, support cloud services, and mobile applications. These are functionalities and capabilities that you can utilise to improve your work and learning.

WPS office has its own cloud service, mobile office suite, etc. This gives you an opportunity to access your files anytime using WPS Office. WPS Cloud offers you the facility of synchronising your files with your multiple devices. Alternatively, you may as well open and save files with the WPS Office app on your phone or tablet.
WPS office image showing its features
Frequently Asked Questions(FAQs)
In this section, some frequently asked questions about WPS ppt will be answered.
Q:How do I revert text back to lowercase in WPS PPT?
ANS: If you have just transformed the text to uppercase and you want it in lowercase back, you can simply just use the shortcut "Ctrl + Z" on your keyboard and the text which you transformed to uppercase will now be in lowercase. Or you can alternatively follow the step above in the article to change the text case to lowercase.
Q: How do I change the case of text in WPS?
ANS: To transform the case of a text simply go through the steps listed above in the article, by following the steps listed in the article, you will unfailingly be able to transform the case of a text, either from uppercase to lowercase or from lowercase to uppercase.
Q: What is the shortcut key for change case in WPS?
ANS: There is no shortcut key to change text case in the newest and current version of WPS office presentation.
CONCLUSION
In conclusion, being able to manipulate the text case in WPS PowerPoint is an important ability when designing well-polished presentations. From emphasising headers to highlighting key points and understanding when and how to use uppercase can elevate your content. Adding this to smart content modification approaches, and WPS office gets to be an intense tool for effective communication.