WPS Office
Free All-in-One Office Suite with PDF Editor
Edit Word, Excel, and PPT for FREE.
Read, edit, and convert PDFs with the powerful PDF toolkit.
Microsoft-like interface, easy to use.
Windows • MacOS • Linux • iOS • Android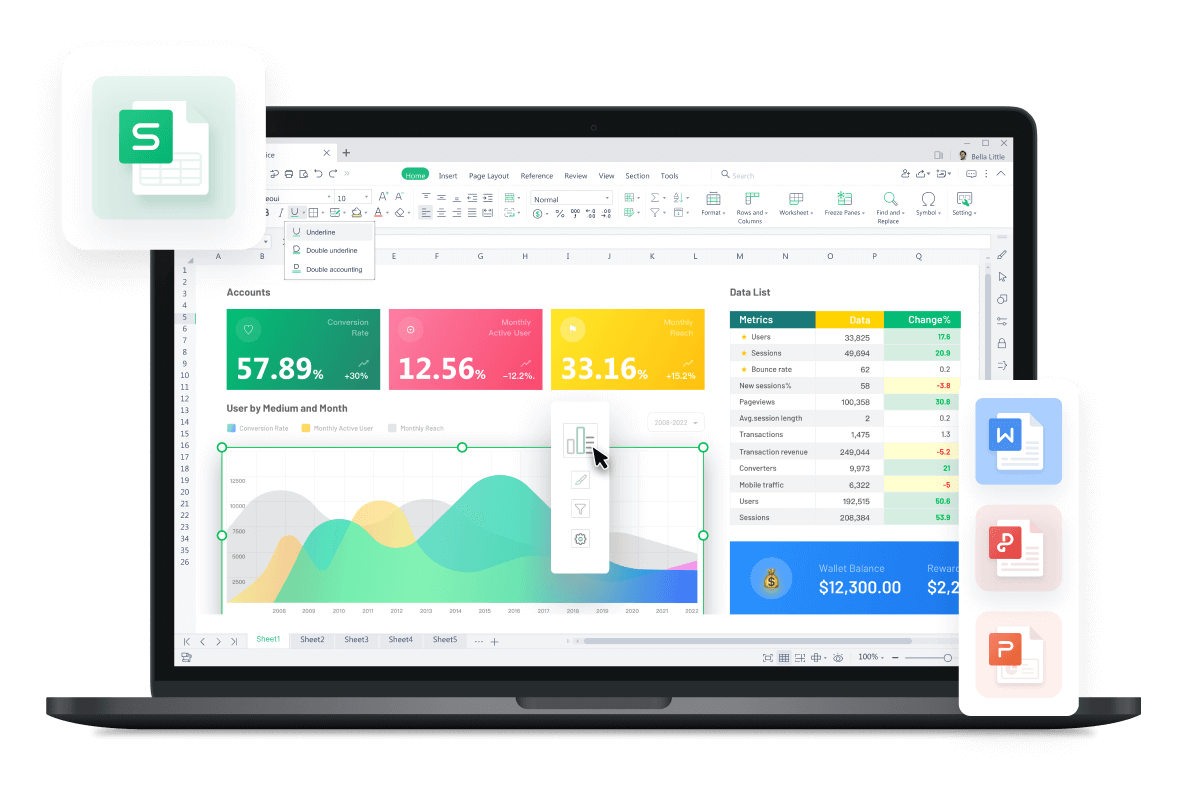 How to Create a Barcode in WPS Spreadsheet (In Easy Steps)
Using barcodes in WPS spreadsheets streamlines inventory tracking, reduces errors, and enhances and provides efficient data management.

However, aligning barcode formats with industry standards and unfamiliarity with WPS Spreadsheet's barcode features are the most commonly faced challenges by the typical user. This article will provide a detailed tutorial about Creating a barcode in a WPS spreadsheet, so keep up until the end.
What are Excel Barcodes?
A barcode is square or rectangular, comprising parallel black lines with white spaces that a scanner can read. Excel barcodes are visual representations of data easily scanned and decoded by barcode scanners or mobile devices with camera capabilities. Barcodes encode information into a pattern of lines, dots, or other symbols that machines can recognise.
Types of Barcodes
There are many, but the most commonly used ones are listed below.
UPC (Universal Product Code)
It is widely used for retail products. UPC barcodes contain product details and prices, enabling efficient inventory management and speedy checkout processes.
QR Code (Quick Response Code)
The QR Code is most commonly used in everyday life, and it stores various types of information, such as URLs, contact details, or text. They're easily scanned by smartphones for quick access to digital content.
Codabar
Codabar is used primarily in libraries and blood banks, encoding numbers and selecting characters for simple data identification, and they are specific to an organization.
Code 39
This versatile alphanumeric barcode encodes letters, numbers, and special characters. It's used in various industries, including automotive and logistics.
Code 128
It supports a comprehensive character set, making Code 128 suitable for complex data, shipping labels, and packaging.
Data Matrix
Data Matrix codes store data in a two-dimensional matrix, ideal for small items. They're used in healthcare, electronics, and manufacturing.
Benefits of Using Barcodes in Spreadsheets
Barcodes allow for accurate and quick information retrieval, making tasks like inventory management, product tracking, asset identification, and document processing more efficient.
Accurate Data Entry
Humans are prone to making errors while entering data, and scanning barcodes eliminates the need for manual typing, reducing the risk of typos and inaccuracies and ultimately enhancing the reliability of your spreadsheet data.
Efficient Inventory Management
By associating barcodes with products or items, you can quickly track quantities, update stock levels, and manage replenishments precisely.
Cost Effective
Incorporating barcodes into your workforce will expedite data input and retrieval much faster. These faster operations save time and cost, allowing your team to focus on value-added tasks instead of manual data handling.
Error Prevention
Barcodes not only increase the pace of your work but also help prevent and detect errors. Scanning discrepancies between the barcode and stored data can trigger alerts, enabling prompt correction before issues escalate.
Improved Traceability and Compliance
Barcodes facilitate precise tracking of products through their lifecycle, aiding in quality control, recalls, and meeting industry standards.
Part 2: How to Generate Barcodes in WPS Spreadsheet? (Step-by-Step)
The easiest way to create barcodes in the WPS Spreadsheet is to use a free barcode generator tool.
Visit any Barcode generator tool like barcode. Tec.

Choose a barcode type from the list on the left side. After that, input your data in the box and click on Generate.
Once you are done with the barcode generation, click on Download, and it will download a GIF file.

Open the WPS Spreadsheet and click on the Insert tab. Select Picture and select Embed in Cell, then click on From File.
Choose the barcode, which will be embedded within a column, as shown in the picture below.
When you scan it using your iPhone or Android phone, it will give you the same information. In our case, I used the string "Hello! You have generated Barcode in WPS Spreadsheet, " which displays on the screen.
Best Free Alternative to Microsoft Excel - WPS Spreadsheet
WPS Spreadsheet is a versatile, feature-rich option that caters to various user needs when finding the best free alternative to Microsoft Excel. It is a part of the WPS Office productivity suite, offering a comprehensive set of tools for individuals and businesses. The following reasons make WPS Spreadsheet an acceptable alternative to MS Excel.
Rich Features Set
It offers impressive features, from basic data entry and calculations to advanced functions. It lets you create complex formulas, use built-in functions, create charts and graphs, manage large datasets, and even create pivot tables.
Free of Cost
One of the most significant advantages of a WPS Spreadsheet is that it's free, making it a cost-effective alternative to Microsoft Excel without compromising essential functionalities.
Built-In Templates and Styles
WPS Spreadsheet provides a variety of templates for different types of spreadsheets, helping users jumpstart their projects. In addition, it has an assortment of cell styles, fonts, and formatting options to enhance your documents.
Data Analysis Tools
WPS Spreadsheet offers tools like data validation, goal seek, scenario manager, and solver, enabling you to make informed decisions based on data insights.
Collaboration and Cloud Integration
It supports real-time collaboration where multiple users can work on the same document simultaneously, making it ideal for teamwork and remote work situations. It also supports cloud integration for seamless storage and sharing via platforms like Google Drive and Dropbox.
FAQs
1. Can I customize the appearance of the barcode?
You can customize the barcode's size, font, color, and other properties during creation. It is necessary to balance customization and maintaining the required essential technical specifications.
2. Are there any third-party Excel barcode add-ins and software?
Several third-party Excel barcode add-ins and software are available for creating and managing barcodes. They offer advanced features for barcode customization, data encoding, and compatibility with different barcode types. Some popular options are
TBarCode Office

Barcode Generator for Excel

B-Coder Pro
Summary
Barcodes are necessary for efficient inventory management and reduce the chances of human errors. You can use different ways to add barcodes in Excel, and our guide about How to add barcodes in WPS Spreadsheet demonstrates two easy ways of adding barcodes to spreadsheets.
Adding barcodes to the WPS Spreadsheet enhances accuracy, efficiency, security, and compliance. If you are an MS Excel user and haven't tried WPS Spreadsheet, we recommend downloading WPS Office and enjoying a lightweight and feature-rich alternative to MS Excel. Enjoy its unique features, and that too, free of cost.