WPS Office
Free All-in-One Office Suite with PDF Editor
Edit Word, Excel, and PPT for FREE.
Read, edit, and convert PDFs with the powerful PDF toolkit.
Microsoft-like interface, easy to use.
Windows • MacOS • Linux • iOS • Android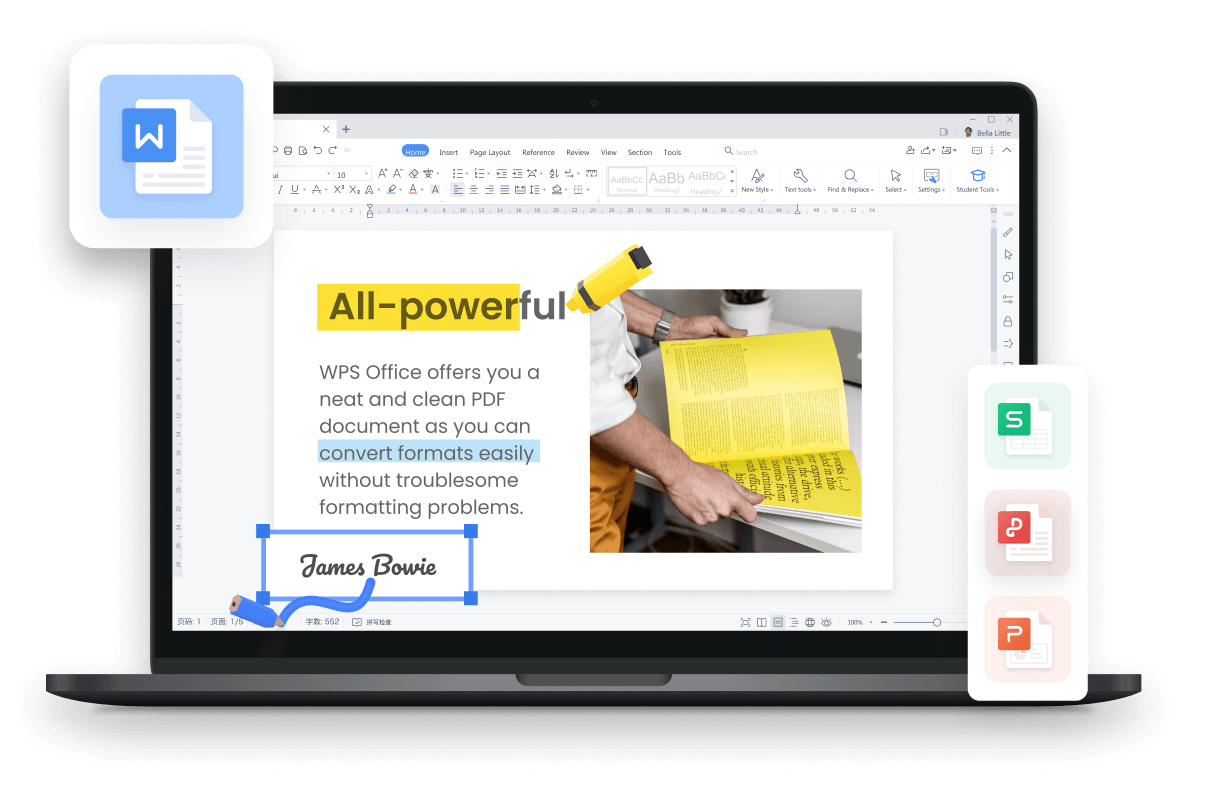 3 Ways to Print Double-Sided on Mac in 2023
Double-sided or Duplex printing is economical and environmentally conscious. Most inkjet printers are compliant with double-sided printing. All you need to know are the settings and options you can select to set up two-sided printing on Mac using Word, Powerpoint, and Excel. You can either turn over the pages manually or let the printer do the work for you. Your Macbook will be able to convert web pages to printable documents as well.
This article will outline the steps of how to print double-sided pages using your Macbook with helpful tips and tricks.
Method 1: How to Print Double-Sided on Mac
Your printer may or may not be compatible with duplex printing. There are two ways to get the double-printed paper, whether manual or automatic and we will explain both. All you need is a printer and WPS Office on your Macbook to get started.
Step 1. Open File with WPS Office
WPS Office is the best software to choose from when printing Word, Excel, PDF, and Presentation documents. Simply launch the program, and select the file you wish to print from your Mac.
Step 2. Print the Document
Once the document opens, click on "Menu", go to "Print" and then further go to "Print". This will show you different printer options from which to choose.
Step 3. Select Double-Sided Printing
Check the option "Use Double-Sided Printing". You can make adjustments in the long side or short side flip of the page when shifting from front to back of the page.
Step 4. Select Page Settings
Make sure you select the type of printing you wish to do. It could be a single page, multiple pages, or a booklet. You can crop the page size from the settings available. The page orientation can be switched between landscape and portrait. In case you're wondering how to change or remove color when double-sided printing on Mac. You can even choose to print in grayscale as your color preference.
Method 2: How to Print Double-Sided Using Double-Sided Printer on Mac
Follow all the steps listed above and your printer will take care of switching between the front and back of the page by itself. The options are available on all WPS functions such as Word, Excel, Presentations, and PDF files.
In case your printer does not support double-sided printing, you can manually put on a bit of extra work to get the job done.
Step 1.
Select the click-down menu "All Pages" and select "Odd Page" to only print the odd pages 1, 3, 5, etc.
Step 2.
After all the pages are done printing, you can take them out of the paper tray and move them back to start printing again. Make sure you put them in the correct direction for the reprint.
Step 3.
Select the Click-down menu and go to "all pages" to choose "even pages" this time to get pages 2, 4, 6, etc.
6 Tips On How to Successfully Double-Sided Print with Macbook Air
Quality Settings
You can select the quality of the printed document. If you have more of a graphic document with pictures and charts make sure you choose high-quality printing. Go to "Properties" and select the quality you prefer. Click "Best" for the best quality print.
Fix Paper Jams
Maybe try to not print too many pages at once. Keep on the lookout for any paper jams in the printer. In case that happens, immediately go through the instructions manual for the printer to remove the jammed sheets. Make sure all the jammed paper is taken out as it can cause damage to future printing sessions.
Bulk Print Testing
When printing documents in bulk with a double-sided printer, make sure you do a test sample of 1-2 pages. This will tell you the correct direction to put the document in, the size of the text, and the quality of the print. Till you are satisfied with the sample prints, do not start the bulk printing. You can change the print settings that look different than what you want in your document. Save time and money on multiple wasted prints.
Printer Type
If you expect to do double-sided printing over and over for work or business, get a printer that supports this function. You can manually print the pages one side at a time but this will take twice the time. Get a primer model that is compatible with your Macbook when selecting double-sided printing.
Select Double-Sided Printing
Make sure you select the correct options for your printing needs. Read through all the options available on the screen such as paper orientation and switching from one page to another. You may have to manually switch pages which should be done in the correct order to make sure the text is the right way up.
Regular Maintenance
Similar to any other machine, the print goes through wear and tear. Make sure you get the printer regularly checked by the manufacturer. Regular maintenance can make sure the printer doesn't get paper jams or ink blotting. Replace the machine if it's too old and is continuously causing a hassle while printing.
Method 3: How to Disable Two-Sided (Duplex) Printing
With the above steps, you can print single-sided or double-sided. But if you want to disable or disable duplex printing, you can follow the steps below:
Open a document, click on the File menu, and select Print. Select the correct printer.
Note: If you're using Safari and don't see the dropdown menu, you'll need to click the arrow to the right of the print queue name, which will bring up a window, or select Show Details. Then select Features from the dropdown menu.
In this step of how to print single sided on a document, you need to ensure that 1 Sided Print is selected in the 2 Sided Print dropdown menu.
To save the settings, you must click on the Presets menu and select Save current settings as defaults. You will need to enter a name for the preset.
Next to Available Preset for:
You will need to select All Printers and Click OK so you can save the preset.
Click Print to send the document to the printer.
With these steps of how to print single sided on mac word free, you will be able to disable the default 2-sided printing option.
Frequently Asked Questions
Q: How can you print Double-Sided on Google Docs on Mac?
A: Follow these steps for printing a document from a web page such as Google Docs on Mac.
Step1. Click the file and go to the "printer" icon on the top left toolbar.
Step 2. Click your desired settings "two-sided" and "black and white" if that's how you want to print your document.
Click "Print" to print your Google Docs web page.
Q: How can you print Double-Sided on Google Docs on Mac using a Single-sided printer?
A: You might not have a printer that is compatible with the duplex print function. You can still print web pages such as Google Docs on Macbook with this type of printer. Follow these steps to manually get a double-sided print.
Step 1. System Preferences in Macbook
Go to your Apple systems preferences and click "Printers and Scanners" to make sure you check the printing settings available.
Step 2. Select your printer from the list
Select the printer of choice from the list of printers connected to your Mac. Click "Options and Supplies to choose your preferred printing settings.
Step 3. Click Paper Handling
Click the paper handling click-down menu and go to the pages you want to print manually per print session.
Step 4. Click Odd Only
Since your printer will only print single-sided pages, you can choose to manually print the odd pages first. This will be printed on one side of the set leaving the back of each page vacant.
Step 5. Click Even Only
Since your printer will only print single-sided pages, you can choose to manually print the even pages second. This will be printed on the vacant side of the previously printed odd-numbered pages. This will take more time than if your printer was Duplex print compatible. Although you can get the job done just as well with this method.
This is a more complicated way since you have to make sure the direction is correct in which you put the sheets back in the paper tray. Once you get used to this practice, it'll hopefully become easier for you.
Q: What are the differences in printing double-sided Word, Presentations, Spreadsheets, and PDF files on Mac?
A: You can use WPS Office to print each of the files and select the settings that fit each of these formats. For each type of file make sure you check the printed preview to see how each page or slide is being transferred onto your page. You can choose to print two slides on one page. You can select parts of the spreadsheet you want to be printed. All these features are available in the WPS Office free version. The difference comes from the page format of each file and the settings you need to select to make sure you get the desired print.
Simple Ways to Get Double-Sided Printing on Your Mac
This article has gone through a detailed explanation of the ways you can use the Double-Printing features for Macbooks.
You can print web pages and documents such as Google Docs using Macbook and make use of the Duplex printing feature on the device. You can print documents stored on your device or the cloud.
We have presented steps you will have to take whether or not your printer is compatible with the duplex printing feature. If you want to continue printing double-sided documents in bulk for a long time, it might be time to invest in a new printer. Get one that will make your work easier for you by being compliant with the double-sided printing feature.
This will save you the cost of using extra paper, and save the waste of your resources by maximizing page utilization. We hope this article helped explain the benefits of double-sided printing and how easy this feature is to use.
Download and Install WPS Office Free Version
You can visit the official website for WPS Office to get the free version for Macbook. Go to the website and click Install to get access to all the helpful features of WPS Office in one place. You can view and edit Word, Spreadsheets, Presentations, and PDF files using the WPS Office Free version. You can print all of these documents from a single portal instead of using 4 different applications for each format.
Get started with WPS Office today. The web version also has free features for you to use. You can choose to get the best quality prints from WPS Office printing options. It is simple to use for beginners and is efficient in bulk printing. One of the best features of WPS Office is document conversion from one format to another. This will make printing even more simple since you can convert your files to an easier format such as PDF for printing.