WPS Office
Free All-in-One Office Suite with PDF Editor
Edit Word, Excel, and PPT for FREE.
Read, edit, and convert PDFs with the powerful PDF toolkit.
Microsoft-like interface, easy to use.
Windows • MacOS • Linux • iOS • Android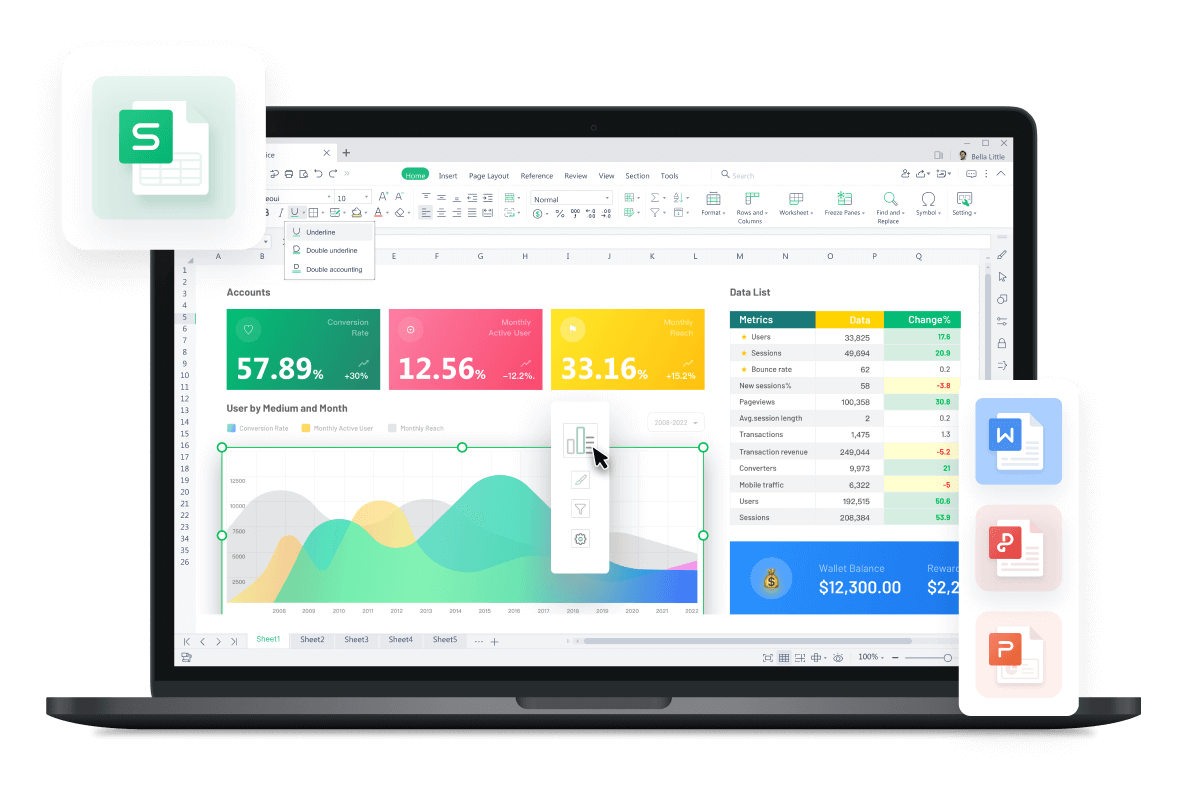 How to recover unsaved excel files in less than five minutes
We've all been there before. You're working on an important Excel spreadsheet, and suddenly the computer crashes or you accidentally close the file without saving it. This can be a major headache, especially if the data in the spreadsheet is important. But don't worry – this article is going to explain you how to recover unsaved Excel files in less than five minutes! In this blog post, we will show you how to do it.
Excel's autosave function is a lifesaver for situations just like this. It automatically saves your work every few minutes, so if something does happen to your file, you won't lose all of your progress. To enable autosave, simply go to the File tab and click on Options. Then, select Save from the left-hand
How to Recover Unsaved Excel Files: Backup and recovery function of WPS Excel.

The backup and recovery function in WPS Excel is a handy tool that allows you to easily recover unsaved or lost Excel files. This can be a lifesaver if you've accidentally closed a file without saving, or if your computer crashes and you lose your work.
To use the backup and recovery function, simply go to MENU > Open > Backup and recovery option. From here, you can select the file you want to recover and click open. Excel will then attempt to recover the unsaved data from the file and open it for you. Keep in mind that this may not work 100% of the time, but it's definitely worth a try if you've lost important data in an Excel spreadsheet.
How to Recover Unsaved Excel Files: Practical application 1
1. Open a new WPS spreadsheet. Click on the menu, which will be on your upper left, right below the WPS office.
2. Now click on the backup and recovery option from the option bar, which will be open after clicking on the menu. And choose the auto backup option.
3. Now select the local backup from the window which will pop up following the auto back up. All of the documents you were working on are listed in the local backup window which are shown with numbers, and you can recover any of them.
4. Once you recovered the document you missed to save, now you have to save it. Just click on the menu and go to the save as option so that you can save your document.
How to Recover Unsaved Excel Files: Practical application 2
1. Open a pre-existing WPS Excel spreadsheet of your choice.
2. You will notice a document recovery bar as soon as it opens, which will ask if you want to recover the data or the modification you missed saving. Just click on view more backup option.
3. When you will click on the view more backup option it will open the local backup option now you have to click on the plus sign which will be on the left side of the file of your choice. After clicking the plus sign you will get more option of your file now you can open the latest file.
3. Once you recovered the modification now you can save the new file with save as option to save the file with changes.
There you have it! Now you know how to recover unsaved Excel files in less than five minutes. We hope that this blog post was helpful to you. If you have any questions or comments, please feel free to leave them below. Thanks for reading!
However, if you want to know more about WPS office, please visit the official website of WPS Academy You can also download WPS Office for free to edit Word/Excel/PPT/PDF from here.
Part 3:Recovering Unsaved Excel Files on Mac
Mac has Microsoft Excel application too. You can use every feature like in Windows. Moreover, it's possible to lose unsaved files on Mac. However, you can recover them by carefully reading and applying the below-mentioned steps.
Step 1: You can recover the unsaved Excel file on Mac using the AutoSave or AutoRecover feature.
Step 2: The files are hidden, so you must make them visible to recover them.
Step 3: Simply go to the Applications, Utilities, and Terminal.
Step 4: Write "defaults write com.apple.Finder AppleShowAllFiles true" and hit the return option. It'll unhide all the items.
Step 5: Click the Finder and press Return on your Mac.
Step 6: Write "/Users/username/Library/Containers/com.microsoft.Excel/Data/Library/Preferences/AutoRecovery" and click Go to view AutoRecovery of Excel.
Step 7: Find unsaved files and recover them. Don't forget to save them in a safe place.
FAQs about recovering unsaved Excel files
Q1:Can I recover an unsaved file if Excel crashed?
Yes. You can simply open the Excel application, and it'll show a Recovery panel which leads you to the document recovery panel.
Q2:Are there any third-party tools that can recover Excel files?
Yes. One is the Kernel for Excel Repair tool, which recovers your Excel files.
Q3:How often does Excel's AutoRecover feature save my work?
It saves your work every ten minutes. So if you made changes ten minutes ago, it must have been saved by the AutoRecover feature.
Summary
The article thoroughly guides users on how to recover unsaved Excel files. It has highlighted every aspect, such as recovering through AutoSave and AutoRecover, recovering overwritten files in Excel, and recovering files when Excel crashes. However, recovering unsaved files on Mac can be troubling. This article has highlighted and solved this issue. You can now recover unsaved files which were never saved, recover files that have previously saved versions, and recover overwritten files in Excel by applying the above-mentioned steps. Excel is a great feature that allows file recovery, and it benefits millions of users' time and energy. However, we see that Excel isn't free.
The best alternative to Excel is WPS. WPS Office offers a variety of features that are useful for day-to-day and professional work. Moreover, the application is free and enables users to use PDF, Excel Spreadsheet, PPT, and Word in one application to boost creativity, productivity and save users' time. WPS also offers free WPS Templates, which can be downloaded from its Template Library from its official website Sounds amazing! Download yours here!